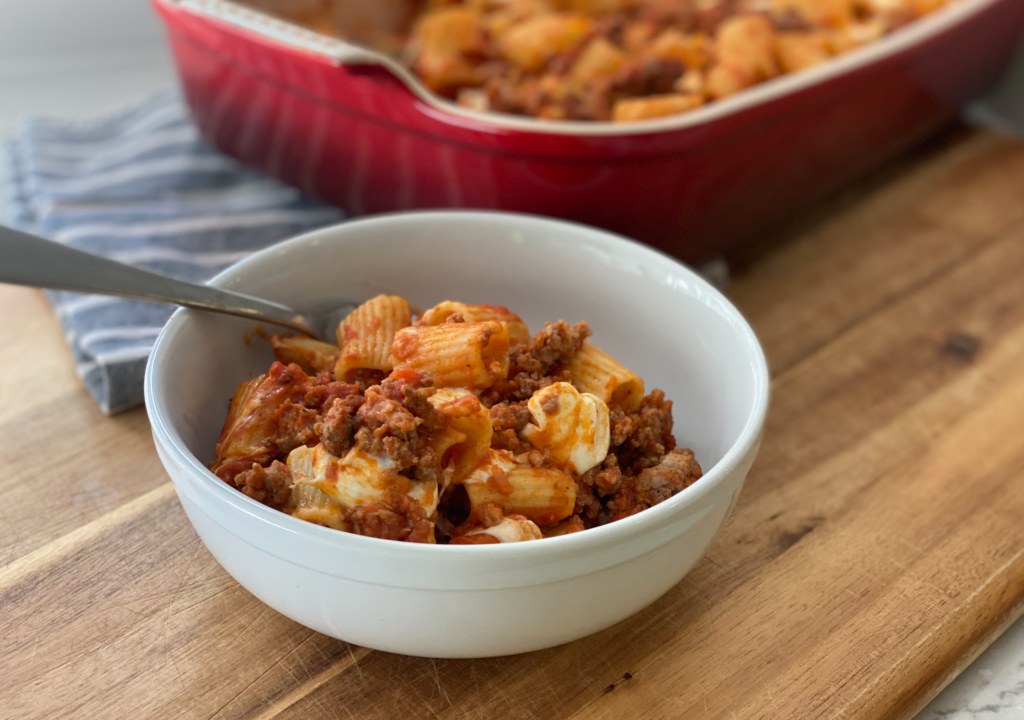 Hi Friends! Checking in with part 2 of our grocery budgeting strategies. Over the years I've dabbled in a lot of different ways to "meal plan" including meal boxes, meal prepping websites that provide you the week's recipes, making my own recipes for the week, etc. There are a LOT of great resources and strategies out there, but for me, the strategy that works best for me is reverse meal planning. (full disclaimer that if you aren't super comfortable in the kitchen or you prefer to work from a more structured plan, then this might not be the right method for you!)
What the heck is reverse meal planning? I'm not sure it's really a "thing" but it's a thing in our house.
Basically, when I grocery shop, I don't do so with a meal plan in mind. Instead, I grocery shop for basics that can be turned into a variety of different meals and sketch out a plan when I get home.
Before I grocery shop, I do take inventory of what I have at home so I don't buy things I don't need at the store.

Family Pantry Staples:
-Pasta Sauce (Rao's is my favorite)
-Crushed tomatoes
-Beans (black, pinto, chili beans in sauce, garbanzo)
-Peanut butter
-Brown rice
-Broth
-Pasta
-Apple sauce
-Baking staples (flour, yeast, baking powder and soda, sugar, brown sugar, etc.)
-Other grains (quinoa, faro, oats, etc.)
-Freezer stash of take and bake bread, sliced whole grain bread, sweet potato fries, frozen veggies, frozen fruit, and some frozen proteins (bacon, chicken, ground beef, etc.)
-Shredded cheese bought in bulk and stored in the freezer
-Mac and Cheese (Just being real!)
-Sweet potatoes, regular potatoes, onions, spaghetti squash
-Protein powder
-Olive oil, vinegar, balsamic vinegar, and plenty of spices

Refrigerated Staples:
-Plain, full-fat Greek yogurt
-Eggs
-Milk, Almond Milk and Heavy Cream
-Butter
-Parmesan cheese
-Condiments (sauces go a LONG way to dressing up a basic meal, pick your favorites to have on hand)
-Meat (my staples are ground beef, bacon, chicken breast, brats in the freezer)
-Lots of fresh veggies (we regularly have kale, Brussels sprouts, broccoli florets, red bell peppers, baby carrots)
-In-Season Fruit (we have stopped buying most of our fave out of season fruit that cost $$$ and try to stick with fruit that is in-season and cheaper)
-Hummus
With the list of products above, I find it's fairly easy to make balanced, healthy and well-rounded meals. I've been getting a bit more creative toward the end of our weeks, I will make a loaf of bread, bake a batch of muffins, etc.
Once I get home, I take inventory of what I have on hand and then sketch out a plan for meals I want to make, allowing days within the week that we plan to have leftovers and eat down what's in the fridge, which helps reduce waste as well and stretch our grocery budget further.

Typically during the week I will plan early in the week to make one large pasta bake type dish, which works great for Joe or the kids to eat as lunch leftovers during the weekdays. I don't plan a meal for every day of the week because I find that later in the week we usually have a random assortment of leftovers, so we will leave a night or two as an "open" night where we all sort of just pick what sounds good to us.

I almost always plan one night where we eat breakfast for dinner or homemade pizza night, because it's easy to always have those ingredients on hand. Making your own pizza dough is a must! So easy to just whip together in the morning or early afternoon and have dinner ready to go that night.
Over the last couple years, I've discovered that simple always wins. My kids eat much better when I stick to meals that aren't overly complicated. Most meals include some type of protein, vegetable and a starch of some sort. Then, I cut up a couple apples or pears or have a bowl of grapes on the table that I know they will always be happy to see on the table.
As we have navigated the picky eating stages that come and go with kids, I've created a rule that we have one "rescue meal" available to our kids. Meaning that AFTER they have at least tried everything on their plate, if they still don't care for what I have served, I will let them have a rescue meal of a peanut butter sandwich on whole wheat bread. It's been a method that has worked well and also encourages our kiddos to try everything on their plate without making meal time a huge battle.
Get Comfortable With 10-14 Meals
My biggest advice is to start getting comfortable with a round-up of somewhere between 10 and 14 meals that you really feel comfortable making without a recipe. It takes a little work at the beginning, but once you get the hand of that round-up, you can get more flexible adjusting and adapting those recipes and don't really have to cook "from a recipe" as much as you once did.
My go-to recipes for winter include:
Hearty Pasta Bake (sign up for the newsletter for the recipe above!)
Pizza dough (from which I can make calzones, pizza, etc.)
Roasted Tomato Soup
Easy Three Bean Chili
Enchiladas (all sorts! But my family does love this recipe)
Slow Cooker Taco Chicken
Burrito Bowls (chicken and beef)
Roasted Veggie + Rice + Bean Bowls
Baked Chicken Breasts + Veggies + Butter Noodles with Parm (the kids love this!)
Salmon + Broccoli + Brown Rice
I hope this helps give you a better idea of how we have been grocery shopping, budgeting and making meals! It's been a process to get to something that works for us, and yet I'm finding that it's easier than ever to get meals on the table without spending hours prepping food, looking for recipes, or losing my mind. 🙂