Hi friends! Checking in today with a topic that I've been sharing more about on Instagram and getting SO many questions about: grocery budgeting! I've gotten lots of questions from you all about our grocery budgeting process, which has been fairly new to us, too, but something I've wanted to get a handle on for a while.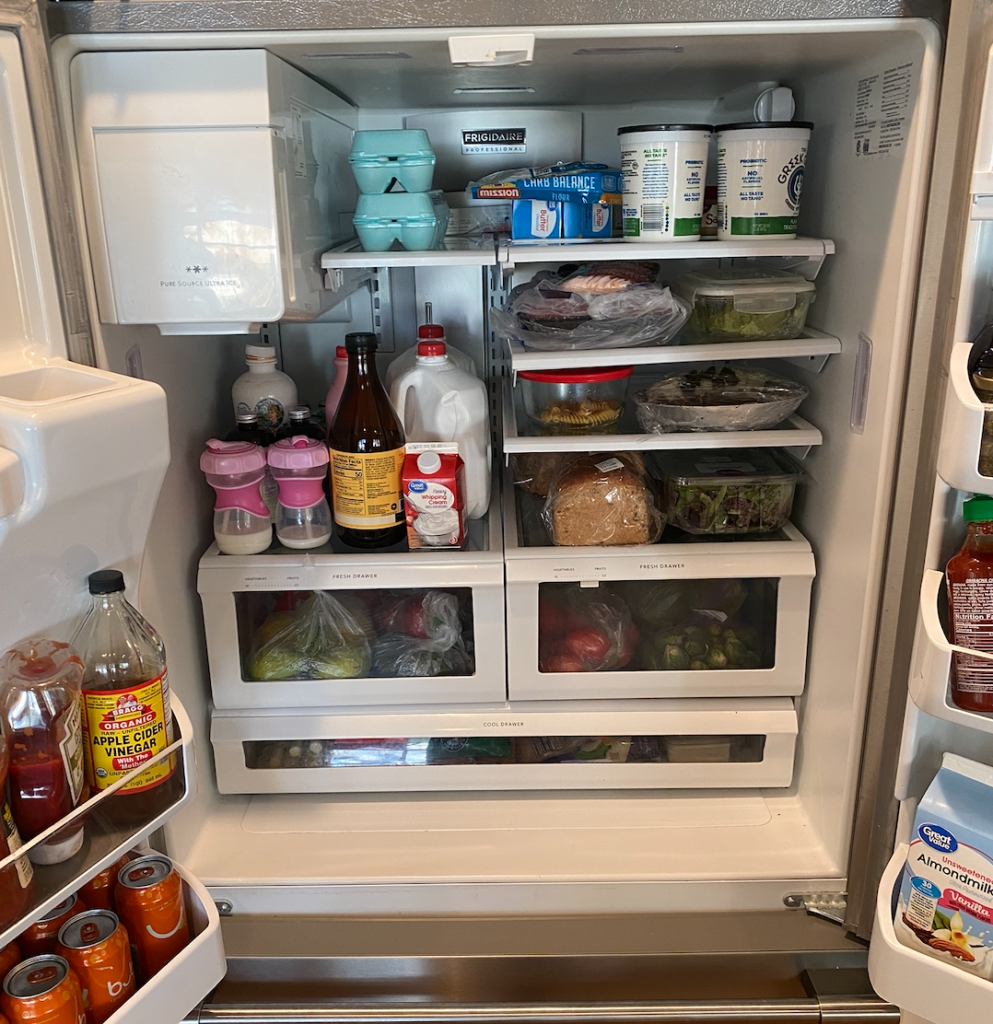 Step 1: Know Your Average
If you want to make an effective grocery budgeting strategy, my first step is to know what you are ACTUALLY spending. Joe and I combed through six months of finances to get a realistic number on how much we were actually spending. We got a six month average for what we had actually spent per month, which was eye opening! And then we made a goal budget based off that number. Our grocery budget had ballooned, so we made our budget almost HALF of that average number. This with vary from family to family and how much "fluff" you currently have in your budget.
A few things to to consider:
-I cut out every subscription service I had in the budget. That means saying goodbye to my beloved protein powder and smoothie subscriptions each month because I knew I could buy quality protein powder cheaper at Thrive Market and I could make my own smoothies at home. I DO think the Thrive Market yearly subscription saves us money when we buy things like protein powder, bars and other snack foods, diapers, wipes, etc. Basically the things I buy at Costco but I find this a better alternative because it comes directly to my door and I'm not tempted to over spend on impulse buys. You can get 25% off your first Thrive order using this link.

-Know what's valuable to you. This will be different for everyone. We do value healthy food, so our grocery budget is still a large portion of our monthly spend, and we eat nearly 99% of our meals at home. We have a smaller than average budget for eating out, so our monthly grocery budget has to feed us for MANY many meals.
Step 2: Work with Cash
This is highly personal and based on how you currently shop, but I found moving to the cash envelope system for groceries was a game changer to staying on budget. We take our full budgeted amount out each month in cash and I have that to work with for the full month. If we have leftover at the end of the month, I can put it into various different funds – such as Christmas cash fund or spending money for a trip we have planned, etc.

We don't plan to move to a cash system for everything but groceries was one thing I found it easy to use cash for. If I do need to use my card for something (like my Thrive Market order or online grocery orders), I just drop that amount back off at the bank!
Step 3: Change Your Mindset
One big thing we have had to get our head around is the mindset around what we do and do not have each week. There are lots of fun extras that I started to think I "needed" but didn't really need – like multiple selections of yogurts or endless sparkling water or fancy hydration packets. We still get sparkling water, but we get a couple cases and call it a day. If we run out, we are out for the week! We also have been purchasing LESS pre-made versions of things we can make at home – like instead of buying frozen waffles we make waffles and freeze extra, and instead of buying oats and granola, we buy oats and make our own granola. It saves a LOT of money.
Step 4: Choose Your Store
We don't have abundant options in terms of what stores we shop at (small town probs!) but I do like to shop at our local Walmart for groceries because it makes it possible to easily compare prices between items and price per ounce of comparable products. If we lived near something like Aldi, I would probably do a lot of our shopping there!
Step 5: Limit Mid Week Trips
This was a total budget KILLER for us. Joe estimated we spent almost 30% of our grocery budget each month on the small trips between our larger weekly trips. When you change your mindset and accept that sometimes you will do without an item until the next week's trip, it's easier to avoid mid week trips. The only thing we really go out specifically for between trips are coffee (for me!) and milk (for the kids!)
Next post I'll be sharing some specific food strategies for meal planning and stretching the food you have to make more with less. It's been a creative challenge for me and stretched me to work with what I have and I know many of you have said you would like more tips for doing the same.