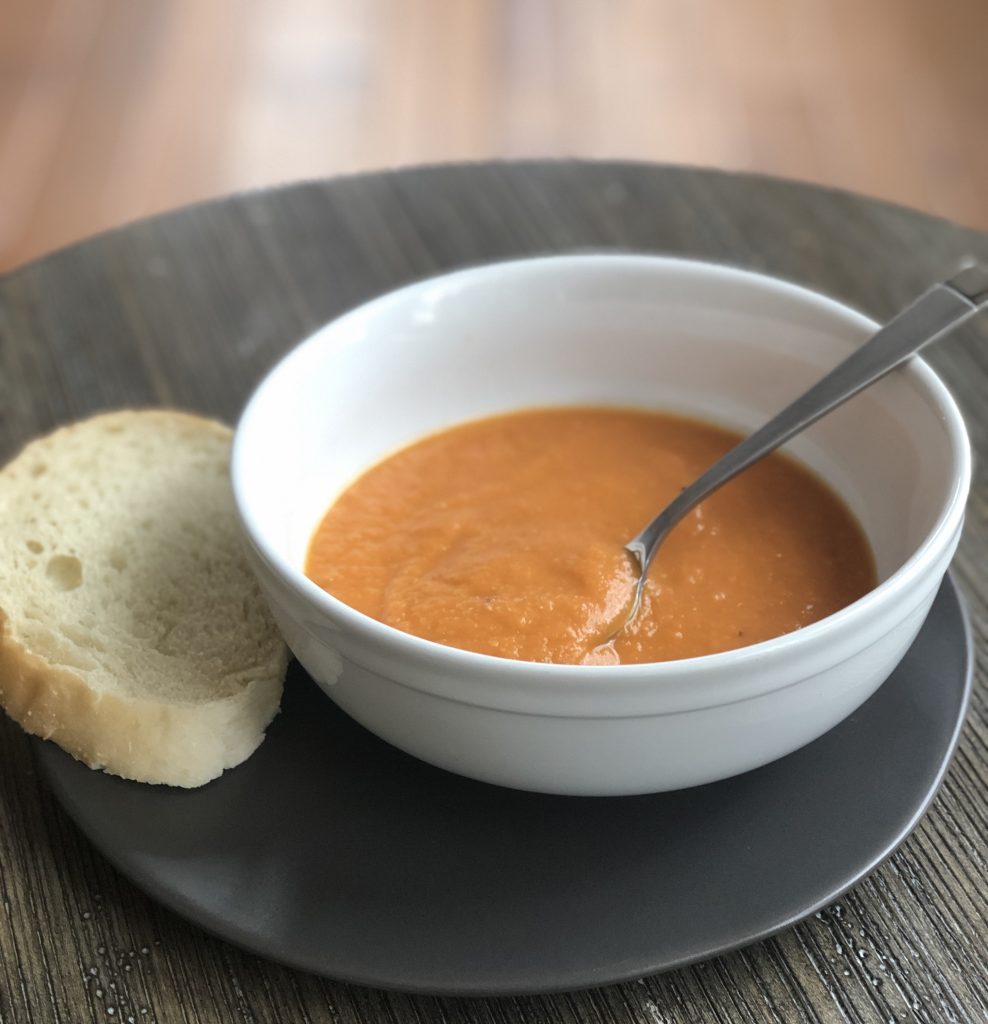 I'm super thankful that although I've felt horrible this pregnancy (worse than the girls!) I haven't really had any food aversions like I did with both Ainsley and Collins. Food doesn't really sound good or satisfy, but it's pretty universal across all food groups. So, with that said, I've still been eating plenty of vegetables and relatively healthy options.
About a month ago Joe said tomato soup and grilled cheese sounded good, and I have to agree that it's sounded appealing this entire pregnancy so far. So I made a batch of homemade tomato soup, and then I tweaked it a bit and made it again and again. And now, I've got the method down and think I might make tomato soup every week until warmer temps are here.
Joe LOVES this recipe, as do I, and I love that it's made with really clean ingredients and no cream, yet it still tastes remarkably hearty and satisfying on a chilly day. It also works great as leftovers throughout the week and is fantastic served with toasted sourdough.
Full disclosure: The girls do not care for tomato soup, but I torture then with it anyway and can usually at least get them to agree to the grilled cheese it's often served with.
Roasted Tomato Soup
Ingredients
3-4 lbs. Roma tomatoes, halved (I estimate this – enough to fill a 13×9-inch sheet pan)
2 tablespoons olive oil
3 cloves garlic, minced
Salt and ground black pepper
1 cup salted chicken stock
1/3 cup grated Parmesan cheese
Caramelized Onions
1 large yellow onion, peeled and thinly sliced
1 tablespoon olive oil
Salt and ground black pepper

Additional grated Parmesan cheese for serving, if desired

Directions
Heat oven to 425°F. Line a 13×9-inch baking sheet with foil. Place halved tomatoes on baking sheet and drizzle with the olive oil. Place the minced garlic on top of the tomatoes. Sprinkle tomatoes generously with salt and ground black pepper.
Roast 35 to 45 minutes or until tomatoes are very tender and slightly shriveled around the edges.
Meanwhile, make the onions. In a nonstick or cast iron skillet over medium heat, combine the onions and olive oil. Sprinkle with salt and ground black pepper. Cook, stirring frequently, until onions are tender and caramelized, about 15 to 20 minutes.
Place onions and 1 cup chicken stock in a high speed blender along with the grated Parmesan and blend on high 30 seconds to 1 minute or until mixture is smooth and creamy. Transfer mixture to stock pot.

When tomatoes are done, working in two batches, place tomatoes in the blender and blend on HIGH for 30 seconds to 1 minute or until mixture is nearly smooth and no large chunks remain. Place pureed tomatoes in blender with the onion mixture.

Simmer 10 to 15 minutes, adding additional salt and pepper if needed, until flavors are combined and mixture is hot. Serve with additional grated Parmesan cheese, if desired.