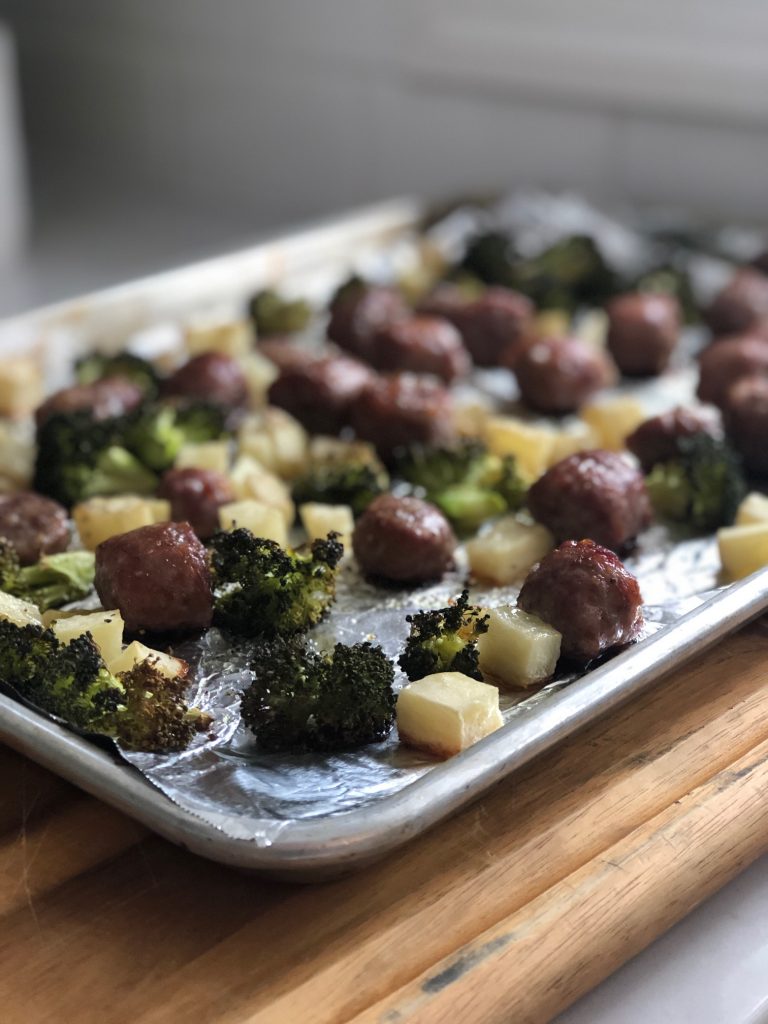 I'm enjoying a few days of sunshine and work meetings in California and so excited to be here, but I always have THE hardest time leaving my sweet crew. Even if it's just for a couple days – and they usually go by quickly – I still just miss the heck out of them and love being with them.
When I leave, I do try to do at least a little meal prep to make the days go by smoothly and dinnertime easier while I'm away. I prepped a batch of our family's favorite homemade tomato soup (recipe to come!), a baked pasta dish for Joe's lunches, and this roasted sheet pan meal with brats, broccoli and potatoes.
It's nothing special – and oftentimes I hesitate to share these "not special" meals on the blog – but really, this is the type of food and the way I like to cook on weeknights and when time is crunched. Which, let's be honest, is more often than not.
Easy Brat & Potato Sheet Pan Meal
Ingredients
4 uncooked brats, cut into 1-inch pieces
2 medium Russet potatoes, peeled and cut into 1-inch cubes
1 head broccoli, cut into bite-sized florets
2 tablespoons olive oil
1/2 teaspoon salt
1/4 teaspoon black pepper

Directions
Heat oven to 400°F. Line a baking sheet with aluminum foil; brush foil with olive oil.

Place brats, potatoes, and broccoli on baking sheet. Drizzle with the olive oil and sprinkle with the salt and ground black pepper. Spread in an even layer on the baking sheet.
Roast 30-40 minutes or until potatoes are tender, brats are cooked through and the broccoli is caramelized, turning just once during baking.