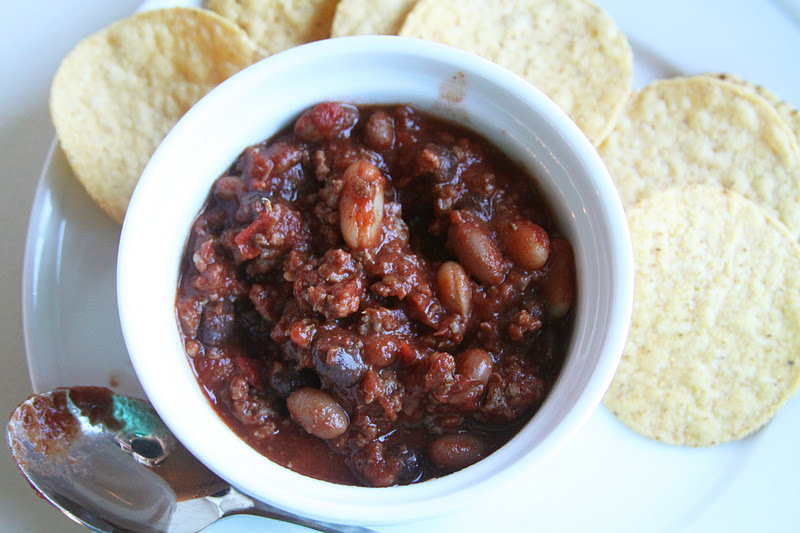 I can hardly believe that 2012 is already here and 2011 is just a memory. While I spent the most of last week and this past weekend sick with a killer cold, we did manage to have a little bit of fun ringing in the new year.
Joey's sister and brother-in-law, Amber and Jake, along with baby Baylen, as well as Joey's brother, Jason and his fiancé, Ali, all made the trip to Grinnell to stay with us for the long weekend. Since I was a slacker with my camera, I'll have to wait for Amber to send some photos my way before posting a recap of our weekend. Today, since I was still feeling pretty under the weather, we spent most of the day laying low and watching football. It's what Nutmeg does best…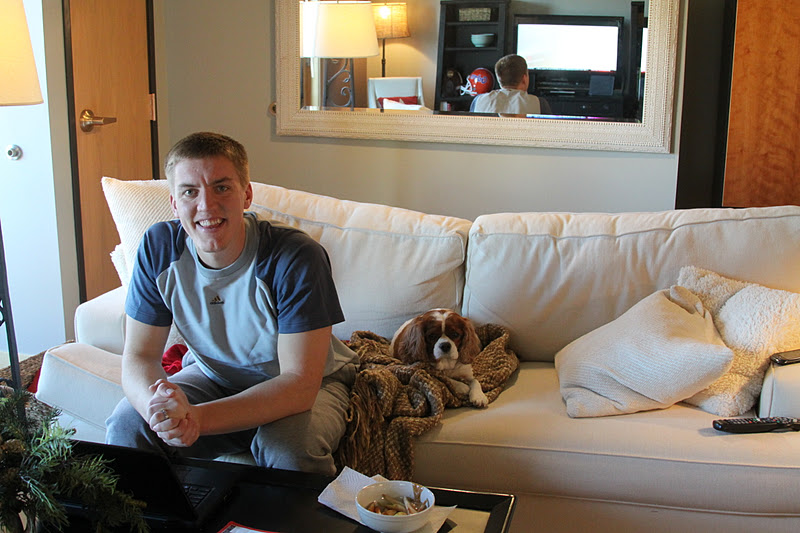 Typically, when we have people over, I stress out about preparing meals. It's not the cooking that gets me worked up as much as the combination of cooking and enjoying myself in the process of it all. I'm a bit of a work in process where entertaining is concerned.
Joey, realizing this, said he wanted me to pick easy meals that didn't require much stressing about. And since I wasn't feeling like myself with this cold, I was more than happy to stick with quick and easy. French toast for breakfast, make your own sandwiches and fresh fruit for lunch, and my mom's chili with homemade cornbread for dinner on New Year's Eve.
Although my mom wouldn't brag about her chili, it really is something special. First, because it's thick, hearty and filling. Second, because it's unbelievably easy and comes together in under 30 minutes. It's easily adaptable for vegetarians, too, if you leave out the ground beef.
Of course, you can make this chili in advance and allow the flavors to meld together as the simmer on the stovetop, it's entirely up to you and when your company wants to eat.
Easy Three Bean Beef Chili
Ingredients
*2 lbs. lean ground beef or ground turkey
*1 large (30 oz.) can crushed tomatoes
*1 (15 oz.) can tomato sauce
*1 (30 oz.) can Mrs. Grimes Chili Beans, undrained
*1 (15 oz.) can black beans, undrained
*1 (15 oz.) can white kidney beans or white great northern beans, undrained
*2 to 3 tablespoons chili powder, depending on how hot you like your chili
*Salt and pepper to taste
Instructions
*In a large stockpot over medium high heat, brown ground beef or ground turkey. Drain off fat.
*Add remaining ingredients to the stockpot. Stir to combine. Bring to a simmer. Cover to keep warm until ready to serve.
Happy Cooking!
Madison