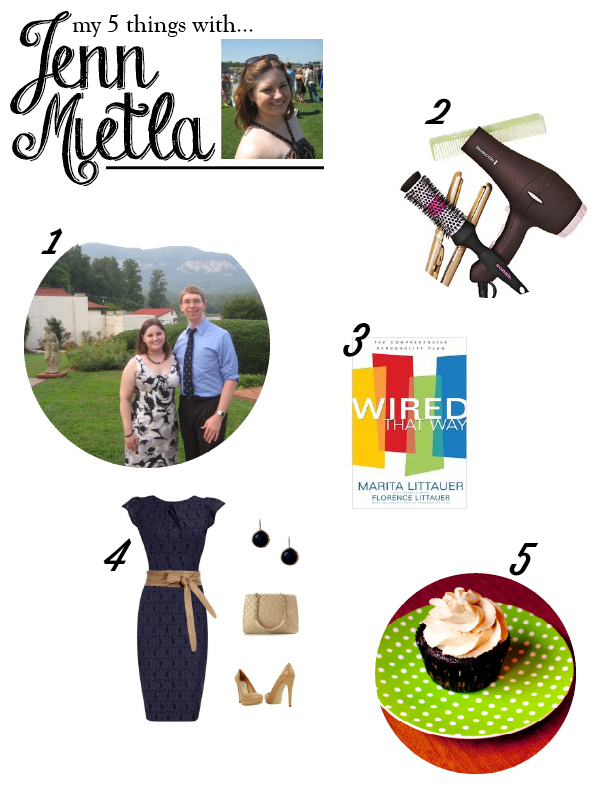 WHO: Jenn Mietla
WHAT: Grad Student in Biochemistry
WHERE: Virginia
BIO: Hi everyone!  My name is Jenn Mietla and I am currently living in Richmond, Virginia though I am originally from North Carolina.  I am married to my wonderful husband Daniel, and I am in graduate school working towards a Ph.D. in Biochemistry.  I don't have a blog yet – but I absolutely love reading them!
1. My husband: My husband makes me feel beautiful every day.  He's keeps me on my toes, cherishes me, lifts me up when I am sad, makes me laugh constantly, and is one of the most positive people I've ever met.  All of these things make me feel beautiful on the inside and that makes me feel beautiful on the outside.
2. Getting my hair cut: I absolutely love getting my hair cut.  Someone else washing, cutting, drying, and styling my hair always makes me feel like a million bucks when I'm done.  And I adore my hair stylist – so that's an added bonus!
3. Reading: Reading to learn about myself makes me feel beautiful.  Whether it's learning about my personality and why I act the way I do, to books that help me understand that God made me the way I am for a reason, constantly keeping in mind that I am the way I'm meant to be truly makes me feel beautiful.
4. Getting dressed up: Since I'm a graduate student I live in cheap jeans and t-shirts pretty much year round; I don't want to accidentally get anything from lab (especially bleach) on nice clothes and ruin them!  So when I get the chance to dress up I really feel beautiful.
5. Baking: It sounds a little odd to me, but baking makes me feel beautiful.  I'm pretty good at it, so it boosts my self esteem when people tell me that what I made is fantastic.  I also love baking beautiful things – I appreciate beauty in simple cookies and cakes as well as more elaborate things.  I'm baking mini-cheesecakes for my brother-in-law's wedding this weekend and I'm super excited about it!
Thanks for being willing to share, Jenn! If you're interested in sharing the 5 things that make you feel beautiful, shoot me an e-mail (madisonjanemayberry@gmail.com) for more information. -Madison