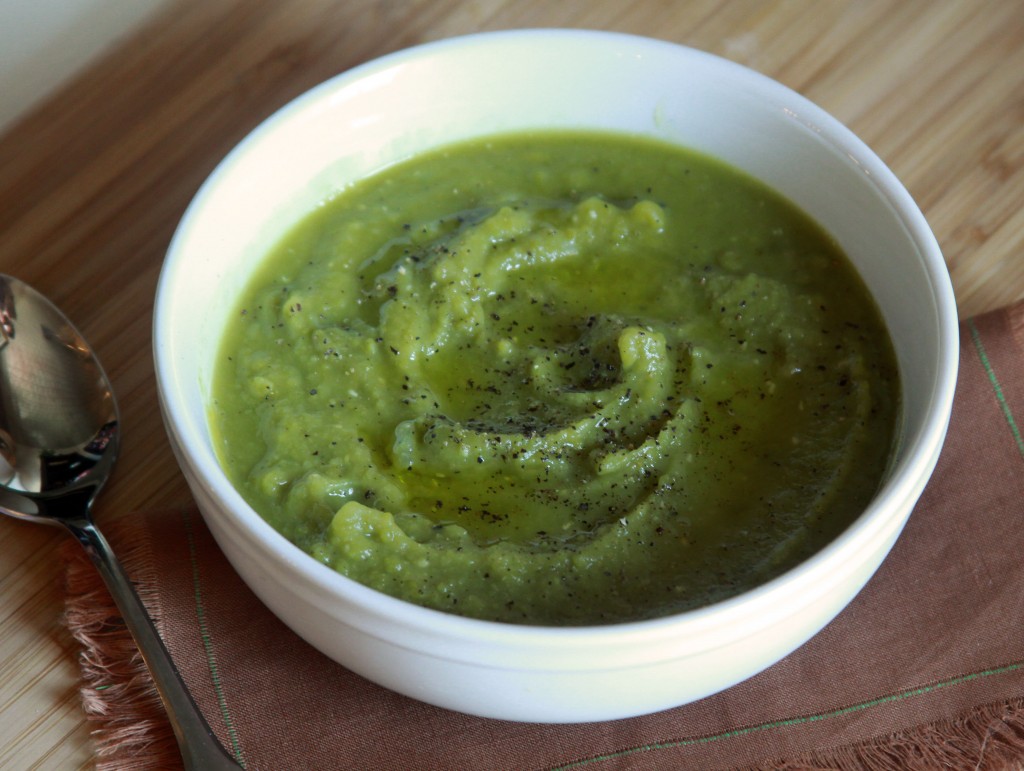 One of my all-time favorite items from Trader Joe's is their Organic Split Pea Soup. I was never a big fan of split pea soup before I discovered TJ's version, but it didn't take me long to become hooked. It contains just a handful of ingredients, is ultra-thick and satisfying and an entire can of this soup contains just 150 calories. More often than not, you'll find a few cans stashed away in our pantry for a quick weeknight dinner paired with some toast and hummus.
The only problem with this soup? Each can comes in at $1.99. I know, I know, that's not exactly budget-busting, but when you consider the ingredients involved to make it (split peas, onion, water, spices) it starts to seem a little pricey. So last week while grocery shopping, I picked up a bag of dried split peas and an onion and decided to try making this soup at home. After a little scouring on the internet, I found a recipe from Heidi over at 101 Cookbooks that looked fairly similar.
The ingredient list was simple, just water, split peas, an onion, olive oil and salt/pepper and the method was equally approachable. After cooking the onion with the olive oil, you add water and split peas, simmer until tender, then puree 2/3 of the split pea mixture until smooth and add back in the remaining onion/pea mixture for texture. Season with salt and pepper and that's it! You've got yourself some tasty, healthy and cheap soup.
And the cost of making this soup (4 servings worth) was much cheaper than buying it. Take a look:
1 Yellow Onion: $0.50
1 Tbsp. Olive Oil: $0.20?
1 Bag Dried Split Peas: $1.57
Water: $0
Salt and Pepper: $0.10?
Total: $2.37 for 4 servings
Now before you go running off to make yourself a batch of this soup, keep in mind that you really should like the taste of peas in order to like this recipe. Since there are so few ingredients, the pea flavor really shines through. I loved it and, for the record, Joe also thought it was pretty tasty. But chances are, if you don't like peas, this might not be your thing.
Vegan Split Pea Soup
Slightly adapted from Vegetarian Split Pea Soup by 101 Cookbooks
Ingredients
*1 large yellow onion, peeled and finely chopped
*1 tablespoon olive oil
*5 cups water
*2 dried split peas, rinsed
*Salt and pepper to taste
Instructions
*In a large stockpot over medium high heat, combine the onion and olive oil. Cook for 2 to 3 minutes, until onions are softened and slightly tender. Add the water and split peas to the stockpot and bring to a boil. Reduce heat to simmer and cook for 30 to 35 minutes, or until peas are tender and soft.
*Spoon about 1/3 of the pea/onion mixture into a bowl and set aside. With an immersion blender**, blend the remaining soup in the pot until smooth and creamy. Return reserved pea/onion mixture to the pureed soup and stir until well combined. Season to taste with salt and pepper (about 1/2 teaspoon salt and 1/4 teaspoon pepper is a good starting spot.)
**You could also cool the soup mixture slightly and blend with a blender or food processor. Be sure to cool the mixture, as blending hot liquids in a blender can be unsafe. For more information, see this article.
Happy Cooking!
Madison