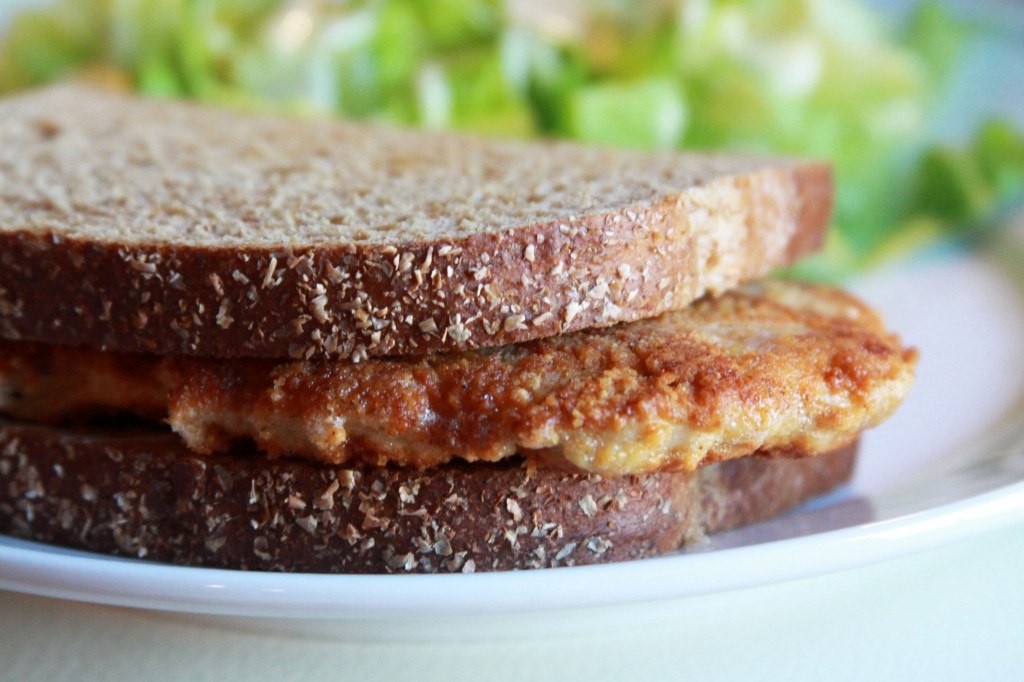 If you've ever visited the great state of Iowa, chances are you came in contact with a menu that had a pork tenderloin sandwich on it. Where I grew up, in the NW corner of the state, pork tenderloin sandwiches weren't as popular as they are in central or eastern Iowa. But once I moved to Des Moines, I realized that they are everywhere around these parts.
A good pork tenderloin sandwich is always:
a) very large and certainly too large for the bun or bread it sits on
b) salty, crispy and tender/juicy in the center
We have a restaurant near our home called Montgomery's Sandwich Shop that sells ridiculously large pork tenderloin sandwiches for a ridiculously cheap price. Every now and again, Joe and I will visit Montgomery's so I can get a black bean burger and he can get the pork tenderloin sandwich. Although the sandwich is cheap, I couldn't resist trying to recreate this meal at home for Joe.
Last week, I found 4-ounce center-cut pork chops on sale at the grocery store for $1 each (!!) and decided to put them to use in this pork sandwich. Technically, a true pork tenderloin sandwich should contain, well, pork tenderloin and not a center-cut pork chop. So I'm cheating a little, and I hope you'll forgive me.
The key to a great pork sandwich is to butterfly the pork and pound it out into a very thin piece of meat. After that, in order to tenderize my pork chops, I soaked them in a brine for two hours to keep them juicy during frying. Please don't skip this step, as I think it makes a huge flavor and texture different to the meat. After brining the thin cuts of meat, I soaked them in an egg and buttermilk mixture, dipped them in a seasoned flour/bread crumb/Parmesan mixture and then repeated the cycle for an extra-crispy coating.
When it comes time to cook the pork you need plenty of butter and a tiny bit of patience. Since the meat is thin, it doesn't take all that long to cook. But be sure to keep the temperature at medium in order to cook the pork through without over-browning the coating. No one likes a burnt pork sandwich! By the time the pork finishes cooking in the butter, which browns as the pork cooks, you have yourself one fine sandwich. Served between toasted bread with a little mayo (and some ketchup, if you're like Joe), it's a meal that may not be the healthiest, but certainly won't disappoint.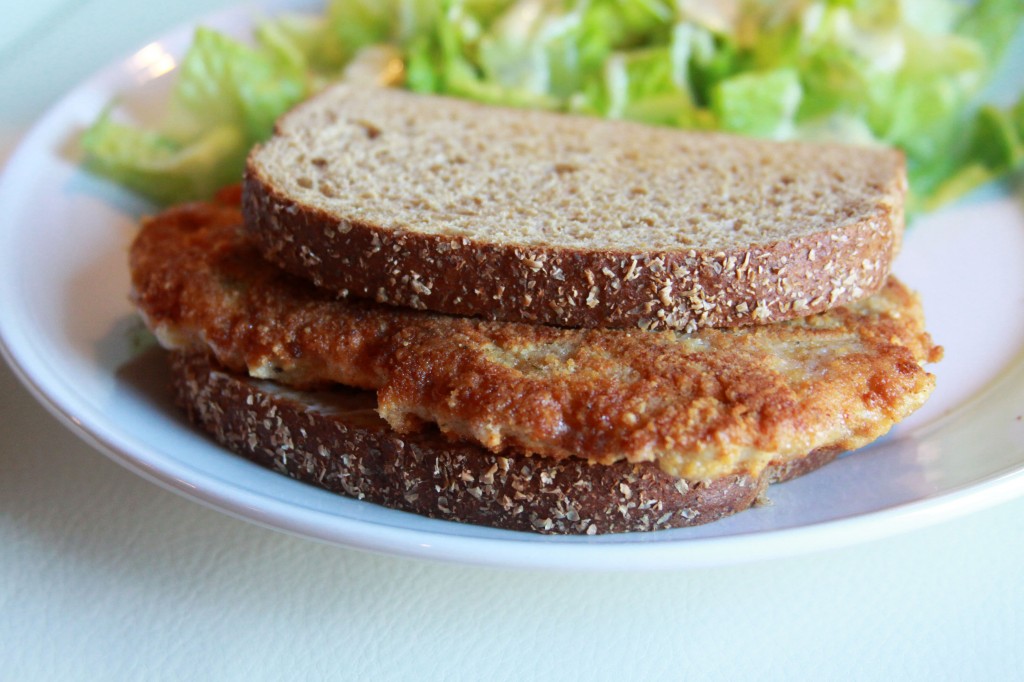 Midwest-Style Pork Sandwich
Ingredients
*2 (4-ounce) boneless center-cut pork chops
*1/3 cup salt
*3 cups water
*2 large eggs, lightly beaten
*1/4 cup buttermilk
*1/3 cup flour
*1/3 cup grated Parmesan cheese
*1/3 cup unseasoned dry bread crumbs
*1/4 teaspoon onion powder
*1/4 teaspoon garlic salt
*1/4 teaspoon chile powder
*Ground black pepper
*3 tablespoons butter
*4 slices whole wheat bread, toasted
*2 tablespoons mayonnaise
Instructions
*In a medium bowl, combine the water and salt. Set aside.
*With a heavy-duty kitchen knife, butterfly the pork chops. To do so, use your knife to horizontally cut through the pork chop so it's about 1/4-inch thick on both sides of the knife. Cut almost all the way through but not all the way and open the chop up like a book to lay flat into one larger, thin piece. Repeat with remaining chop. Place chops between two sheets of waxed paper and pound with a rolling pin into a slightly thinner piece of pork. Transfer pork chops to water mixture and refrigerate. Allow pork to sit in the brine for 1 1/2 to 2 hours.
*Remove pork from water mixture and pat dry. In a shallow bowl, combine the egg and buttermilk. In a second shallow bowl, combine the flour, Parm, bread crumbs, onion powder, garlic salt, chile powder and black pepper. Stir until well combined.
*In a large skillet, heat butter over medium heat. Dip pork chop in the egg mixture, followed by the flour mixture. Repeat once more. Do the same with the second pork chop. Transfer to the pre-heated skillet with melted butter. Cook for 3 to 4 minutes on each side (depends on how thin you pounded out your chop, mine were fairly thin) until golden brown on the outside and 145°F on the inside.
*Spread two slices of the toast with mayonnaise. Top with the pork chops and remaining slices of bread. Serve immediately.
Happy Cooking!
Madison