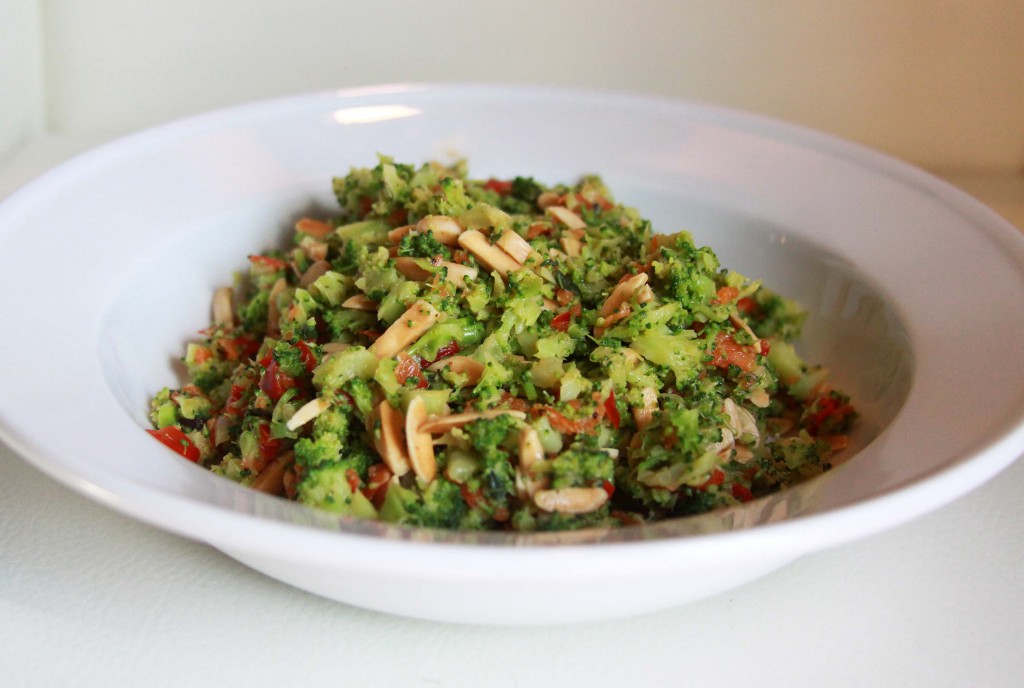 Happy Friday, everyone! I thought I would finish the week off on a high note by sharing one of my new favorite salads. Nothing like sharing pan-fried pork on a Wednesday and this Oil-Free Vegan Broccoli-Almond Salad on Friday, right? It's all about balance at our house – a little indulgence one day, followed by something super healthy the next.
Lately, I've realized that at the end of the week, we have a lot of broccoli left over in our fridge. I'm not exactly sure why, but broccoli hasn't been getting much love in the Hofmeyer house during the week, so I was looking for a new, fresh way to enjoy broccoli for lunch at the end of the week. When I spotted an oil-free broccoli salad at Whole Foods a couple weeks ago, I knew I had to make something similar at home (for a fraction of the price!) And so, this salad was created. It's fresh, substantial (thanks to the hefty serving of toasted almonds), and packed with great flavor with the addition of nutritional yeast, ground mustard and fresh thyme. If you're looking for a healthy, oil-free addition to your lunch or a side to take along to a backyard barbecue, I wouldn't hesitate to recommend this salad. And to make it more meal-like, try adding some sort of grain like cooked quinoa or brown rice.
Hope you all have a great weekend!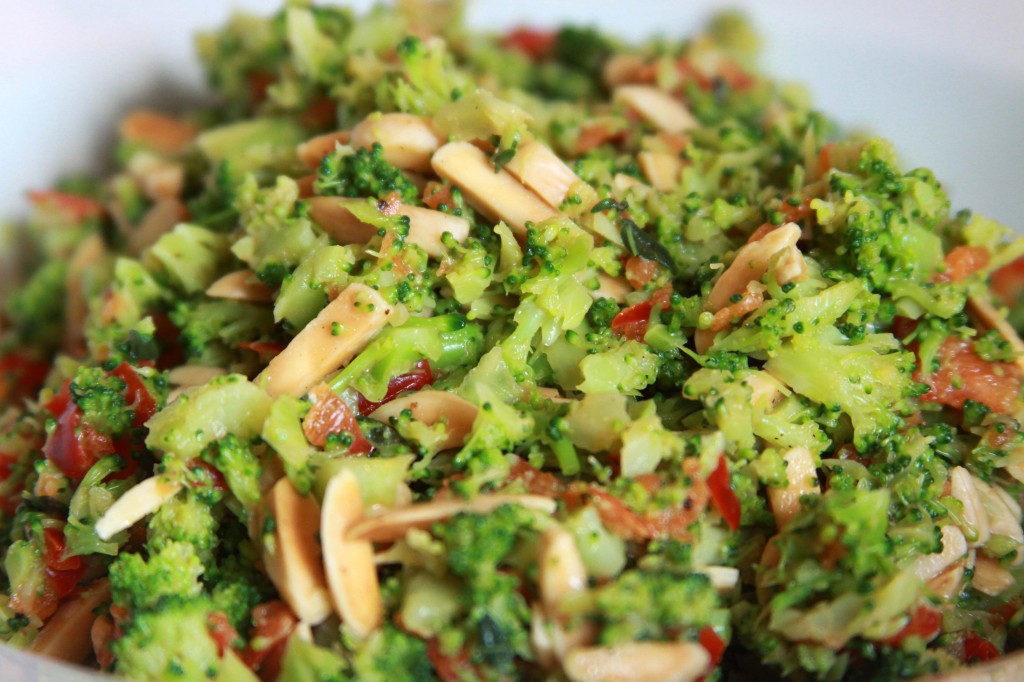 Oil-Free Vegan Broccoli-Almond Salad
Ingredients
*1 head broccoli florets (about 2 1/2 to 3 cups)
*1/2 cup chopped red sweet pepper
*1/2 tablespoon chopped fresh thyme
*1 1/2 tablespoons nutritional yeast
*1/2 teaspoon ground mustard
*1/4 to 1/2 teaspoon coarse salt
*1/4 teaspoon ground black pepper
*1/2 cup slivered almonds, toasted
Instructions
*Bring water and broccoli to a boil in a medium saucepan. Boil for 2 minutes. Remove from heat and drain. Rinse with cold water. Drain again very well.
*In the bowl of a large food processor, combine the red pepper and thyme and pulse until red pepper is finely chopped. Add in the nutritional yeast, ground mustard, salt, black pepper and broccoli. Pulse until broccoli is finely chopped. Transfer mixture to a mixing bowl and stir until all ingredients are evenly mixed. Stir in toasted almonds. Serve immediately or refrigerate until ready to serve.
Happy Cooking!
Madison