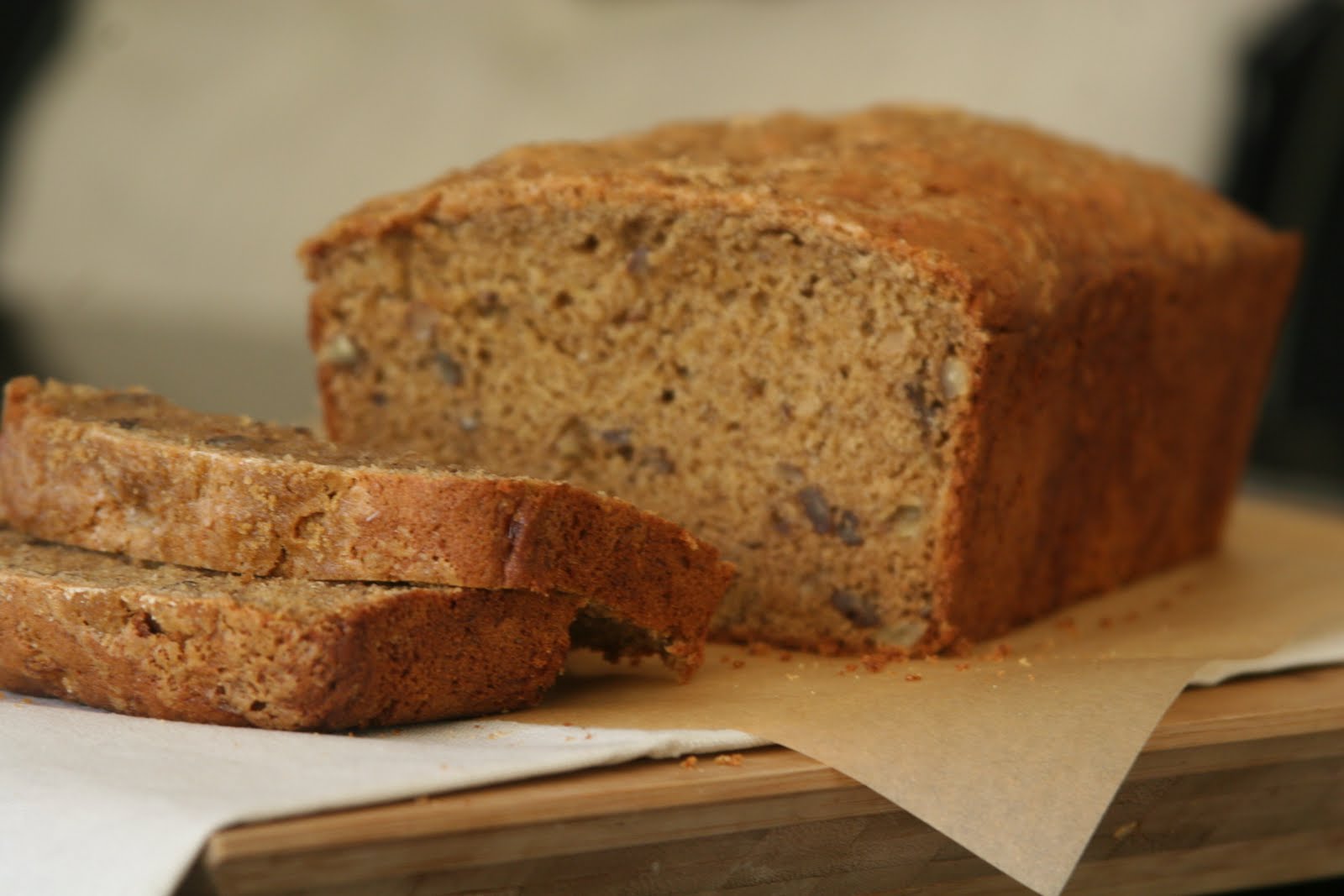 I feel a little bad for banana bread sometimes. Sure, it's delicious beyond measure and versatile, going easily from morning to night. But very rarely does anyone set out to make banana bread. Instead, banana bread has been reduced to an afterthought. Have old bananas on hand that are too old for the lunchbox or morning cereal? Make banana bread.
This recipe might change the way you approach banana bread. You might even find yourself going to the store, in search of bananas on the verge of going to mush, for the sole purpose of making banana bread, because this recipe is pure yumm. Trust me, I did the research this weekend and the feedback was all kinds of positive. 
But this banana bread also has a dirty little secret. It's made with 100% whole wheat flour. When is she going to shut up about whole wheat flour? You're probably thinking, but I just can't seem to find it in me to shut my mouth, because when a recipe finds that happy place where it is soft, moist, delicious, and 100% whole wheat, you know you've got something good on your hands and your hips.
Banana Bread Ultimate
Ingredients:
*1 cup sugar
*1 stick unsalted butter, softened
*2 large eggs
*3 ripe bananas, mashed
*2 Tablespoons milk
*1 tsp. vanilla extract
*1 1/2 teaspoons ground cinnamon
*2 cups whole wheat flour
*1 teaspoon baking powder
*1 teaspoon baking soda
*1 teaspoon salt
*3/4 cup chopped pecans 
Instructions:
*Preheat the oven to 325*F. Butter a 9 x 5 x 3 inch loaf pan. Line the bottom of the loaf pan with a slice of parchment paper to avoid sticking.
*Beat the sugar and butter in a large mixing bowl until light and fluffy, about 2 to 3 minutes. Add the eggs one at a time, beating well after each addition.
*In a small bowl, mix together the bananas, milk, vanilla, and cinnamon. In another bowl, mix together the flour, baking powder, baking soda and salt.
*Add the banana mixture to the butter/sugar mixture and stir until combined. Add dry ingredients, mixing just until flour disappears.
*Beat in the chopped pecans by hand.
*Pour batter into pan and bake 1 hour to 1 hour 10 minutes, until a toothpick inserted in the center comes out clean. Set aside to cool on a rack for 15 minutes. Remove bread from pan, invert onto rack and cool completely before slicing.
Happy Baking!
Madison