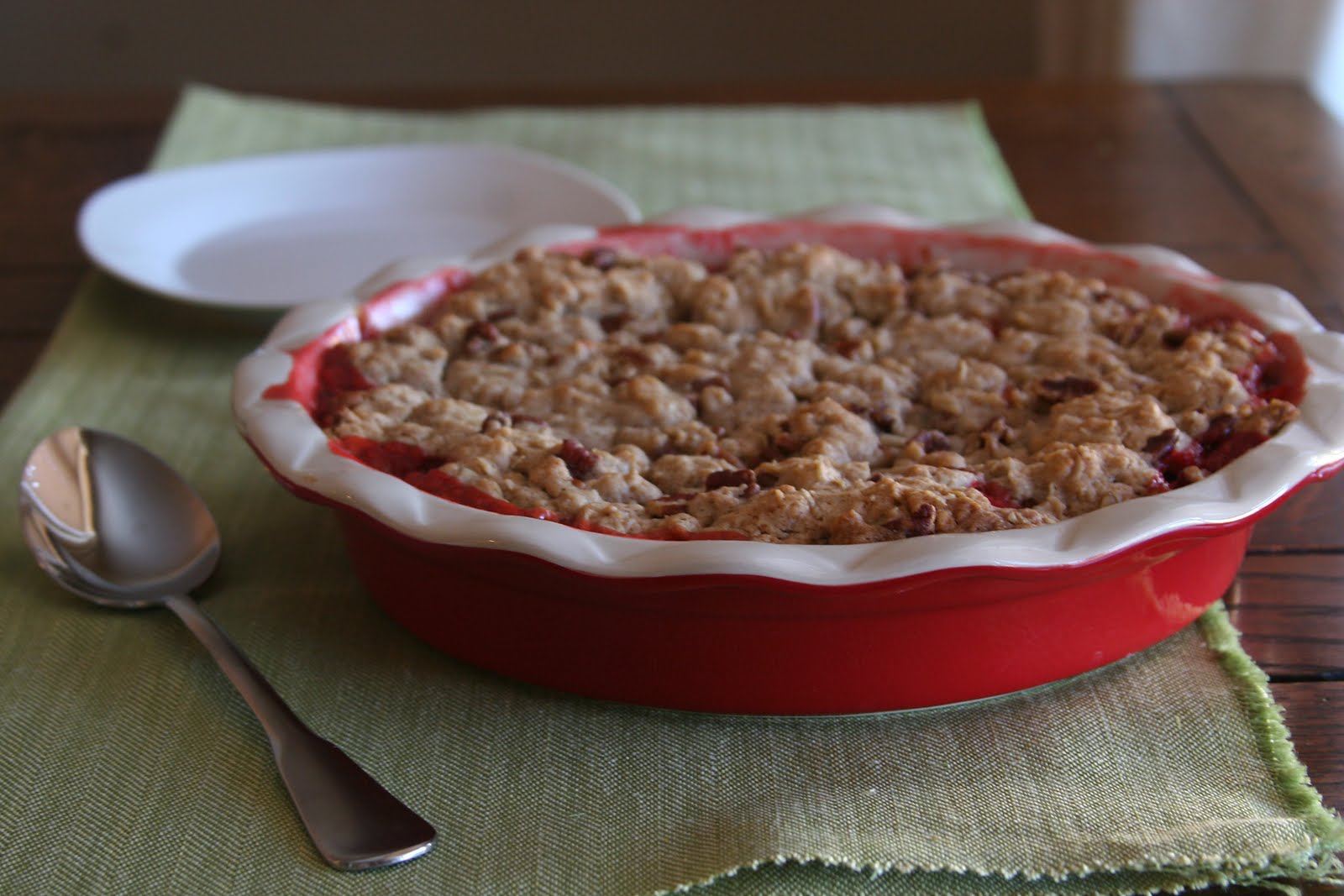 Working at a magazine devoted to home and family, I think I fit in pretty well. I love my family, dabble in home (er, apartment) decorating and design, and it's no surprise food gets me going. But truth be told, I've never even really had the desire to grow anything, especially when I can run down to the farmer's market on a Saturday morning and return with a bounty of reasonably priced local produce – no weeding required.  That is, until I was home last weekend and developed a hint of longing for a small garden of sorts. Or in the case of my yard at home, just a few healthy rhubarb plants, sprouting like clockwork every year around this time.
I returned to my apartment Monday morning, suitcase and a big bunch of freshly-cut rhubarb in tow, excited about my loot but unsure what I wanted to make. Rhubarb bread was tossed around for a while, followed by the idea of making rhubarb sauce. But since J. tells me his mom makes a fabulous rhubarb sauce and I've never made any, I figured some things are best left untouched. Instead I settled on the classic combo of strawberry and rhubarb in the form of a cobbler.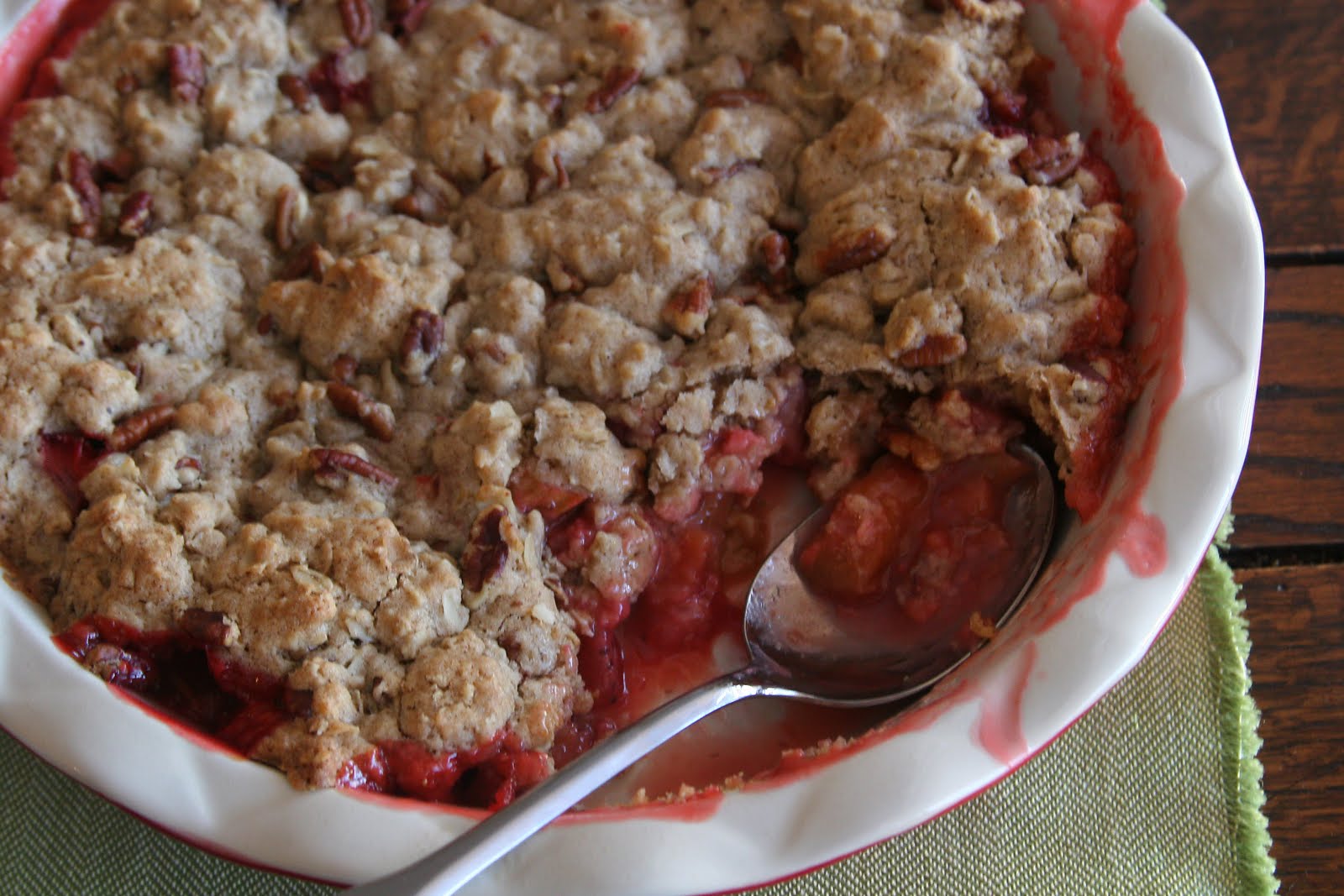 Cobblers epitomize everything great about fruit desserts; they are sweet, simple, and light enough to eat even during the warmest days of summer. They pair nicely with ice cream and are easily adaptable for whatever fruit is in season. But no matter how great the fruit below may be, the bread and butter of a cobbler lies in the topping.
In my mind a good cobbler topping must be substantial, crispy, sweet and toasty – like eating an oatmeal cookie only to discover an equally delicious fruity delight underneath. This cobbler is best when eaten warm and straight from the oven, or within a day of baking. And if you are lucky enough to have any cobbler left over, it makes a delicious, indulgent breakfast when served alongside a scoop of yogurt and a cup of good, strong coffee.
Strawberry-Rhubarb Cobbler
(Printable Recipe)
Ingredients:
Filling
*3 cups rhubarb, chopped
*1 lb. straberries, sliced
*1/2 cup sugar
*1/4 cup all-purpose flour
*1 Tbsp. strawberry gelatin
Topping
*1 cup all-purpose flour
*1/2 cup sugar
*1 cup rolled oats
*1/2 cup chopped pecans
*1 tsp. ground cinnamon
*1/4 tsp. nutmeg
*1/2 tsp. salt
*1 tsp. baking soda
*1 stick of butter, melted
*1 large egg
Instructions:
*Preheat oven to 350*F. Lightly grease a 9- to 10-inch pie plate. Set aside.
*In a large bowl, toss together the rhubarb, strawberries, sugar, flour, and strawberry gelatin. Pour the strawberry-rhubarb mixture into the pie plate and spread into an even layer.
*In another bowl, combine the flour, sugar, oats, pecans, cinnamon, nutmeg, salt, and baking soda and stir until evenly combined.
*Add the butter and egg to the dry ingredients and stir until dry and wet ingredients are well combined.
*With your fingers, crumble the topping over the fruit. Place the cobbler in the oven and bake for 35 to 40 minutes, until filling is bubbly and topping is set and slightly golden. Cool for 5 to 10 minutes. Best is served warm or within one day of baking.
Happy Baking!
Madison