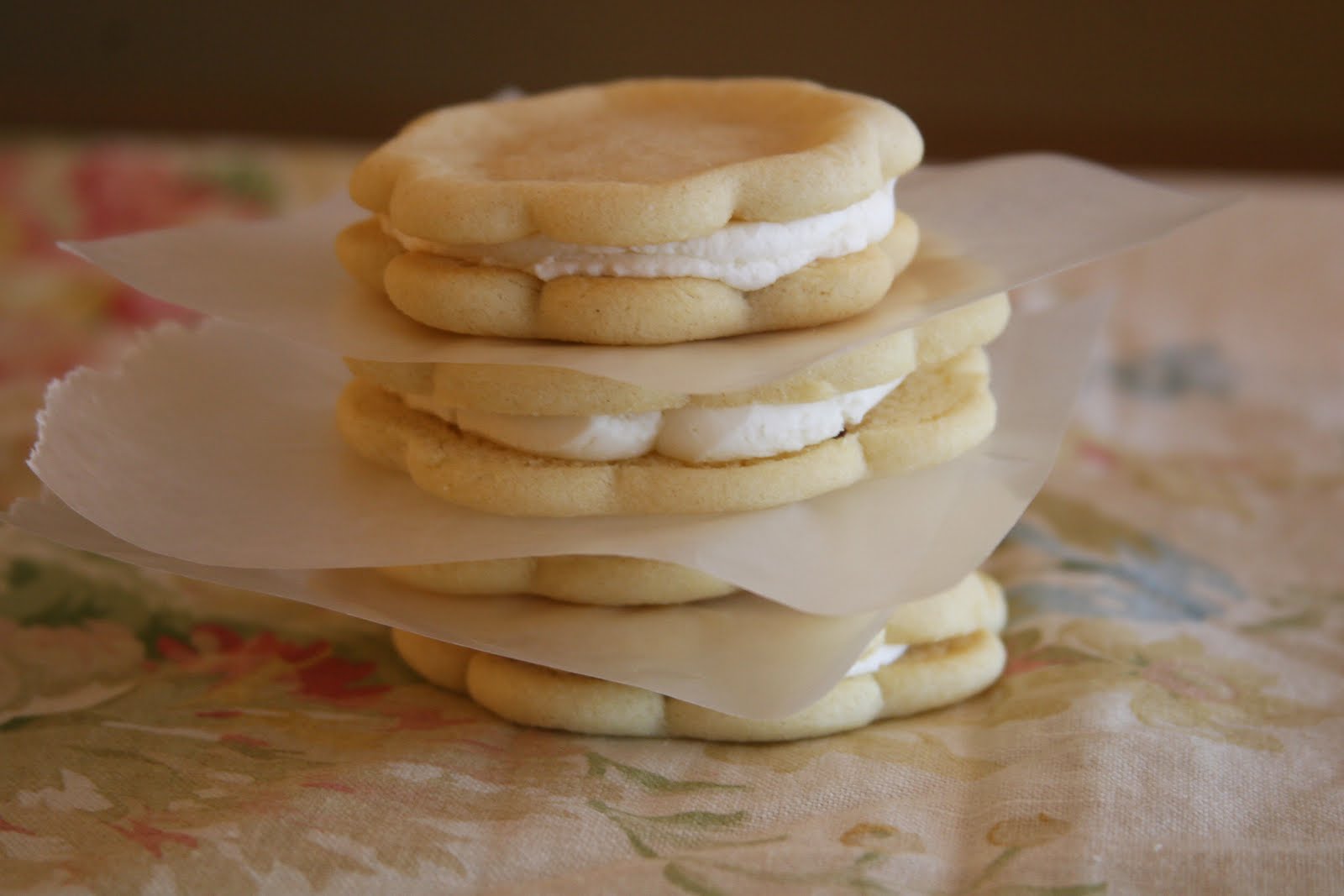 At this moment, I would love nothing more than to write words beautiful enough to do these cookies justice, but right now the only words coming to my head are exhaustion and sleep-deprivation. Graduation weekends and the celebration of new beginnings and memories past bring about excitement, sadness, joy, and pure lack of sleep. This weekend J. graduated from college and today I managed to sneak away to a coffee shop so I could stop, and breathe, and take a minute to think about something as simple and beautiful as a light almond sandwich cookie filled with cream.
Consider this recipe part one of a two part series – a contrast of sorts in light and dark. Last week I played with two versions of what started out as a homemade Oreo. Much like the Homemade Pop Tarts of a few weeks back, there is something incredibly fun and nostalgic about making your own version of a treat you've been eating from the package since childhood. Part of the beauty is the ability to customize in whatever way you see fit. Me? I'm a vanilla sort of girl. 
So in this case, my version of a homemade Oreo takes the form of Almond Sandwich Cookies. These cookies are light, crispy, and incredibly sweet, especially when filled with an Oreo-like cream, so proceed with caution when making them. I found one of my smallest cookie cutters was the perfect size, allowing me to finish a cook in no more than a couple bites. And for both taste and nostalgic value, always serve with a glass of milk.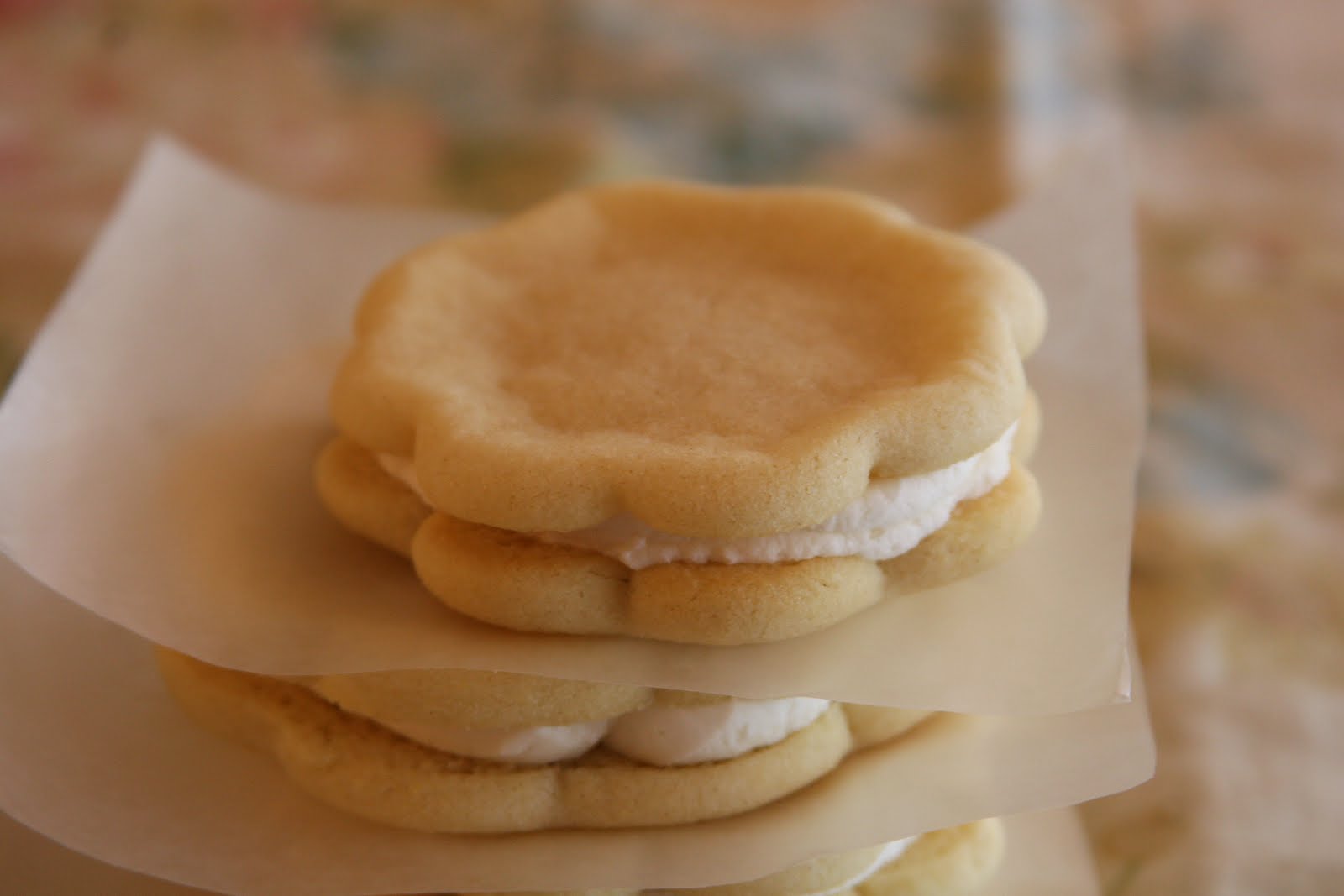 Almond Sandwich Cookies
Adapted from Retro Desserts from Wayne Brachman via Smitten Kitchen
(Printable Recipe)
Ingredients:
Cookies
1 3/4 cups all-purpose flour
1 teaspoon baking soda
1/4 teaspoon baking powder
1/4 teaspoon salt
1 1/4 cup sugar
10 Tbsp. (1 1/4 sticks) unsalted butter, softened
1 large egg
2 tsp. almond extract 
Filling
1/4 cup unsalted butter, softened
1/4 cup shortening
2 cups powdered sugar
1 teaspoon almond extract
1 Tbsp. milk
Instructions:
*Set two racks in the middle of the oven. Preheat to 350°F.
*In a food processor, or bowl of an electric mixer, thoroughly mix the flour, baking soda and powder, salt, and sugar. While pulsing, or on low speed, add the butter, and then the egg. Continue processing or mixing until dough comes together in a mass.
*Transfer dough to a lightly-floured surface. Use a rolling pin to roll the dough to a 1/2-inch thickness. Using a cookie cutter (I used a flower-shaped cutter) slice cookies and place on baking sheet. Bake for 7 minutes, until lightly golden around the edges. Cool 2 minutes on baking sheet, then transfer to cooling rack and cool completely.
*To make the cream, place butter and shortening in a mixing bowl, and at low speed, gradually beat in the sugar, almond extract, and milk. Turn the mixer on high and beat for 2 to 3 minutes until filling is light and fluffy.
*To assemble the cookies, in a pastry bag with a 1/2 inch, round tip, (I just used a zip lock bag with the end snipped off) pipe teaspoon-size blobs of cream into the center of one cookie. Place another cookie, equal in size to the first, on top of the cream. Lightly press, to work the filling evenly to the outsides of the cookie. Continue this process until all the cookies have been sandwiched with cream.
Happy Baking!
Madison