Whew. Two days after graduation, three loads of laundry, four bags of groceries, one day of work, and two deliriously wonderful nights of sleep later I think I've finally recovered from a crazy-lovely graduation weekend up in Minneapolis. And yes, that guy I talk about quite a bit on Espresso and Cream graduated, with honors and a job! (excuse my bragging, I'm just a bit proud) And because I enjoy looking at other people's photos on the blogs I follow, here is a little snippet from graduation.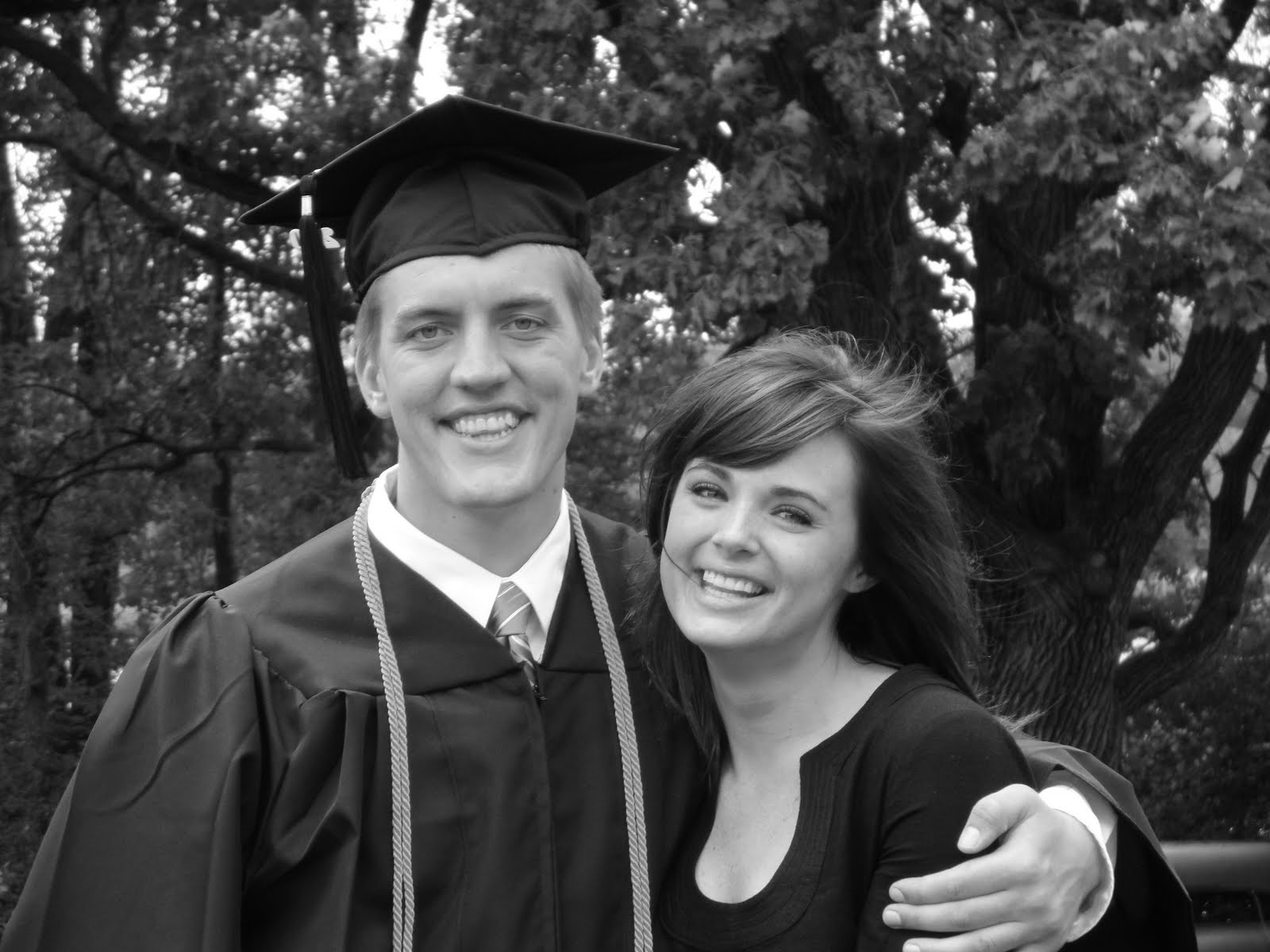 Part two of the sandwich cookie series comes back to the original, or at least the most famous, mass-produced sandwich cookie. I hardly think I need to go into detail about what makes an Oreo so beloved. It's crispy on the outside, creamy inside, and brings together the very classic combination of vanilla and chocolate. 
My greatest complaint with purchased Oreos is the lack of filling. Even the double stuffed variety just isn't quite enough. I want to sit down with a glass of milk, split apart my cookie, and see lots of white cream waiting to be dipped. And since they have yet to roll out a triple stuffed Oreo, I am making my own. 
Like the original, they are crispy, creamy, and make your teeth black with chocolaty goodness, but they taste a little bit more real and a whole lot more special. For everyday, store-bought Oreos will do just fine, but get a group together for a dinner party and serve them Oreos from the package for dessert and they may look at you a little funny. Serve them homemade Oreos and a scoop of vanilla ice cream and you have yourself a dessert that is familiar yet unexpected.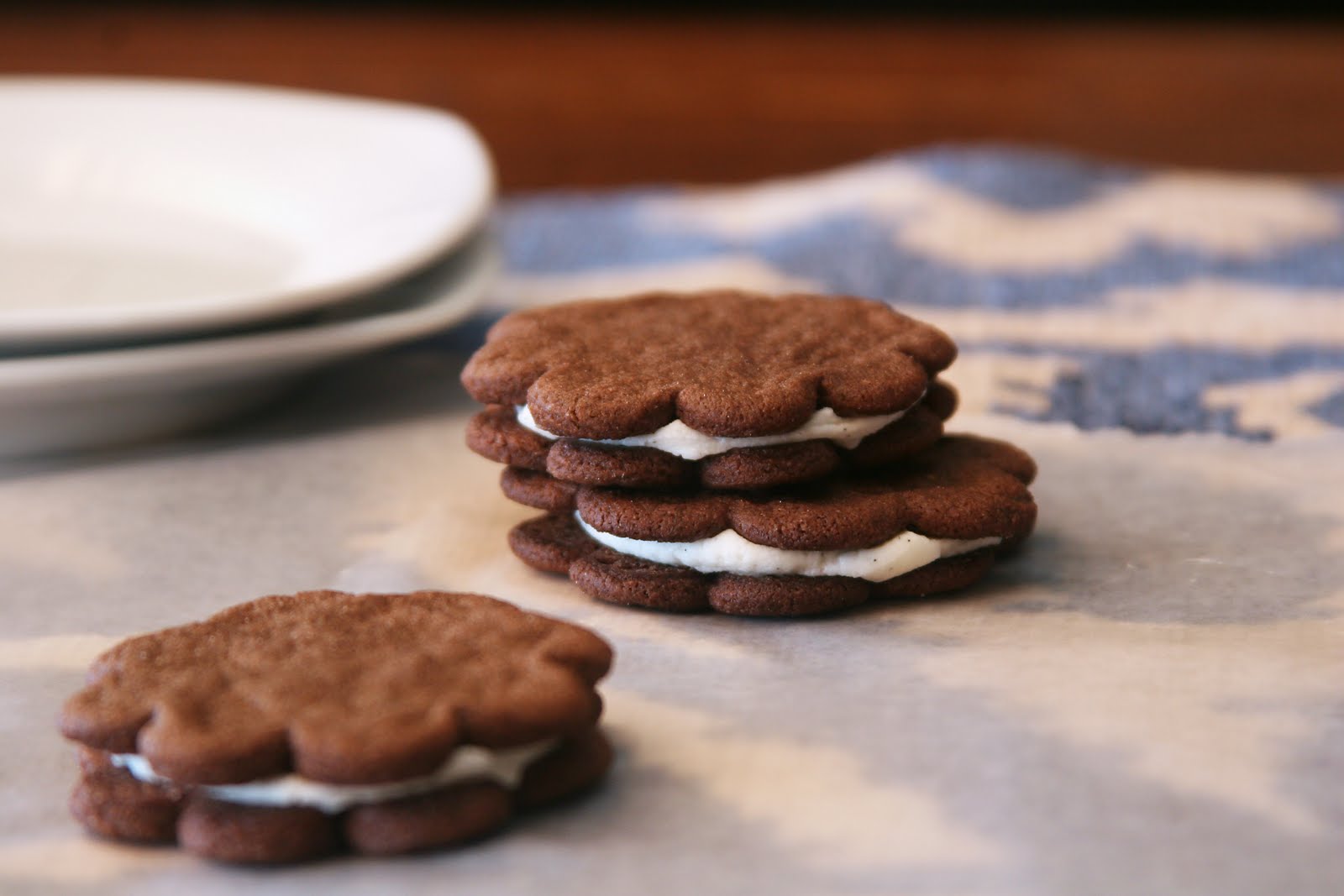 Ingredients:
Homemade Oreos
Adapted from Retro Desserts from Wayne Brachman via Smitten Kitchen 
(Printable Recipe)
Ingredients:
Cookies
1 1/4 cups all-purpose flour
1/2 cup unsweetened cocoa powder 
1 teaspoon baking soda
1/4 teaspoon baking powder
1/4 teaspoon salt
1 1/4 cup sugar
10 Tbsp. (1 1/4 sticks) unsalted butter, softened
1 large egg
2 tsp. vanilla extract  
Filling
1/4 cup unsalted butter, softened
1/4 cup shortening
2 cups powdered sugar
1 teaspoon vanilla extract
1 Tbsp. milk
Instructions:
*Set two racks in the middle of the oven. Preheat to 350°F.
*In a food processor, or bowl of an electric mixer, thoroughly mix the flour, cocoa powder, baking soda and powder, salt, and sugar. While pulsing, or on low speed, add the butter, and then the egg. Continue processing or mixing until dough comes together in a mass.
*Transfer dough to a lightly-floured surface. Use a rolling pin to roll the dough to a 1/2-inch thickness. Using a cookie cutter (I used a flower-shaped cutter) slice cookies and place on baking sheet. Bake for 7 minutes, until lightly golden around the edges. Cool 2 minutes on baking sheet, then transfer to cooling rack and cool completely.
*To make the cream, place butter and shortening in a mixing bowl, and at low speed, gradually beat in the sugar, vanilla, and milk. Turn the mixer on high and beat for 2 to 3 minutes until filling is light and fluffy.
*To assemble the cookies, in a pastry bag with a 1/2 inch, round tip, (I just used a zip lock bag with the end snipped off) pipe teaspoon-size blobs of cream into the center of one cookie. Place another cookie, equal in size to the first, on top of the cream. Lightly press, to work the filling evenly to the outsides of the cookie. Continue this process until all the cookies have been sandwiched with cream.
Happy Baking!
Madison