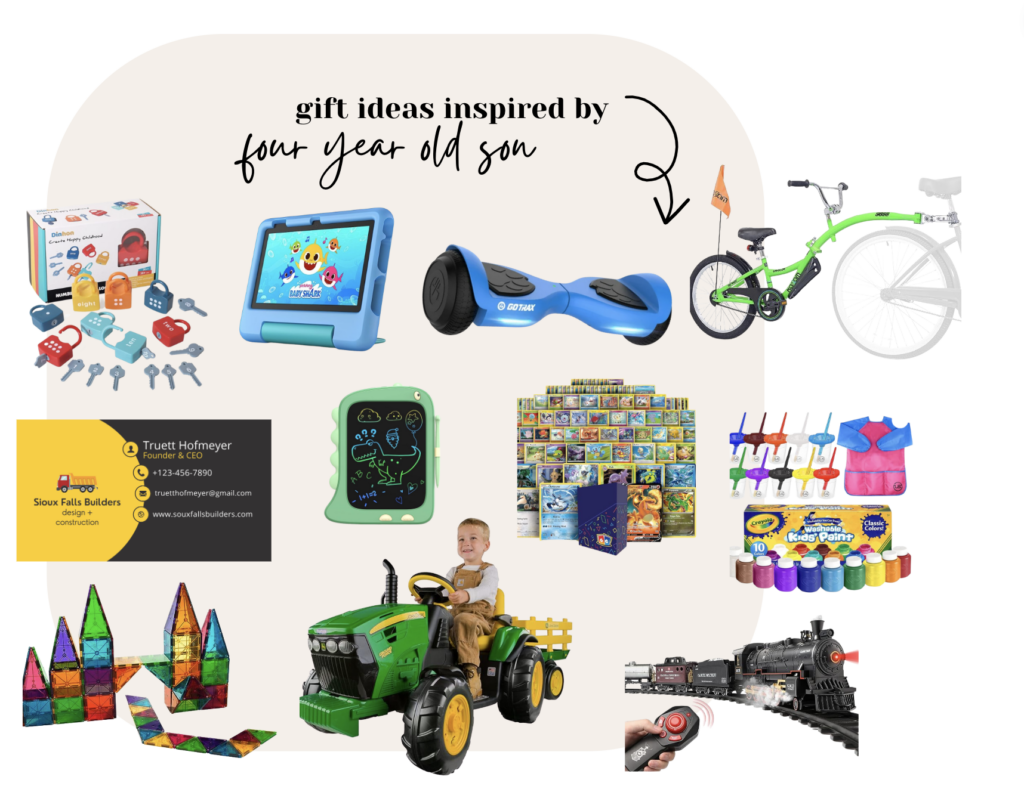 Moving on to gift ideas for little boys but honestly many of these ideas would work for kids older than that as well! Truett is such an imaginative kid that he oftentimes finds things to "play" with that are just in his imagination or uses things around the house to make his own fun, but these are some of the more toy-based ideas that he loves or that I'm buying him this year.
Number Locks and Letter Locks
Truett has been working on numbers and letters in preschool and has been playing with the letter locks at our babysitters house. I got him a similar number version as well to make learning letters and numbers more fun!
Lil Cub Hoverboard
This was the best birthday gift! Truett truly loves it and uses it all the time. A very easy hoverboard for little kids to learn on but big enough and sturdy enough for his older siblings to use, too.
Mock Business Cards
Ok, maybe this is only for little boys like Truett but he LOVES to play "Sioux Falls Builders" – the name of his imaginary company – and pretend he owns a design and construction company. We're getting him some of his very own business cards! 🙂 I like to design + print them on Canva.
John Deere Ride On Tractor
This has been SUCH a hit over the last year. Truett drives it everywhere. We have literally driven it into the ground it's gotten so much use. Highly recommend!
Magna Tiles
I recommend them every year because they are a toy we play with again and again! LOVE them so much and the way they spur on creativity.
Perler Biggie Beads
Truett is enjoying doing Perler beads at this age – he is finally big enough not to want to just wreck his sister's beads any more. But the smaller beads are still pretty tricky for him so I'm getting him the biggie beads.
Washable Paint Set
It's not uncommon for Truett to ask to paint first thing in the morning. 😉 He LOVES being creative and painting.
Fire Tablet for Kids
This is Truett's tablet and we love it for trips/vacations/longer car rides. Way more affordable than an Ipad and easy for kids to navigate.
LED Writing Tablet
So easy + fun to take along on car rides, kids sporting events, etc.
Electric Train
My mom has a vintage electric train that Truett LOVES and I thought he would be such a fan of having his own this year.
Tagalong Bike Trailer
We just got one of these and it's SO great! We found ours used on Facebook for a fraction of the cost of something brand new. Truett's getting a little big for the Burley now so this is a great option for long family bike rides that are too long for Truett to ride himself.
Pokemon Cards
I have no idea how Truett even got into these – probably because his sister and some of her friends are into them – but he loves collecting them, too! This is a much better price than anywhere I've found in person.