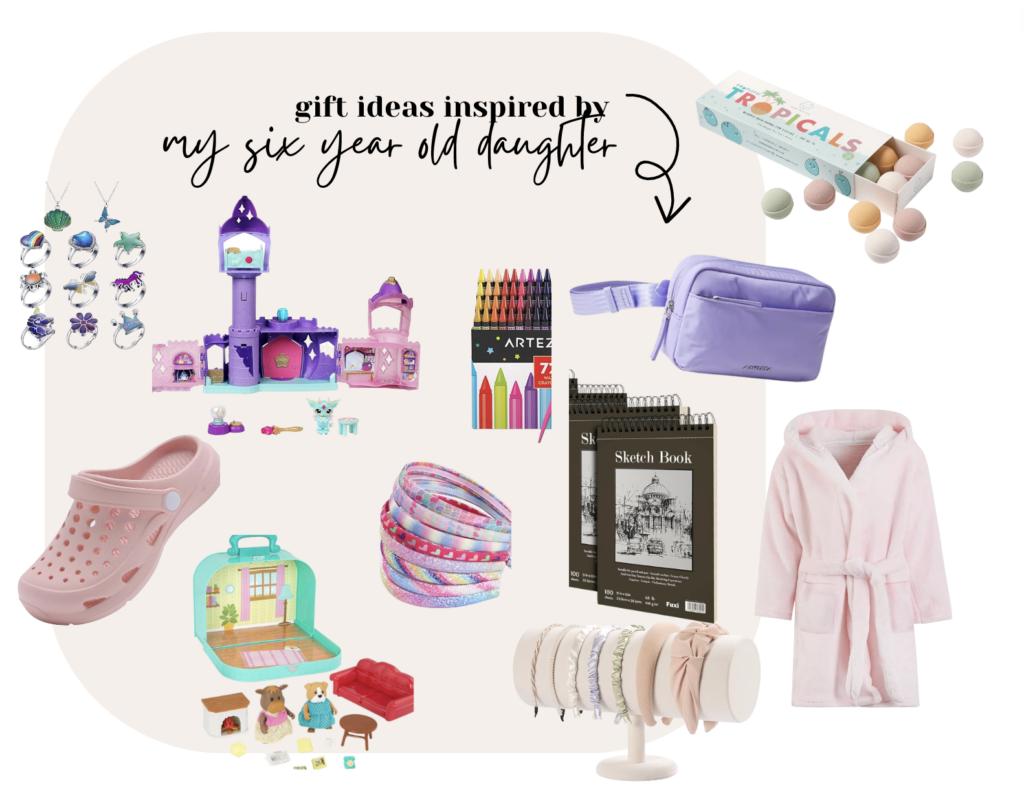 Next up is my gift guide for girls ages 6-7 (aka what Collins wants!) She is a girly girl who loves all things figurines, dress up, accessories, and creative play. I enjoy making these gift guides so much because they help me get on track with my own gifting for my kids – so you're basically getting to see what I'm giving my girls.
I hope this is helpful for you as you make your own list for the little girls in your life.
Belt Bag
She was very influenced by her sister's desire for a belt bag so I'm getting one for Collins, too!
Magic Mixies Castle
Collins has recently become really into Magic Mixies so I'm excited to get her this castle (currently 40% off on Amazon!) along with a few extra Mixie figurines.
Lil Woodzeez Portable Playset
My mom has this at her house and Collins plays with them ALL the time. The portable nature of this is so great, too!
Kids Crocs
These are a knock off brand at a great price on Amazon. My kids really aren't at the age where they care much about brand names so I think these will go over well!
Mood Ring Necklace and Rings
This was sort of a random request from Collins – guessing it was inspired by her classmates – but she really wants a mood ring necklace.
Girls Headband Pack
If you have a girly girl who loves dressing up for every occasion (like Collins) then perhaps this resonates. Collins is always looking for the perfect headband to go with her outfit for the day.
Headband Holder
To go with the headbands linked above. I love how pretty this one is for her dresser.
Art Sketch Book
Collins and Ainsley have both been really into art/drawing/sketching lately so I'm getting them dedicated sketch books.
"Fancy" Crayons
For the sketch book above! These are just a little more elevated feeling and I thought it would be sweet to pair these with the sketch book so she has a set dedicated to her art projects.
Kids Bathrobe
Another Collins request. She loves cozy + spa time + relaxing.
Clean Bath Bombs
My kids have the most sensitive skin. If they get the cheap kind they always break out in a rash or their skin gets so itchy so I'm getting these clean bath bombs for a spa night at home!