Hi friends! I'm going to be sharing some of my gift guides a little on the early side this year because I've heard from many of you that you are planning on shopping early this year. Whether you're shopping for now, or saving this guide for shopping closer to Christmas, I hope that these guides help you make wise + intentional + meaningful gifting choices for your loved ones!
First up, my gifting favorites for eight and nine year old girls – aka what I'm getting for Ainsley!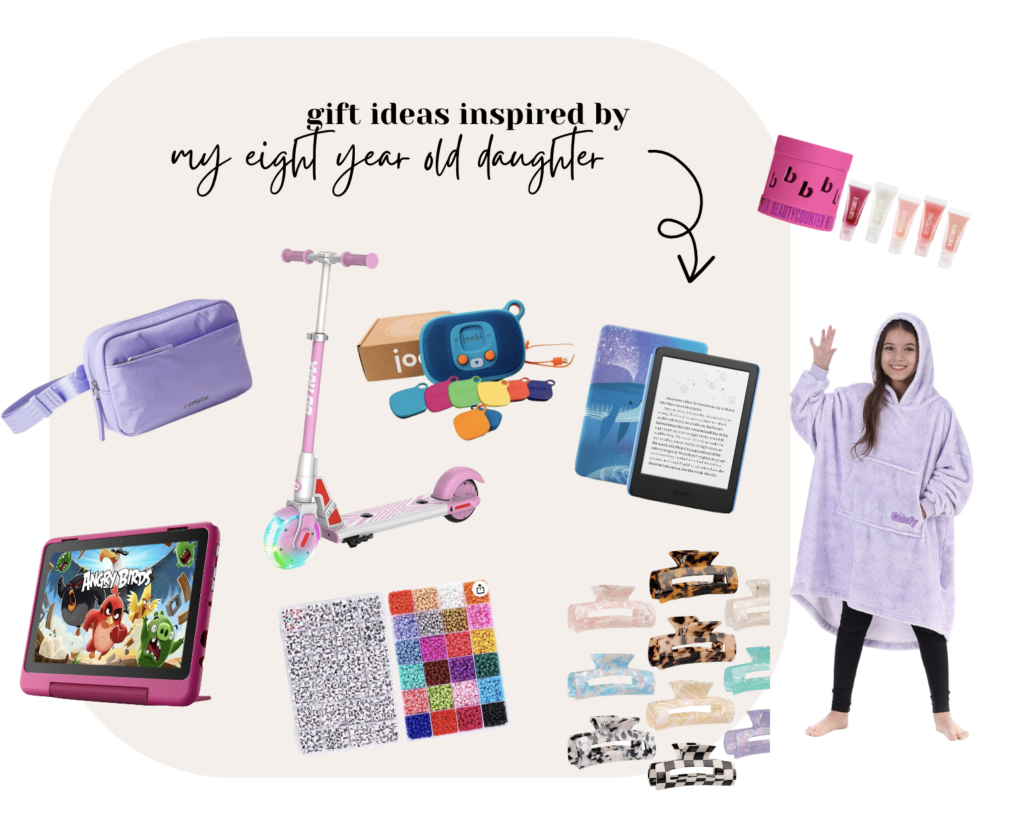 Athleta Belt Bag/Cross Body Bag
Ainsley's been asking for one of these. I love the purple color to match with our school colors! And the price is really great, too.
Comfy Wearable Blanket
Another friend of Ainsley's has one of these and she has mentioned wanting one for the longest time. Easy + cozy for lounging and wearing to games, outside, etc.
Fire Tablet Kids (ages 6-12)
We got one of these on a Prime Day Sale this summer (keep an eye out for deals!) because Ainsley has a very old iPad and always wants to play on Truett's Kindle Fire Tablet instead. I personally prefer the iPad interface but my kids all prefer the Fire Tablet!
Friendship Bracelet Making Kit
Ainsley has been really into making friendship bracelets and other jewelry as a quiet activity in her room. How cute is this kit? I snagged one for her!
Kids Electric Scooter
Honestly one of the only things on Ainsley's list I've heard her consistently say she wants. I think we may be getting this one for her based on price + reviews.
Hair Claws/Clips
Ainsley loves wearing her hair up in a claw clip so I'm getting her this multi-pack for thinner hair.
Jellies Lip Glosses
I always see makeup being recommended for fun/play for kids this age but my goodness it makes me cringe when I know what's in cheap kids makeup. Getting these as stocking stuffers for the girls! A much cleaner option + flavors that taste good and smell great.
Kids Kindle
Ainsley uses mine ALL the time. Excited to give her one of her own.
Jooki Audio Player
This audio player is one of the only I've seen that allows you to upload MP3 files or Spotify playlists to "tags" which can be played. It's similar to a Tonie Box but it doesn't require you to buy their pre-loaded content, which I love especially for older kids like Ainsley who loves making playlists on my Spotify to listen to.