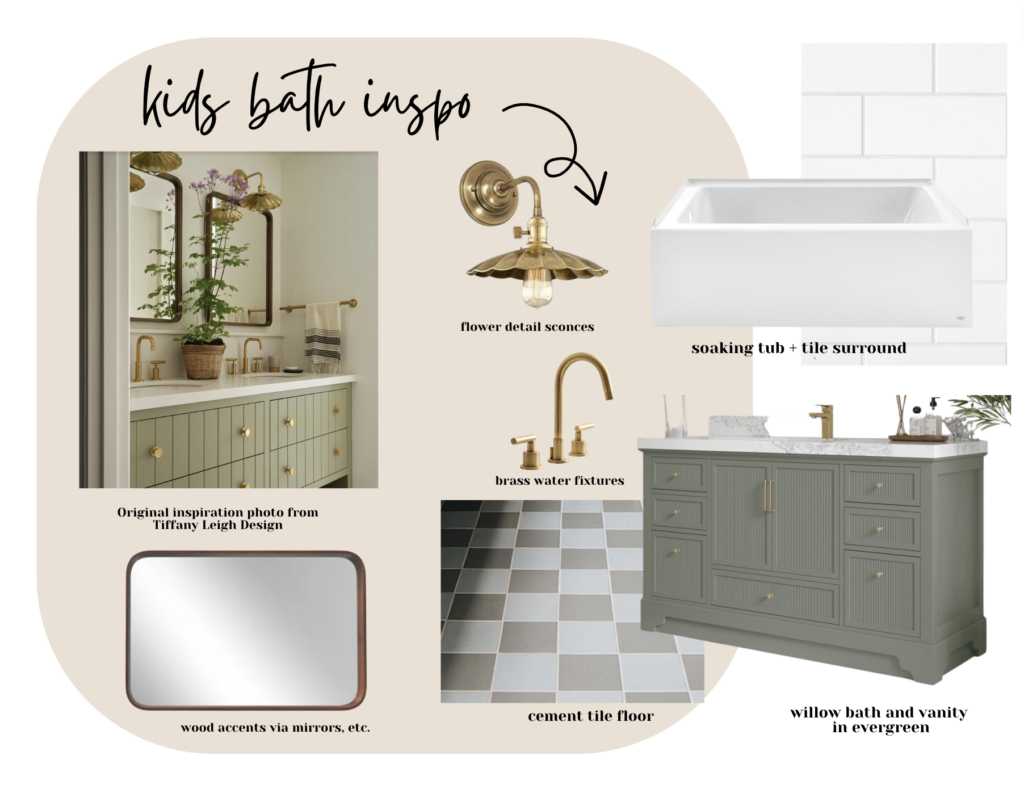 We are gearing up for this winter's renovation to begin (finally!) and I'm getting all my inspiration/ideas/sources organized so I can put things in motion.
As with all things in this renovation, the starting place is our budget! It's SO easy for budgets to get blown in the process of renovating (or building!) because little things turn into big things and they add up. I've budgeted EVERYTHING line by line for each room of this renovation so we can decide what's worth splurging on in the house and where we are going to take advantage of cost savings.
Our "Kids Bathroom" is also the bathroom most guests will use when they visit because it's in the main area upstairs by our kitchen. We went around with a few different layouts/designs but ultimately decided to stick with the current layout because not having to move plumbing saves a lot of money and the layout works – it all just needs to be updated.
We are also saving the toilet because it's in good shape so that's one less expense we will have. But the rest of the bathroom will be gutted.
After reading a LOT of reviews from brands all over the internet, we settled on a vanity from Willow Bath and Vanity with a quartz top. We are going to be investing a lot in custom cabinetry for our kitchen, but felt we could save some money with a pre-made vanity Fingers crossed we are happy with it.
Linking the Alys vanity HERE.
We purchased THESE flower-inspired sconces from Foundry and are waiting for them to arrive. The plan is to pair them with a wood mirror and brass water fixtures/hardware to add warmth and character to the space.
For the bathtub situation, we debated back and forth on what to do for the space. A tub/shower surround kit would have been quite a big cheaper but the tubs available in the kit options were very shallow. Knowing that this tub will be used by our kids as they get older (and knowing how much I LOVED taking a bath all the way through high school, I wanted the tub to feel luxurious and special. We went with the Jacuzzi Linea tub (which we had in our old master bathroom and I loved) and will plan to tile around the shower with basic white subway tile – sort of a budget compromise!
One thing I was set on in this house…. NO shower glass. I honestly feel like shower glass is just a pain in the butt. It looks GREAT but it requires maintenance and regular cleaning and I just couldn't see our kids being diligent to keep it looking good. So we will be doing pretty/high quality shower curtains in both bathrooms.
Our last big decision is on the flooring. It's still very much TBD but I've included a photo of one of the things we are thinking about. Something along the lines of cement tile with a fun pattern of sorts. We have some samples from both Cle and Firelay coming so we can see colors paired with the vanity.