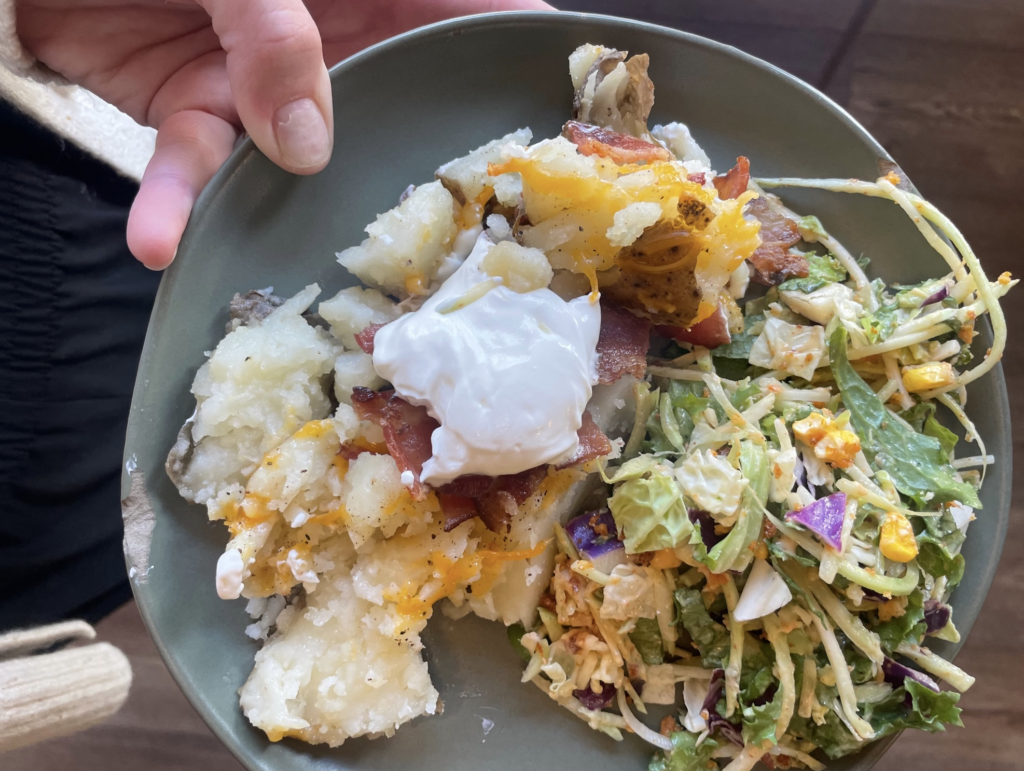 File this under "no recipe recipes" that make life easier.
One of my personal favorite meals is a good baked potato. But! Since having kids and a whole family to feed, I find baked potatoes sort of a pain to serve. By the time I get all the potatoes fluffed up and topped with butter and other toppings it seems to take forever and the food is cold by the time I get things to the table.
I decided to put a twist on the way I bake and serve potatoes by taking my baked potatoes and fluffing them in a pan, the drizzling with butter, sprinkling with salt and pepper, and finally topping with the cheddar cheese and crumbled bacon.
Then, pop it back in the oven until the cheese is melted and the potatoes are heated through. It makes serving the baked potatoes SO much easier and clean up is a breeze when you line the pan. This is going to be my go-to method for serving baked potatoes from here on out.
Baked Potato Bake
Ingredients
3-4 lbs. Russet potatoes, baked until tender
1/4 cup butter, melted
Salt and ground black pepper
1 cup shredded cheddar cheese
1 lb. bacon, crisp cooked and crumbled
Sour cream
Directions
Heat oven to 350°F. Line a 13×9-inch baking dish with aluminum foil. Spray with nonstick cooking spray. Cut potatoes in half and place, skin side down, in baking pan. Fluff the potatoes with a fork.
Drizzle butter over potatoes. Sprinkle with salt and ground black pepper. Top with shredded cheddar cheese and crumbled bacon. Bake 10 to 15 minutes or until cheese is melted and all ingredients are hot. Top with dollops of sour cream before serving.