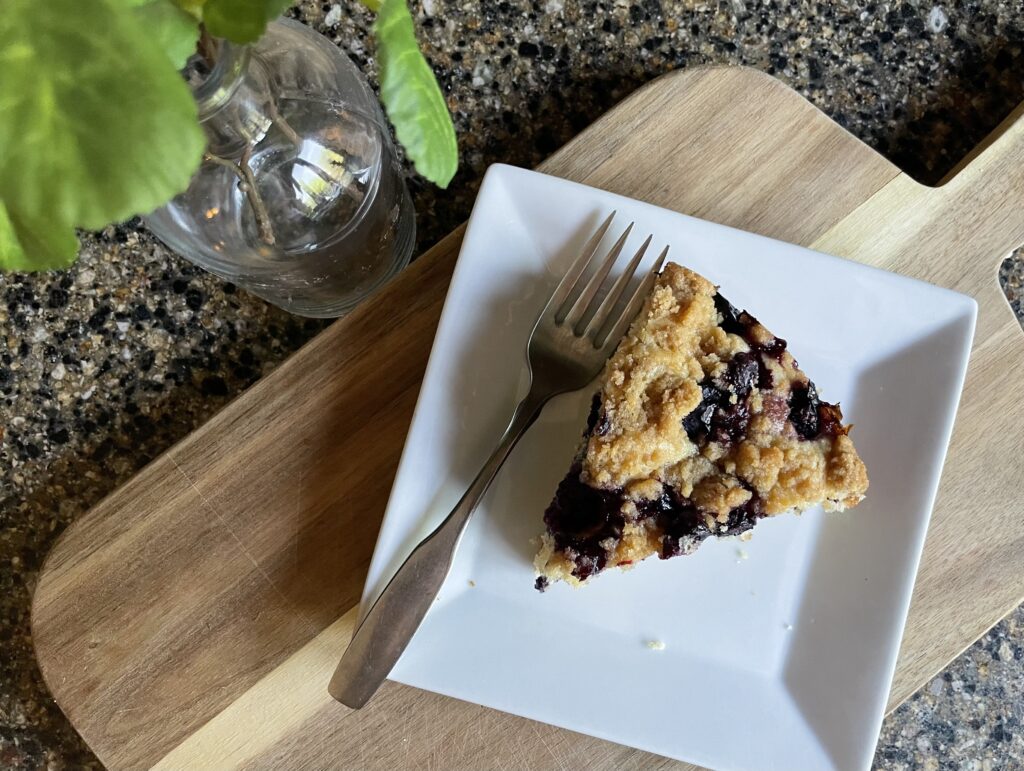 I'm a BIG fan of breakfasts that can be made ahead of time and require very little clean up during the morning rush. Muffins, pancakes and waffles (frozen in advance), and coffee cake make for easy mornings when heading back to the school rush.
This coffee cake base was rustled from a very old Better Homes and Gardens cookbook passed down to me – probably decades old – yet filled with amazing recipes that stand the test of time. I edited it a bit, made my own tweaks and repurposed the batter to be used as a base for coffee cake. It turned out AMAZING! Our entire crew scarfed this down in a single morning – everyone requesting a second slide – and it was a hit!
I can see this being something that has endless variations – other types of fruit, a swirl of fruit preserves, etc. Get creative and make it work for the season you're in and the preferences of your family.
Blueberry Crumble Coffee Cake
Ingredients
Cake
1 1/2 cups all purpose flour
1/4 cup granulated sugar
1 tablespoon baking powder
1/2 teaspoon salt
1/2 teaspoon ground cinnamon
1 large egg
1/3 cup liquid coconut oil or other oil of choice
1/2 cup plus 2 tablespoons milk
1/2 cup fresh blueberries

Crumble Topping
1/3 cup all purpose flour
1/3 cup brown sugar
3 tablespoons butter, softened
Directions
Heat oven to 350°F. Lightly grease an 8-inch round cake pan. Set aside.

In a large bowl whisk together the flour, sugar, baking powder, salt and cinnamon until well combined. Add in the egg, oil and milk and stir until smooth and evenly combined. Spread into prepared cake pan. Top with the blueberries.
In a small bowl work together the flour, sugar and butter until well combined and crumbly. Top cake with crumble topping.
Bake 25 to 27 minutes or until center bounces back when touched with your finger. Cool 10 minutes in pan. Cut into slices to serve.