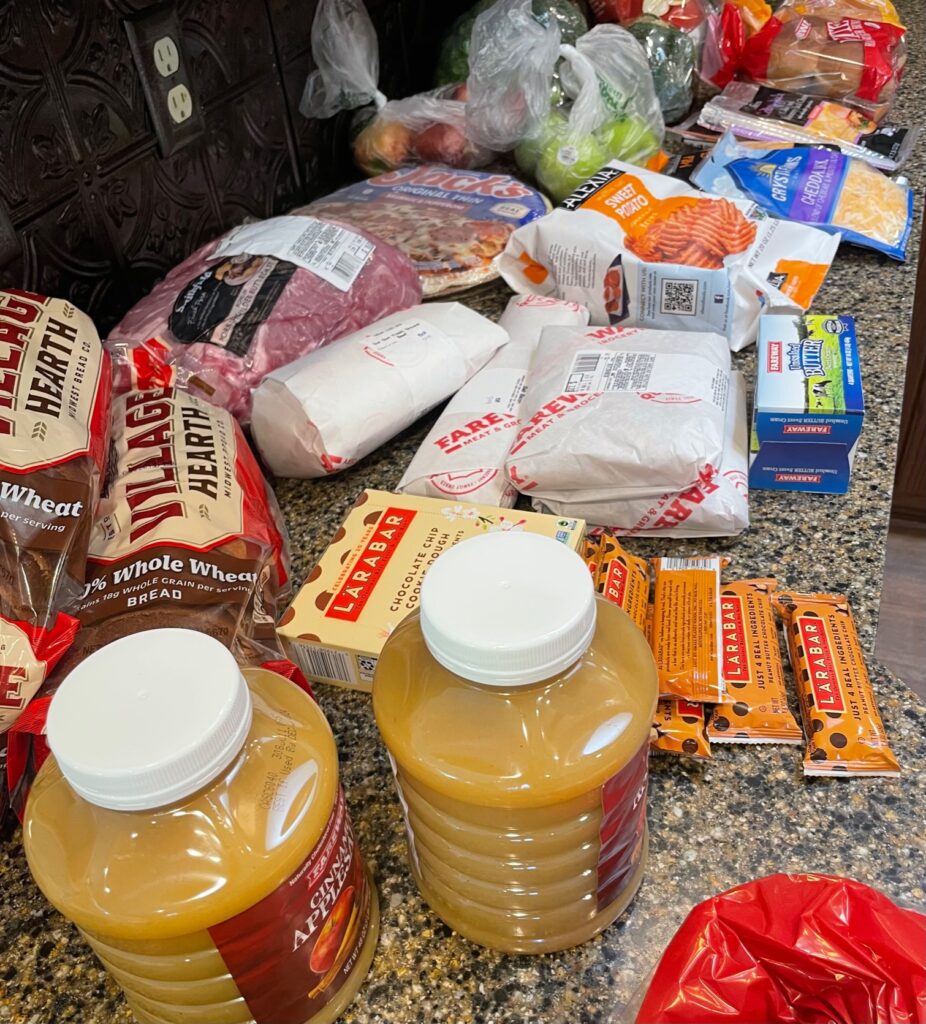 I've been sharing more about meal planning and budgeting for meals over on Instagram and really been enjoying the challenge of sticking to a grocery budget of $200/week. It's really stretching me to think more intentionally about food and also plan ahead for what we are going to eat each week.
You can check out this week's grocery haul over HERE where I shared a full video of what we bought this week!
Since a few of you said that an actual meal plan was helpful, I wanted to keep sharing what we are eating week to week. This week, protein on sale was bacon, Boston Butt Roast, and brats so I worked meals around those items, plus ground beef which is a staple in our house.
I also skipped berries this week and opted for more budget-friendly fruit like the apples, watermelon and bananas that were on sale. We will be using our stockpile of frozen berries for smoothies and desserts this week – I plan to make a berry pie!
I also planned for a meal that I didn't want to make – aka purchasing frozen pizza – so I'm less tempted to eat out knowing I have a fast and easy no-brainer meal in our freezer. I know that when I'm left to my own devices I end up running through the Jimmy Johns drive through and spending $40 for our family to eat one meal.
So, without more chatting, here is the line-up for this week!

Wednesday
BLAT Sandwiches and/or BLAT Salads with apple slices

Thursday
Baked potatoes with bacon, sour cream and cheddar cheese
Canned green beans

Friday
Brats with Sweet Potato Fries and Broccoli

Saturday
Slow Cooker Pulled Pork from my Easy Weeknight Meals E-Book with Chips and Watermelon
-The pork butt was on sale but you had to buy the entire large roast. I plan to freeze half the pulled pork for another meal down the road!

Sunday
Smash Burger Tacos from Five Marys Farms

Monday
Frozen Pizzas + Berry Smoothies
Ainsley loves berry smoothies from our local coffee shop and I think I've perfected the recipe to make them at home!

Coffee Shop Berry Smoothie
3/4 cup milk
1/4 cup heavy cream
Frozen berries
Pinch of stevia or sugar

Blend until smooth and serve immediately. If desired, add in some collagen to help boost the protein content!

Tuesday
Leftovers/use what we have night! I might make eggs/toast and use up some leftover sausage we have on hand or something else of the sort.