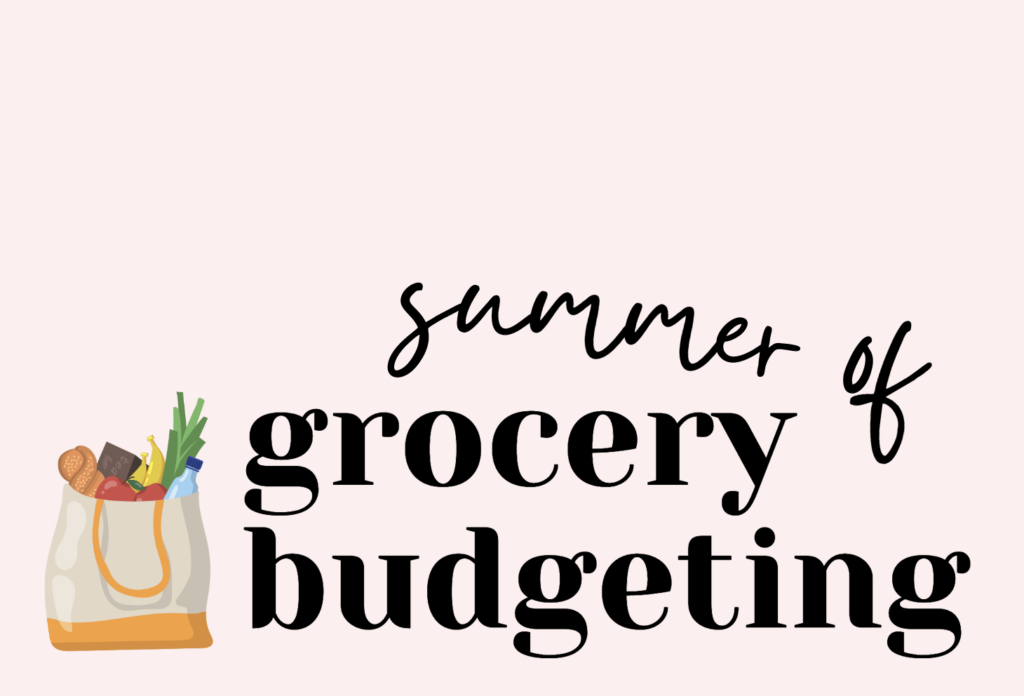 This is probably a funny time to embark on a grocery budgeting challenge when we have all the kids at home for the summer and kids are snacking more than ever, but with how much more expensive life and the grocery store has become, I've been feeling the pull to be more disciplined about our spending at the grocery store.
I've realized as our family has grown that if I don't take time to plan meals and grocery shop intentionally, I fall into the trap of spending a lot but still feeling like I don't have what I need to put together meals without contributing to food waste. I also fall into the trap of going through the drive through for dinner instead of making intentional meals at home.
As we look to make the most of our grocery dollars this summer, I'm starting with a few strategies to get back on track.

My Goal
-$200/week on groceries (lately we have been spending $300-330 on groceries each week)

Note: We do not have easy access to multiple places to grocery shop – meaning we don't live near an Aldi, Costco, Trader Joe's, etc. Our groceries usually come from either Walmart or Fareway (our local grocery store chain)

My Plan
-Online grocery shopping! This helps me tremendously because it makes it easy for me to price shop, fill a cart and remove unnecessary items based on the total I've spent, and shop the sales that are advertised in the weekly and monthly ads. While I love taking my kids to the store with me, I find that I also buy a lot of extra items when they come with me.
-Plan meals around what is on sale. This week I saw that pork chops, chicken breasts and brats were on sale so I started with those items as the foundation for our meals rather than picking whatever I grab at the grocery store on a whim.
-The same goes for snacks, fruit, etc. We usually rely on our staple favorites for snacks, cereal, bars, etc. but shopping based on what is on sale ads variety, seasonality, and price consciousness to our eating.
-Stock up as it makes sense! Since pork chops and chicken were on sale, I ordered double the amount of chicken and pork we needed and asked for them to be packaged separately so I could freeze a portion of each. We also stocked up a few other pantry staples and grab some "promotions" where you bought milk and got something else at a discount, etc.
-We are also going to be working to limiting special bottled or canned drinks, like sparkling water and Gatorade. I bought the Gatorade powdered drink mix to make larger portions or Gatorade for summer activities and lemonade powder to make drinks to keep in the fridge vs. the more expensive individually packaged varieties.
-We are going to utilize what's in our freezer better and plan leftovers into our weekly meal plan. Thankfully most everyone in our family loves leftovers! But even if they don't – they are going to eat what we have in the fridge. Leftovers are great for summer lunches, too, or a "leftover for dinner" night where everyone just grabs what's available from meals throughout the week.
-Choosing more budget-friendly treats. Maybe this is going to sound a little naive, but I didn't realize how much more we were spending on individually wrapped frozen treats and other packaged snacks. Instead of the cute little individually wrapped ice cream cones or popsicles, a giant container of ice cream and some root beer make my kids just as happy and cost 10x less. Same goes with pre-packaged snacks. A larger container of said snack plus some reusable cups or zip top baggies gets the job done just as well for much less.
This Week's Meal Plan
It's a little strange this week because of a few factors. First, we are shopping on Wednesday which isn't typically when I go grocery shopping. Second, we have a crazy week of dance recital and recital practices this week so we are going to be eating a few more than usual meals on the go or on the fly. I'm trying to plan accordingly for easy meals that make life easier when things are busy.
Wednesday: Homemade Pizza
Thursday: Grilled Chicken + Asparagus + Tater Tots
Friday: Mac and Cheese + Hot Dogs + Canned Green Beans
Saturday: Burgers + Sweet Potato Fries + Broccoli
Sunday: Grilled Pork Chops + Asparagus + Baked Potatoes
Monday: Beans and Rice with Salsa, Sour Cream and Avocados

Other things I'll Make:
–Banana Muffins (I've been LOVING this recipe lately)
-Energy Bites
-Chocolate Chip Cookies
Snacks This Week:
-Smoothies with frozen fruit or leftover fruit before it goes bad
-Pretzels
-Cereal
-Fruit
-Granola bars
-Applesauce
-Energy Bites
-Muffins
-Fruit Snacks
-Yogurt/GoGurt
Note
I'll be working on putting together all our budget-friendly meals in the near future! Get excited about a new e-book that should be available later this year with price and budget in mind. 🙂