Hello, from the land of renovation! We have been hard at work at the new house (trying to leverage the time we have with both houses in our possession to do as much as we can before we move furniture in!) Most of our renovation (the big stuff like gutting the kitchen, the bathrooms, the new flooring, and opening up the living room/dining room area) won't be able to be done until this fall/winter when our contractor wants to take on an indoor project. So, in the meantime we are focusing on the handful of rooms we won't be demo-ing to get them move-in ready!
I thought I would share with you a few progress photos as well as some updates/color selections that we are using for paint as we start to cast a vision for what the entire house will feel like once it's complete. It feels a little daunting to think that we are so far out from our house feeling like our home, but as I look back to the early days of renovating our current home, I have such sweet memories so I'm trying to remind myself of the same thing as we head into a new "beginning" season of renovating and bringing this house to a place where it feels like our home.
PAINT COLORS USED
White Dove by Benjamin Moore (ceilings + trim/woodwork + Collins's bedroom)
Natural Cream by Benjamin Moore (sunroom + boys bedroom)
Ballet White by Benjamin Moore (library room walls)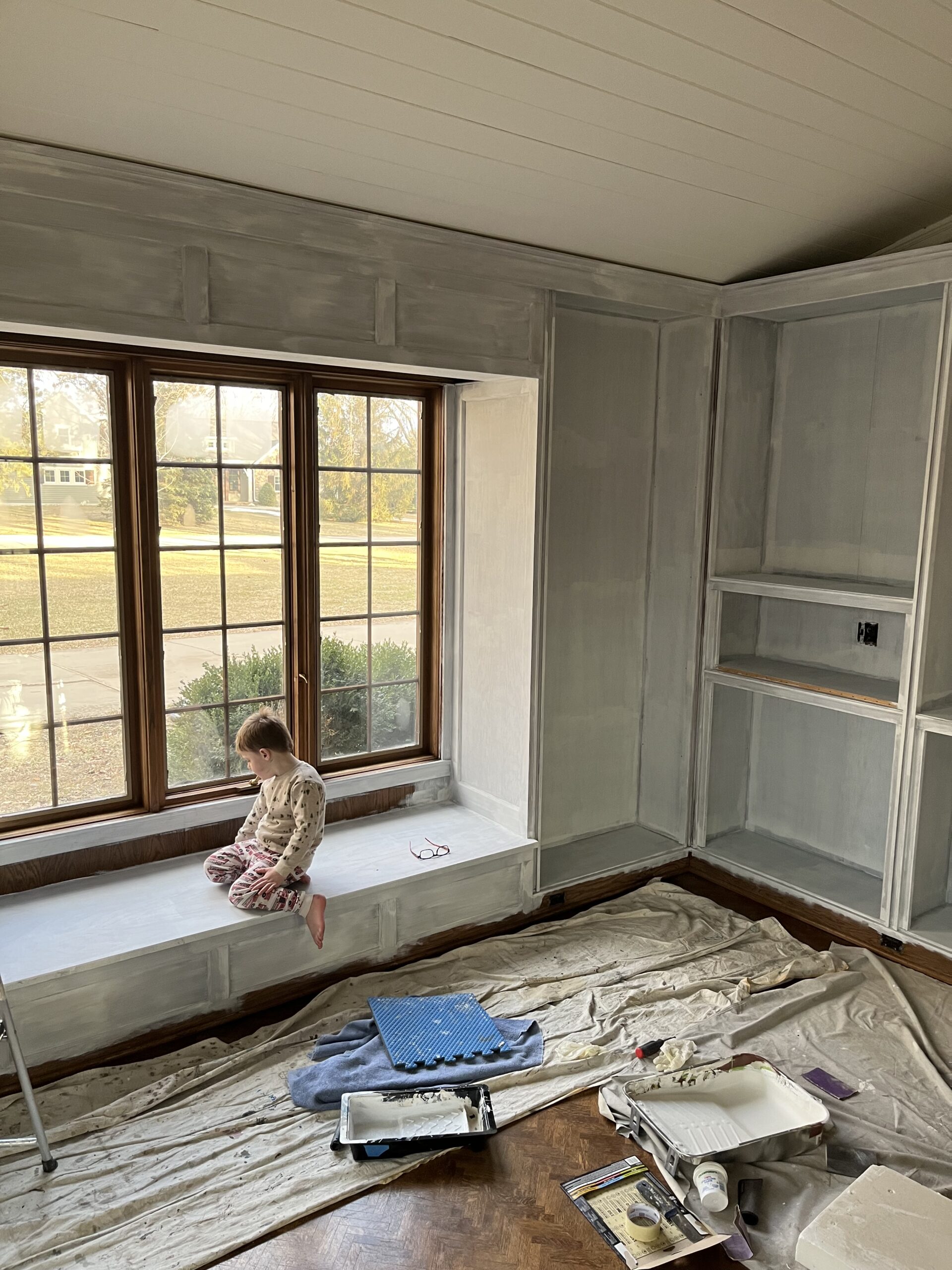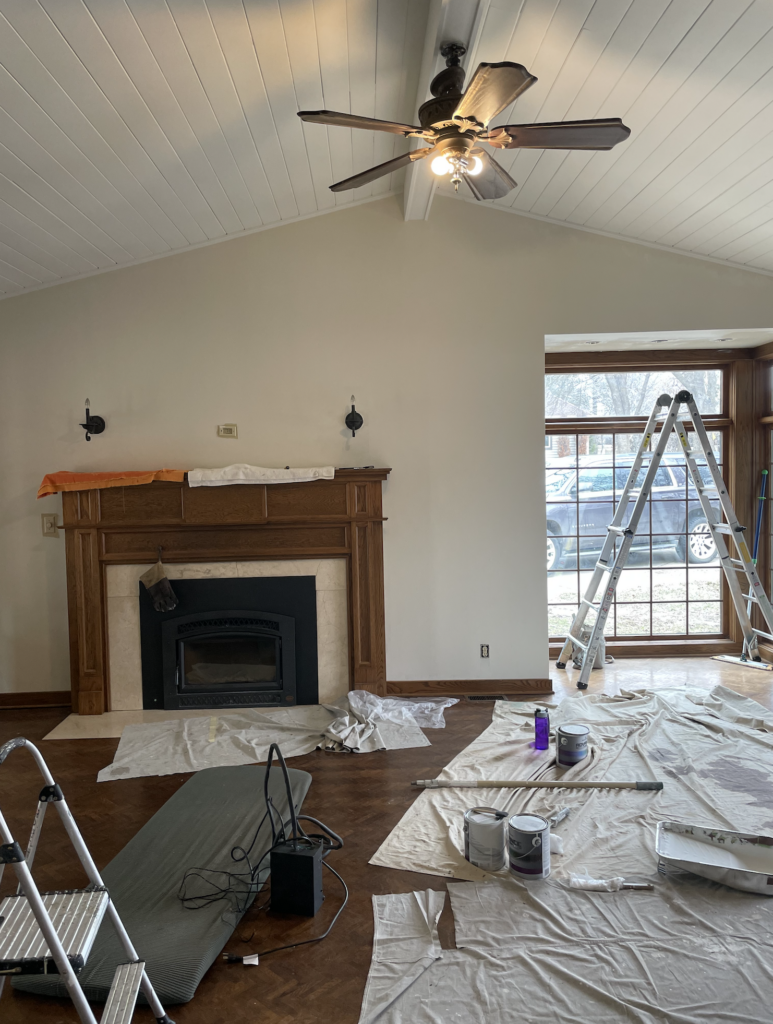 This room has light coming from three walls but can also tend to be a bit dark depending on the day and time of day. We went with Ballet White by Benjamin Moore on the walls and White Dove for the ceiling. We are also in the process of painting the woodwork White Dove and are still trying to decide on the mantle!
This is going to be Collins's future room! We are getting new flooring throughout the house during major renovation, but we would like to get the bedrooms as put together as possible before moving in – for the sake of the kids and their adjustment.
The room is small and only has one window so we went with a light color – White Dove by Benjamin Moore – on the walls and the ceiling. Painting the ceiling and walls the same color helps make the room feel bigger than it actually is!
We order this new light fixture and will be putting in a vintage twin bed that was from my grandma, as well as a dresser and small desk.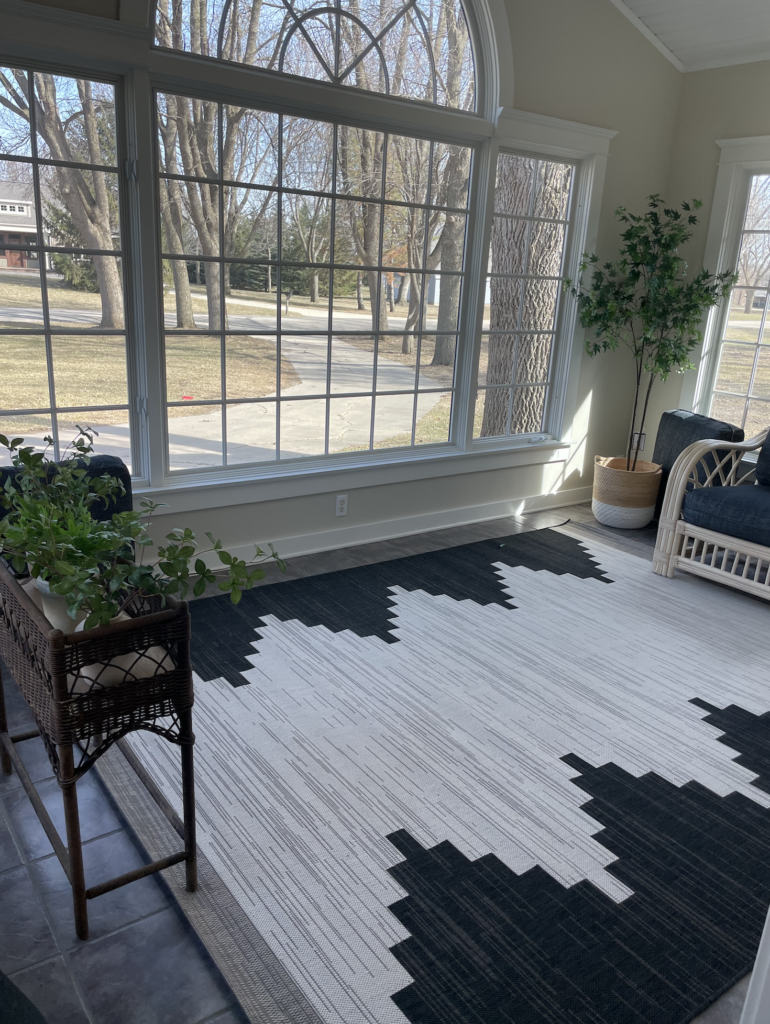 The sunroom got a little refresh! I'll share a fully finished photo soon, but the previous owners left the furniture for us, so we had the cushions covered in a new fabric. To save money, we kept the existing tile flooring, but added a large indoor/outdoor rug from Target to pull the look together and some pillows that bring in the cream/brown of the furniture and walls.
We painted the walls Natural Cream by Benjamin Moore. The room has windows on three sides and this color reads so nicely in a room filled with so much natural light! We gave the woodwork a fresh coat of paint in White Dove by Benjamin Moore.