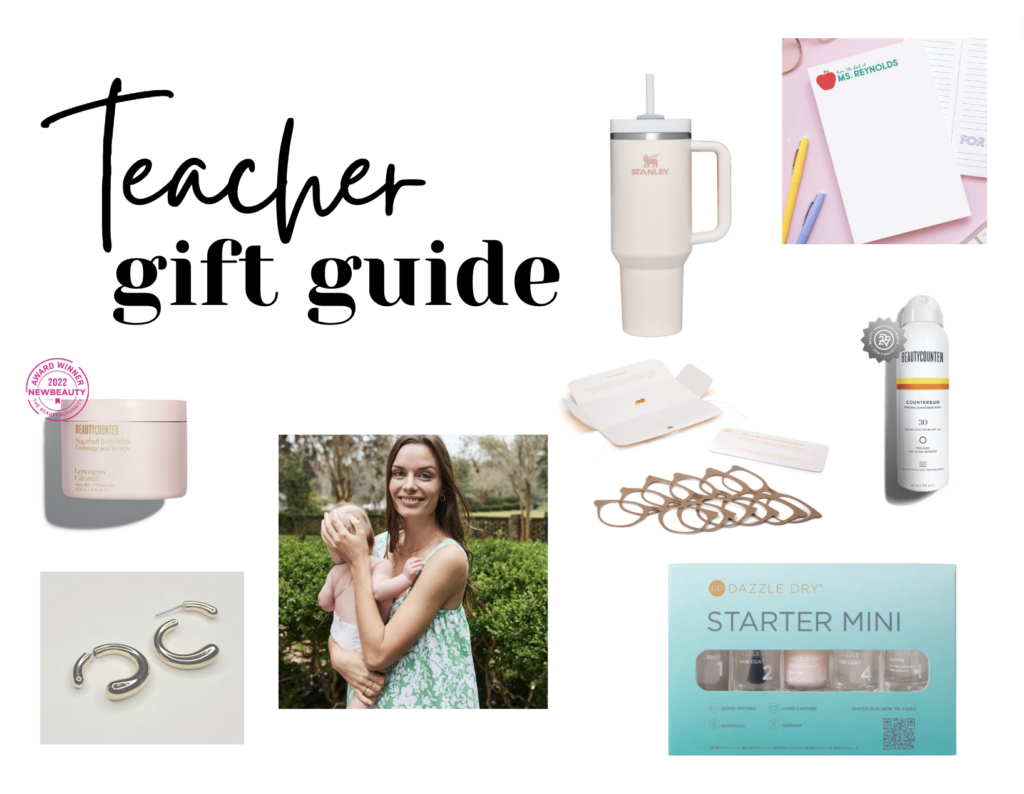 One of the things I love doing is spoiling our kiddos teachers at the beginning and end of the year. We have been blessed with THE most amazing teachers for our kids – we haven't had a year yet where our kids have had a "bad" teacher – they have all been amazing and brought new things out of our kids throughout the school year.
I'm rounding up some ideas for the teachers in your life in case you're looking to get ahead of teacher gifting for the end of the school year.
NOTE: Of course Visa gift cards are always a welcome addition to any gift bag or a stand alone gift! I just enjoy doing something a little more specific or special – I always love getting a gift card to a place that's specifically for ME so I'm not tempted to spend it on something practical for the family. But maybe that's just me. 🙂
Open Gold Hoops
Hands down my favorite earrings I've purchased in a LONG time. They come from a friend's small shop and they are so easy to wear + beautiful + unique! PS: They are currently on major sale!
Lake Pajama Gift Card
I dream about a life in which I have a bunch of beautiful nightgowns that I wear on rotation and they would all come from Lake Pajamas. I feel like this would be such a lovely teacher gift! They could pick something that's an elevated take on a necessity.
Joy Creative Shop Teacher Stationery
They have the cutest personalized teacher gifts! Check out their full round up for teachers here.
Sunski Gift Card
How cute would it be to do a sunglasses gift card for teachers heading into the summer months? I love Sunski sunglasses and their gift cards are adorable – they come with paper cutouts of their best selling styles so you can see what style looks best on you!
Stanley Tumbler
Again, another great item heading into warmer months! I think the colors Williams Sonoma currently has are great and would be loved by anyone/everyone!
Sunscreen
How cute would it be to pair a sunglasses gift card with some of the best SPF around? I'm including a little Countersun with my teacher gifts this spring!
Goop Scalp Scrub
One of my favorite beauty products! This smaller little size is such a cute addition to any teacher gift and it's priced right at just $15!
Sugarbuff Body Polish
Another favorite beauty product – and such a little luxury item. This would be cute paired with a gift card to a local spa or some other basics for a spa night at home or a pair of my favorite house shoes/sandals (below)
Oofos Gift Card
Like I mentioned above, I think it would be SO cute to put together a gift basket with a Sugarbuff Body Polish, a gift card for some Oofos shoes (SO comfy!) and some nail polish for a little pedicure kit at home.
Dazzle Dry Mini Kit
Another favorite of mine – and what teacher couldn't find the value in a nail polish set that dries faster and lasts longer than anything else I've ever used?