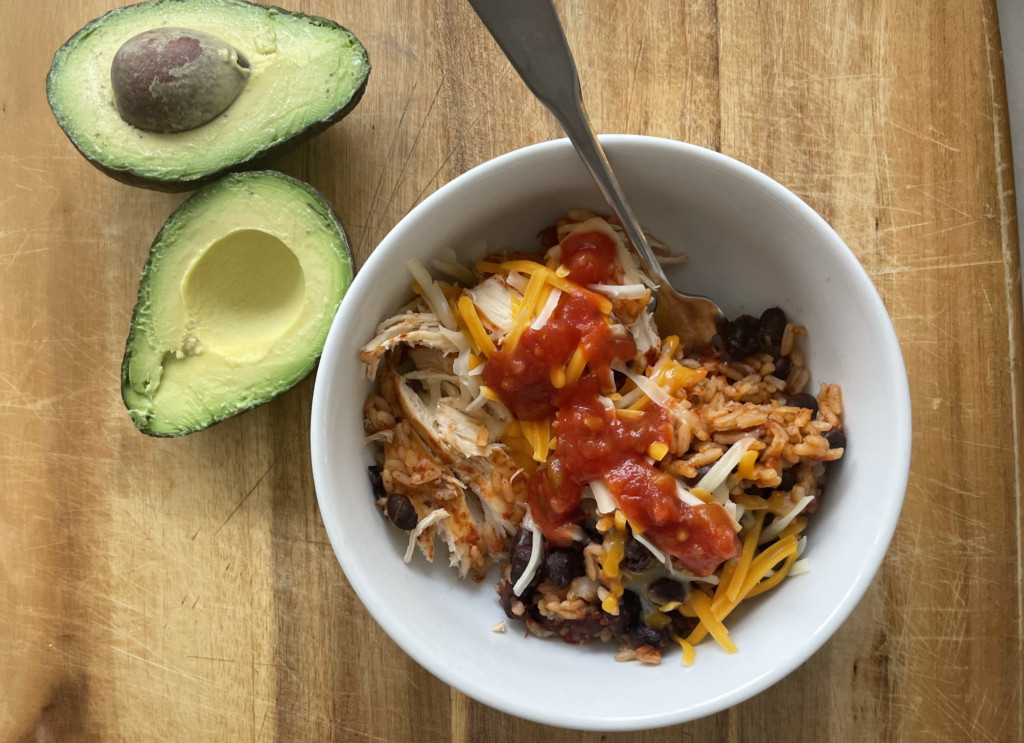 Hi, friends! One of the things I want to do a better job of is sharing more easy family meals this year on the blog. I am always searching for more fast meals that our whole family enjoys and are truly easy, so I hope that in sharing what works for us, it helps you as well.
We are just getting into the season of life where our family is on the go more than we have been in the past, and it's been more important than ever to make sure we plan ahead to avoid getting stuck getting take out (which is more expensive than ever!) or feeling really frazzled getting a meal on the table later in the evening.
Our slow cooker is our go-to kitchen appliance on busy nights and this salsa chicken makes its way to our table most weeks. Bonus: It makes great leftovers, too!
Slow Cooker Salsa Chicken
Ingredients
1 1/2 lbs. boneless, skinless chicken breasts
1 jar (28 oz.) salsa
2 tablespoons taco seasoning mix
1 cup white rice
1 can (16 oz.) canned black beans, rinsed and drained
Shredded cheese, sour cream, guacamole and/or other taco toppings
Directions
Place chicken breasts in the slow cooker. Cover with half the salsa and the two tablespoons taco seasoning mix. Cover and cook on HIGH heat for 2 hours. Remove the lid; add in the rice and black beans. Cover and cook on HIGH 2 more hours or until rice is cooked and most of the liquid is absorbed. (do not shred chicken breasts until the end)
Gently shred the chicken breasts into larger pieces. Spoon some of the rice/bean mixture and chicken into bowls. Top with the remaining salsa, cheese, sour cream and/or guacamole to serve.