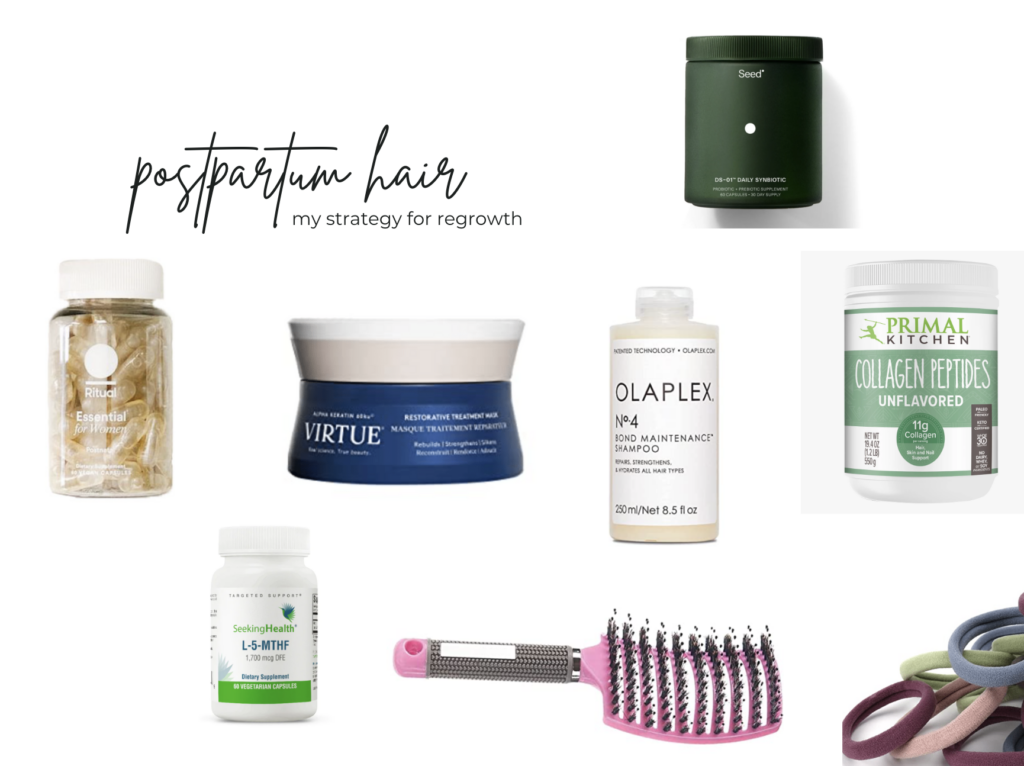 Hollace is nearly eight months old and I'm dealing with the worst part of postpartum in my opinion…. postpartum hair regrowth! Don't get me wrong, I'm glad it's growing back! But it's always a very awkward stage when your hair is sprouting regrowth all over the place and you're left with a funny-looking hair halo.
With that said, here are a few of my favorite products and supplements to help with postpartum hair regrowth. Nothing is a "magic cure" but I feel like what I'm using is working well to help encourage regrowth and healthy hair.
Ritual Postnatal Vitamin
I've been using this since Hollace was born and have been really pleased with it! I love the company's commitment to quality and transparency. This is the first time I've taken a postnatal vs. continuing on with my regular prenatal. I love that it's specifically formulated for the postpartum time period (which some experts say can extend for up to five years after having a baby!)

PS: Get $15 off your first order using this link
Seed Daily Synbiotic (probiotic/prebiotic)
This is also new to me this year. I've been taking it for a couple months and it's impressed me in a major way! The science behind how this probiotic/prebiotic is formulated is ultra-impressive. You can read all about it here. My personal experience has been that it's helped tremendously with stomach discomfort, bloating, gassiness, and helped keep things regular. I'm not sure it has a ton to do with hair growth, but it does have studies dermatological benefits including skin health benefits so I figure it can't hurt!

Note: This link will get you a discount on your first order! It's an affiliate link, because I loved Seed so much myself (paid for with my own $$ of course) that I reached out to the company about partnering as an affiliate.
Seeking Health L-5-MTHF
A lot of the "hair, skin, and nails" vitamins on the market are cheaply made and marketed to help hair growth but in fact do little to help. I prefer this supplement that is made with bio-available folate for optimal absorption.
Olaplex Shampoo and Conditioner
This isn't one of the cleanest options out there – it's "clean light" if you will. But I love how well it's worked for my hair through having so many babies over the last seven years.
Primal Kitchen Foods Collagen
I buy this from Thrive Market but you can buy it a lot of different places, including Amazon (linked here) and I love that it is made with nothing except pure collagen.
Hairstreaq Detangling Hair Brush
Using something gentle to brush your hair after you get out of the shower makes a big difference to helping with your hair as it's both falling out and growing back. The girls got this hair brush from my mom and I find myself reaching for it just as often as they do! It really works quite well at thoroughly yet gently brushing your hair.
Soft Elastic Hair Ties
These have worked great for my hair at night! I like to put it up in a loose pony tail at the top of my hair and these are my favorite kind for that!
Virtue Hair Mask
I have found this to be helpful in keeping the hair I still have feeling healthier and stronger. Use it once a week!