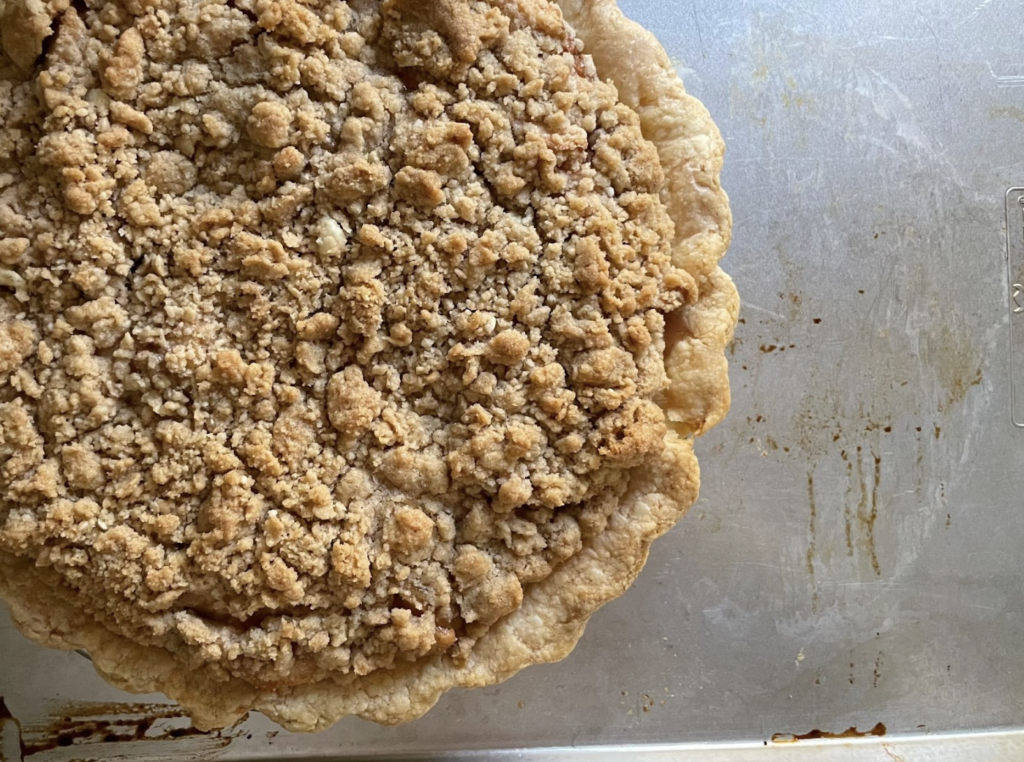 I shared this recipe in November with my email subscribers (PS: If you're not an email subscriber, be sure to get on the list HERE) and now I'm giving it a home on the blog. It's quickly become my FAVORITE pie recipe and a family favorite, too.
I've been making this recipe for a few months now, but it wasn't until I needed a breakfast/brunch dish for a church group get together this weekend that I thought to turn this recipe into pie bars. They were a hit! (Collins ate two) I loved that they were easy to serve, sturdy enough to cut into squares, and fit in perfect on a brunch buffet with eggs, fruit and other sweet treats like cinnamon rolls.
If you're looking for a home run dessert (or a home run brunch treat) I can't recommend this recipe enough!
Apple Streusel Pie
Ingredients
1 unbaked pie crust (I like this recipe)
8 Granny Smith apples, peeled, cored and sliced 1/4-inch thick
3 tablespoons unsalted butter
1/2 cup sugar
1 tablespoon apple cider vinegar
1 teaspoon ground cinnamon
1/4 cup all-purpose flour

Topping
1/2 cup unsalted butter, softened
1 cup all-purpose flour
2/3 cup brown sugar
1/2 teaspoon cinnamon 
Directions
In a large skillet over medium high heat, melt the butter. Add in the apples, sugar, apple cider vinegar, and cinnamon. Cook, stirring frequently, 7 to 9 minutes or until apples are slightly tender. Add in the flour and cook 2 to 3 minutes more, until liquid is thickened.

Transfer apples to a parchment-lined baking sheet and spread in an even layer to cool. Cool 15 to 20 minutes.
To prepare topping, combine butter, flour, brown sugar, and cinnamon. Work mixture together with fingers until well combined and crumbly.
Spoon mixture into pie shell. Top with the streusel topping. Bake 40 to 50 minutes or until mixture is bubbly and pie crust is golden brown. Cool at least 30 minutes before serving.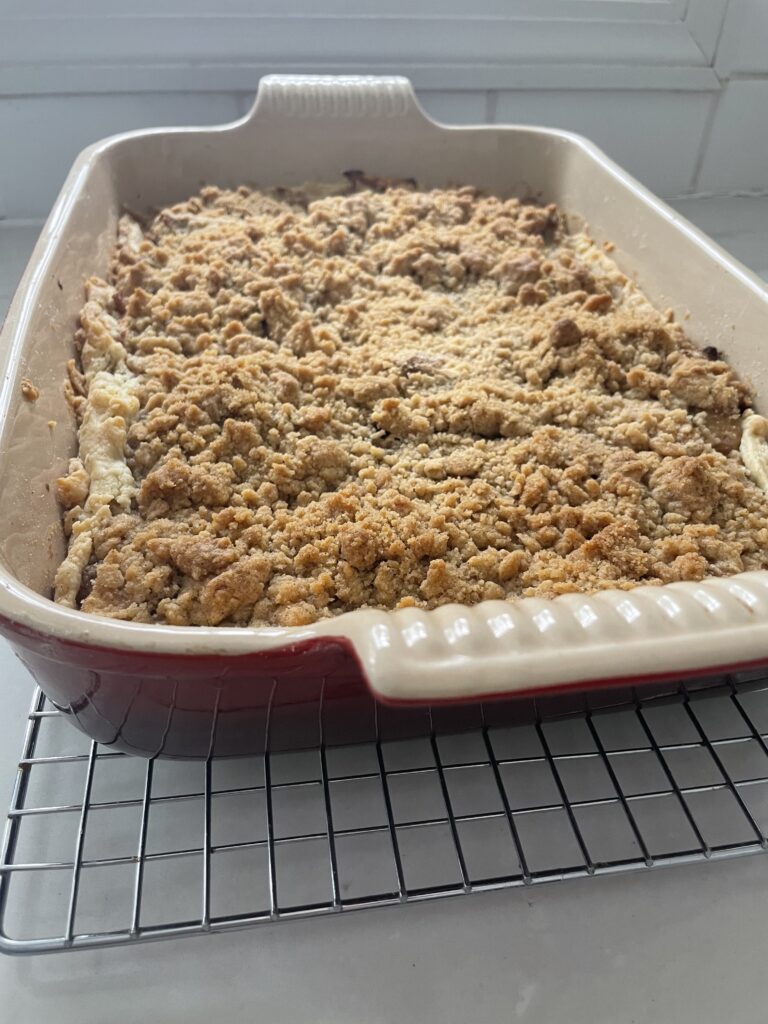 Pie Bar Adaptation
I was looking for something to bring to a brunch that was sweet + special + easy to serve. It's a *little* strange to bring a pie to brunch, but pie bars in a 13×9-inch baking dish? Makes total sense!

To make these bars, use a pie crust recipe for a double crust pie, Roll out dough and place in a ceramic 13×9-inch baking dish to line the bottom and up about 2 inches on the sides.
Make pie filling as directed. Place cooled filling in prepared pie crust. Top with streusel topping. Bake as directed. Cool at least 1 hour before serving.