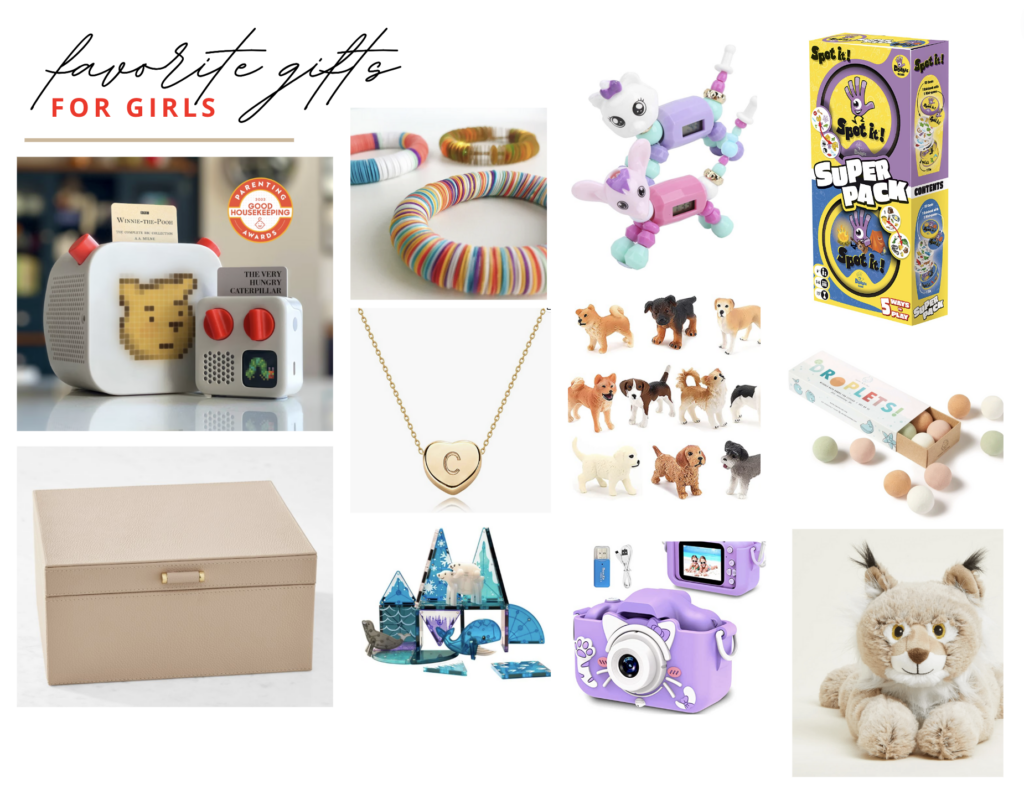 Call me crazy, but I've already been shopping for Christmas gifts for our kids. It helps the budget to spread items out over the course of a couple months, and helps me to think more strategically about what I want to get the kids rather than grabbing things last minute. Over the next few weeks I'm going to be sharing some gift lists for girls, boys and more so you can shop intentionally with me this year!
YOTO PLAYER
I got the girls (and Truett!) these players for Christmas. They play books, meditations, music, etc. with little "cards" you put into the players. I got the mini version so they are portable, don't require wifi, and have so much amazing content. We don't use ipads often (except for trips) but I think these will be a great lower-tech replacement.
BIG GIRL JEWELRY BOX
The girls have been more into jewelry lately, making their own and getting a few items from us + family members. I decided to get them big girl jewelry boxes that could grow with them as they get older. These Pottery Barn jewelry boxes are SO pretty and I hope they will last a very long time.
Initial Necklaces
These aren't high quality jewelry, but I think they will be cute little additions to their jewelry boxes. I got each girl an initial necklace.
DIY Bracelet Kit Bundle
My girls love making bracelets and doing crafts. These are SO cute and I think my girls are going to love making them for themselves and friends.
Magna Tiles Arti Animal Set
My kids love Magna Tiles and I think this set would be such a great addition to their creative play!
Twisty Petz
These aren't my favorite gift but they will most certainly be some of Ainsley's favorites. She has been asking for a few of these for a while now. I did like how this version has a built-in watch for some added versatility.
Dog Figurines and Cat Figurines My girls could play with figurines for the longest time! I got them some cute little dog and cat figurines from Amazon to add to their collection. I love the way they play so creatively with these type of toys.
Mini Brands Disney Store and Toys
This falls into the category of "things I'm buying that I know Ainsley will love but I don't see the point." She has been begging for some mini brands – and while I don't get the obsession, I am excited to see how excited SHE gets about this little mini store and the toys inside it.
Catch Phrase
I don't know how we don't already have this game, but I loved it as a kid and our girls are old enough to enjoy it now, too. I am always looking for games that are easy to play and don't have a ton of pieces that little brothers can lose or mess up!
Spot It!
We already have this game and I LOVE it! It's easy to take anywhere, easy to play and fun for kids and adults!
Crayola Art Kit
We get one of these every year and refresh it each Christmas. I love how organized it makes keeping markers and crayons – which I think encourages creativity.
Mini Digital Camera
Truett got this for his birthday and the girls love it so much that I'm getting them each one, too.
Droplets Bath Bombs
My kiddos LOVE bath bombs and I like bath bombs with clean ingredients. Excited to use these as stocking stuffers.
Warmies
All my kids have these and they are beloved at our house! We warm them up in the microwave before bed for them to go to sleep with! I've got my eye on the supersized version for Ainsley, who loves her warmie the best.
Bearaby Kids Weighted Blanket
I LOVE my Bearaby and Collins has started falling asleep with mine. Since mine isn't the right weight for her, I've been eyeing the Bearaby Kids Blanket.