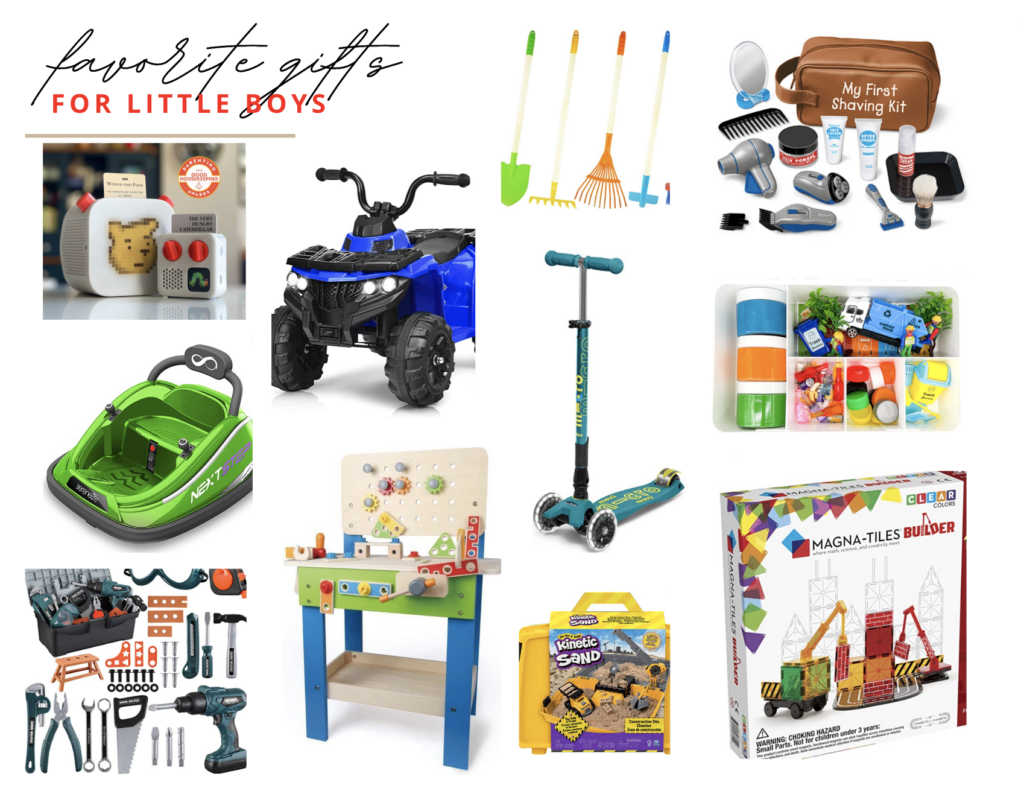 Yesterday I covered gifts that I'm getting my girls (ages 5-7) and today I'm covering gifts for little boys (2-4) that I have either purchased for Truett in the past or that I'm getting for him this year. I never want to add to clutter in your home or gifts that won't get used, but these items are all thoughtfully chosen to encourage open-ended play and creativity. Every item on this list has been used for hours on end and I can wholeheartedly endorse these items for the little boys in your life!
YOTO PLAYER
Like I said in my gift guide for girls, this is something I'm getting all the kids this year! Truett might be a little bit young to really have the attention span to enjoy this right now, but I think he will grow into it as time goes on! They have a bunch of awesome cards for younger and older kids, and Truett loves music so I'm going to grab some of the kids music cards, too.

ELECTRIC BUMPER CAR
This is what I'm getting for Truett as well! I may regret this purchase, but I know Truett is going to LOVE it. This car can do 180 rotations and based on the reviews, I don't think it's going to ruin my walls *too* much.

FOUR WHEELER RIDE ON
This was a gift for Truett from our babysitter this year for his birthday and he loves it so much. I love that it charges easily with a simple 6V plug, and it doesn't go too fast but it's powerful enough to make it fun for Truett to ride.
WORK BENCH
This was Truett's Christmas gift last year and it's continued to be a toy that gets played with SO much in so many different ways. I'm honestly so surprised at how much he enjoys it!
KIDS YARD TOOLS
Perfect for little boys who want to be "just like dad" and work outside in the yard. Admittedly, we have a lot of holes in our yard because of the tools Truett has. 😉
MICRO SCOOTER
This continues to make all my gift guides because we use our Micro scooters so often! I'm linking to the bigger (5-12 year old) scooter version because Truett upgraded this year to the larger one since he was getting too heavy for the smaller (2-5 year old) size.
KIDS TOOL BOX
Perfect to go with the work bench, above. The kids tools in our house get used SO often!
MY FIRST SHAVING KIT
I cracked up when Truett asked for this for Christmas last year but he LOVES it. They now use the kit to do their baby brother's hair, too. 😉
KINETIC SAND
My girls don't love kinetic sand nearly as much as Truett does. This construction themed kit is a huge hit in our house! Great for hours of open-ended play, which I appreciate.
SENSORY PLAY DOUGH KITS
Again, a gift all our kids love, but I bought the Garbage Truck Kit for Truett this year and he has had so much fun with it. As I said, all our kids love these kits and they play with them for hours on end.
MAGNA TILES BUILDER KIT
I've linked magna tiles before, and this extension kit has been a fun addition to our collection.