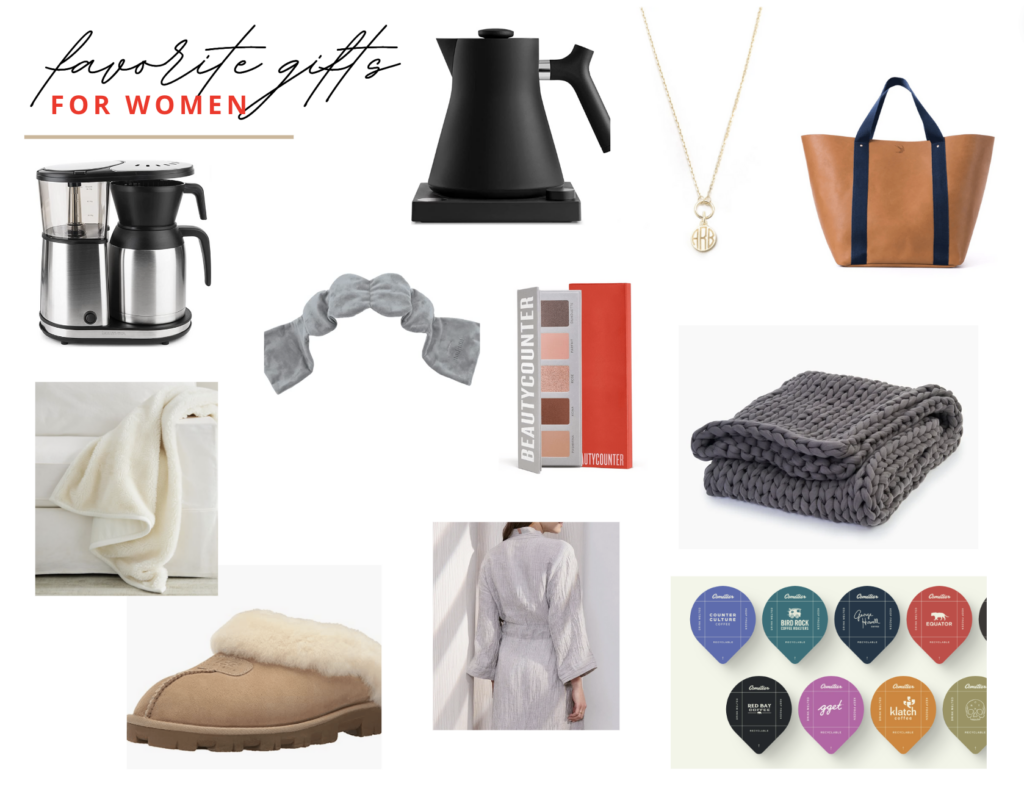 Bona Vita Coffee Machine
This is my coffee maker and a favorite for years in our house. It makes delicious coffee at a reasonable price point and has held up well for years!
Fellow Corvo EKG Electric Kettle
I got this recently and LOVE it so much! It boils water to your exact temp desired (down to the degree) and is both quick + quiet + looks beautiful sitting on our countertop. I can't believe I went so long before getting one!
Nodpod Weighted Eye Mask
You'e heard me talk about this before in previous gift guides, but it continues to be listed on my gift guides because I use it every single night for sleep and it helps tremendously to get me into a good, deep sleep. It's like a weighted blanket for your eyes!
Essentials Eye Shadow Palette
This is my #1 favorite item in this year's Beautycounter Holiday Collection. It's so beautiful and versatile and would make a fantastic stocking stuffer.
Bearaby Weighted Blanket
Another product I use all the time, this weighted blanket is amazing for sleep. It doesn't leave me feeling hot (like other weighted blankets have in the past) because of it's breathable nature and looks beautiful on our bed.
Lunya Silk Crinkle Robe
I don't personally own this robe but I've been eyeing Lunya sleepwear for a while now. I love the look of this robe and the reviews are stellar as well.
UGG Slippers
I've owned these for years and they are perfect for those living in winter climates because of the thick sole. Perfect for letting the dog out on cold mornings or taking the kids to school.
Cometeer Coffee Subscription
This would be such a fun gift – to give someone a coffee subscription of this AMAZING coffee! You could gift a month, three months, etc. I love when these flash frozen espresso pods show up at my door every month! And honestly, it's saved me a lot of money because I never grab a latte at the coffee shop any longer because I prefer my Cometeer pods
DWhigham Ceramics Coffee Mugs
Be sure to check out my favorite mug maker's Instagram to see when she will be having her next online sale. Set your alarms because these mugs, bowls, vases and more are highly sought after and fly off the shelf each time.
Foundrae Initial Necklace
I have this necklace – a gift from Beautycounter last year – and get compliments on it ALL the time. It's a small necklace but it sparkles and shines beautifully and while it's certainly an investment, I never take mine off so I think it's a worthwhile investment in some quality jewelry.
Pottery Barn Faux Fur Shearling Throw
We have two of these in our home and they are THE prettiest, coziest blankets ever.
Corroon Big Daddy + Baby Daddy Bags
This was another gift from Beautycounter (they have great taste!) and I use my smaller "baby daddy" bag all the time when I'm not toting around a diaper bag.
K. Slade Abby Crossbody
I have this in a different print and have been eyeing this camel color as well. It's a high quality bag made by a wonderful small business and the size is perfect!
K. Slade Wallet
This is the wallet I have and it's been durable and perfectly functional!
Athleta Downtown Jacket
I have this jacket in Black and I love the rust color they introduced. It's so warm and stylish!
Oofos Sandals
I've heard amazing things about these sandals that are designed to provide amazing support and can be worn out and about or around the house.
Ballerina Farm Aprons
I've had my eye on one of these aprons for a while! Great price point and super smart design, they would make such a sweet gift to anyone who likes to spend time in the kitchen!
Wax Buffalo Candles
Ok, this comes with the disclaimer that these are "clean-ish" and one of my less than perfectly clean indulgences over the holidays.
Faux Fur Heated Blanket
I'm buying this for myself to get through the cold Iowa winters!
Daily Harvest Subscription
I think this would be such a sweet gift for a busy mom in your life! Healthy and delicious meals delivered to your doorstep? Yes, please! My favorites are the mint cacao smoothies, the sweet potato hash bowls and all their "bites" for healthy snacking! Use this link for $40 off your first order!
Going Places Makeup Kit
Love this little makeup kit with my favorite mascara, a cream eye shadow and mini gloss! Such a cute stocking stuffer.
Roomba Vacuum
We LOVE our Roomba Vacuum! It's so nice to have an extra hand helping with the