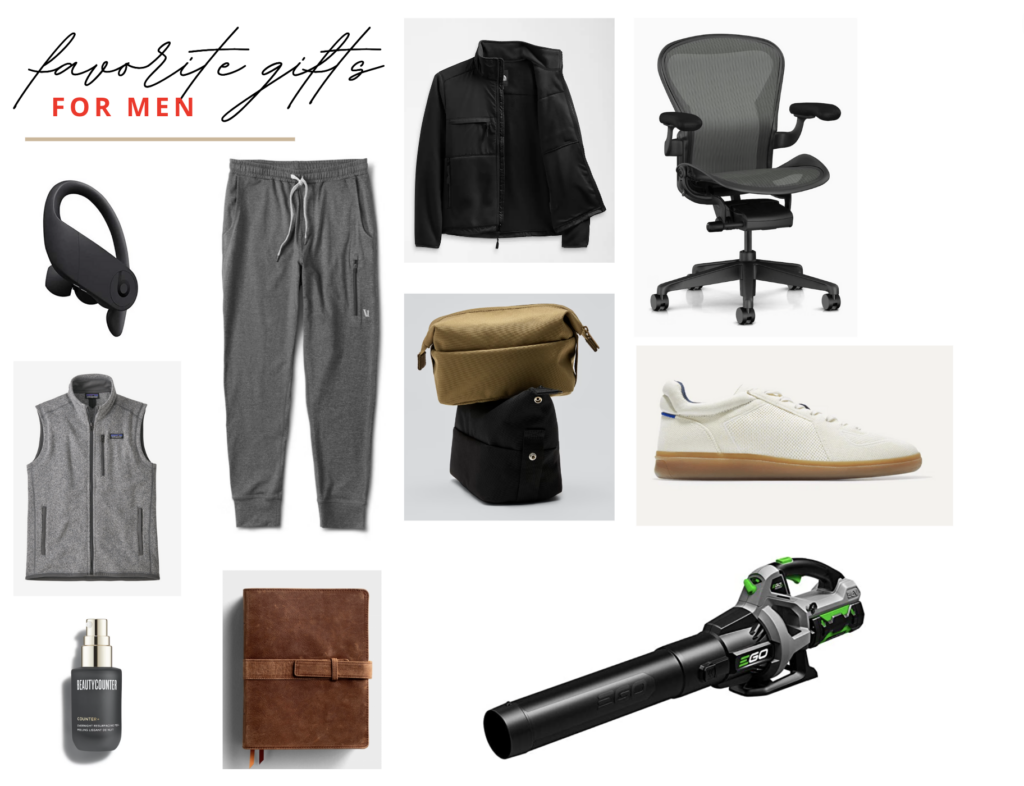 Continuing on with the gift guides, I'm sharing my gift guide for the men in your life today! This was specifically made with my husband in mind – as most all of these items he owns and loves already – and I hope you find the items I selected as practical + functional as we have. Basically when making the gift guides, I just look around at what we have actually used and loved most over the last year and put them all together in a gift guide. Everything seen here does just that!
Powerbeats Pro Wireless Headphones
These are Joe's favorite! He's a big podcast guy and is always listening to something on his run, while mowing the yard, etc.
Vuori Sunday Performance Jogger
Vuori has quickly become our favorite activewear brand. I got these for Joe for Christmas last year – and while he was hesitant about joggers they have quickly become his new favorites!
NorthFace Men's Denali Jacket
Mid weight jacket perfect for the fall to winter transition.
NorthFace Commutr Gloves
Joe's in need of new gloves and I think these are perfect! Mid weight with touch screen capability.
Patagonia Men's Vest
This has been another favorite of Joe's – he wears it to work and for more casual events as well. It's warm, slim fitting, and looks great!
Everlane Catch All Case
For men who need a little update for their bathroom bag, this looks like a great option! Made from 100% recycled materials, too!
Herman Miller Aeron Chair
This is a pricier gift, but if you're looking for something special for someone you love who works at home, this is the chair we both have and love so much. It's super high quality, comfortable, adjustable, etc.
CSB Legacy Bible
This is Joe's bible and it's beautiful! The leather cover and strap was exactly what he was looking for and it has great margin for notes, etc.
Overnight Resurfacing Peel
Joe's favorite skincare item! This peel is great for men and women alike but I love what I've seen it do for my husband's skin – helping improve pore size, clogged pores and tone.
EGO Electric Leaf Blower
If my husband can be converted to an electric leaf blower, anyone's husband can! I LOVE using this, too, because it's easy for me to start and I don't have to deal with the gasoline smell.
Rothy's Men's Sneakers
These were a birthday gift to Joe last year and he loves them!