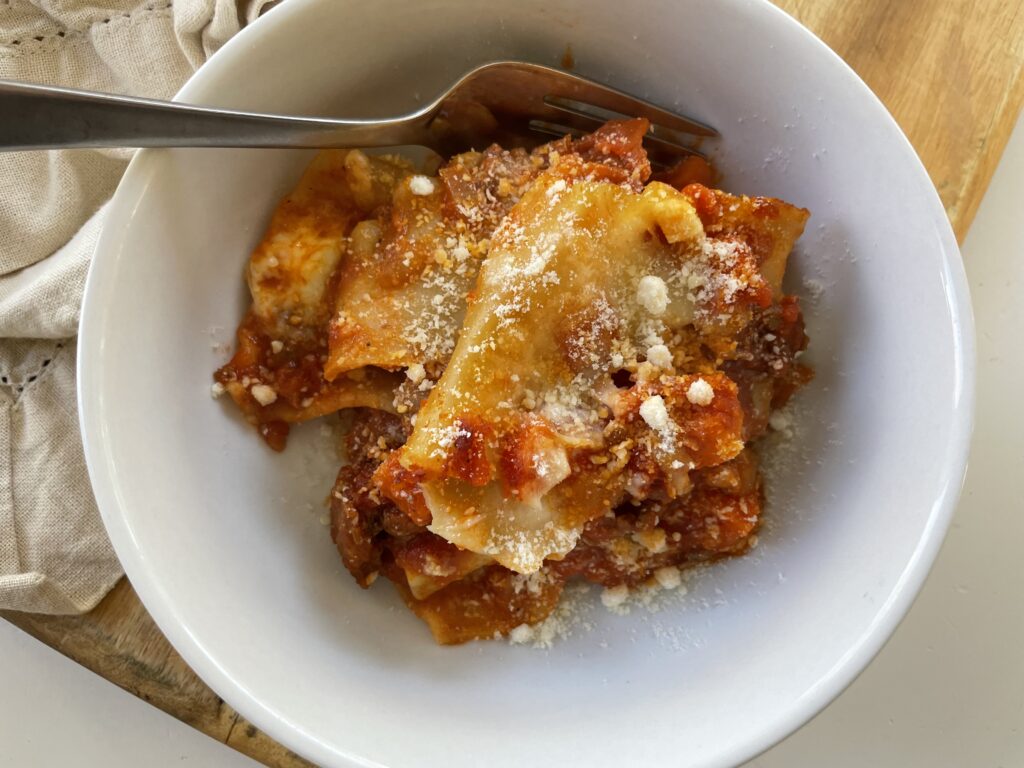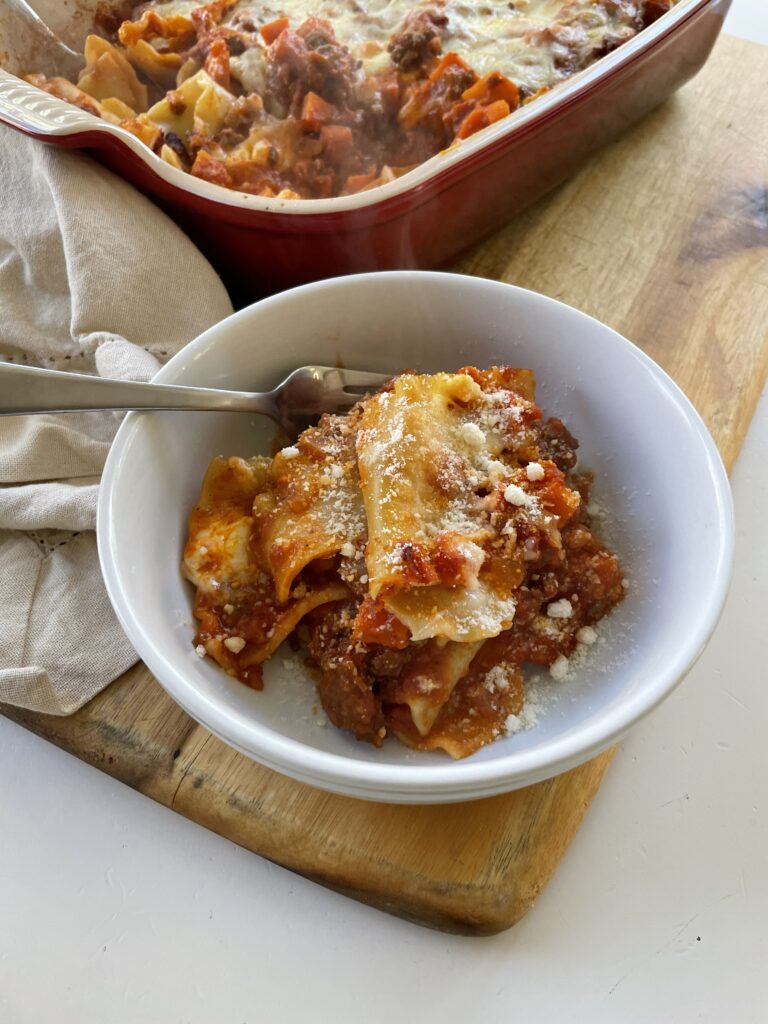 I've been in a serious dinner rut over here. Anyone else? While I love cooking, this season with little kids makes dinnertime prep challenging. If I wait until the 5 pm hour to decide and prep what to eat, that's when disaster strikes and I resort to take-out or frozen pizza.
So, if you're like me, the secret is prepping in advance with dishes like this veggie-packed baked lasagna. It can be made in advance, is packed with savory root veggies, and is much easier to make than a standard lasagna. Plus, it's healthier, too!
Veggie-Packed Skinny Lasagna
Ingredients
3 large carrots, peeled and chopped
1 medium yellow onion, peeled and finely chopped
1 medium sweet potato, peeled and chopped
3 tablespoons olive oil
1 cloves garlic, minced
Salt and ground black pepper
1 lb. lean (at least 80%) ground beef
2 jars (28 oz each) marinara sauce (I like Rao's)
3/4 cup grated Parmesan cheese, divided
10 lasagna noodles, cooked according to package directions
8 oz. freshly shredded cheddar-gruyere blend cheese
Directions
Heat oven to 375°F. Grease a 9×13-inch baking pan with oil. Set aside.
In a large skillet over medium-high heat, combine the chopped carrots, onion, sweet potato and oil. Season lightly with salt and pepper. Cook, stirring frequently, 7 to 10 minutes or until carrots and sweet potatoes are tender, adding in garlic during the last minute to cook.
Transfer mixture to a bowl.
Add ground beef to skillet and brown; drain. Add ground beef to veggie mixture along with the marinara sauce and 1/4 cup of the Parmesan cheese. Stir until well combined.
Spoon 1/3 of the sauce mixture into the bottom of the prepared pan. Top with half the lasagna noodles (I arranged them messily, rather than flat), followed by another 1/3 of the sauce. Repeat with remaining noodles and sauce. Top with the shredded cheese and remaining 1/2 cup of grated Parmesan cheese.
Cook 35 minutes or util mixture is bubbly and cheese is golden brown. If desired, broil the last 3 to 4 minutes of baking for a crusty top to the cheese.
Cool 10 minutes in pan and serve.