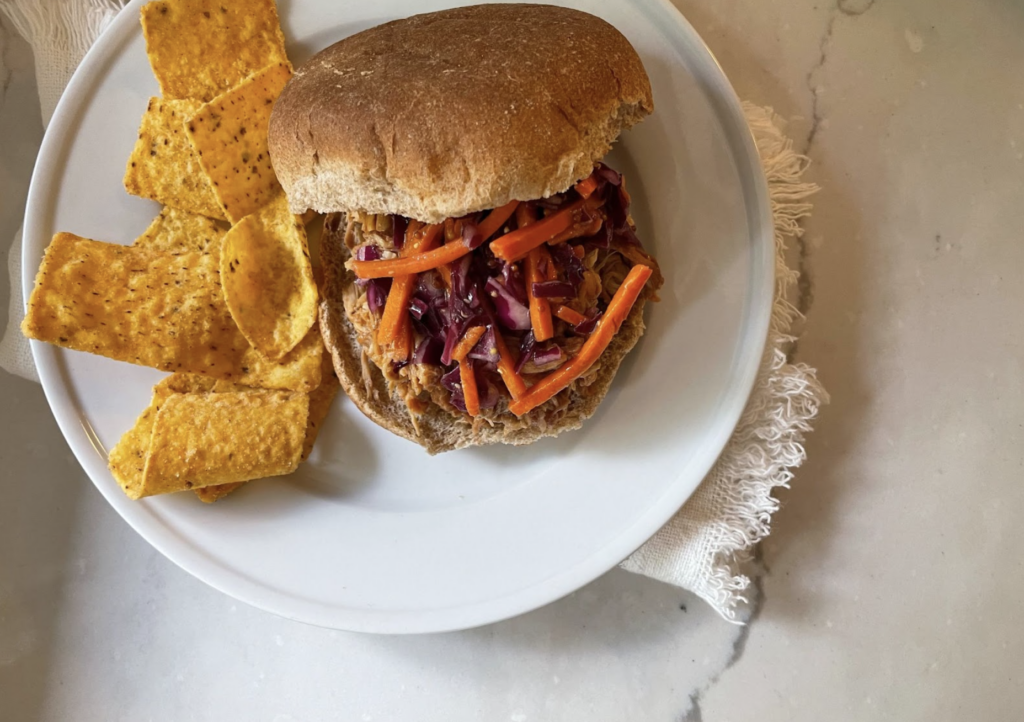 Hi, friends! We are in full school mode over here and paired with football season, kids activities, work schedule getting busier and more, it's easy for dinnertime and healthy meals to fall to the back burner.

Our slow cooker is invaluable to me during the fall and winter when time is usually easier to come by during the earlier hours of the day and increasingly hard to come by as the day goes on – with school pickup, needier kids, and after school activities demanding my attention.
These slow cooker chicken sandwiches are about as easy as it gets. My kids prefer them without the slaw, and I find most adults prefer them WITH the slaw for something a little more interesting and fresh tasting. However you decide to serve them, they are fast, easy and taste great with a small time investment!
Slow Cooker Barbecue Chicken Sandwiches with Zesty Slaw
Ingredients
2 1/2 to 3 lbs. Boneless, skinless chicken thighs
1 bottle (18 oz.) barbecue sauce (I like Stubbs)
1 tablespoon olive oil
1 1/2 cups shredded cabbage
1/2 cup shredded carrots
1/4 cup olive oil
2 tablespoons apple cider vinegar
1 tablespoon honey
1 tablespoon coarse grain mustard
Salt and ground black pepper
6 sandwich rolls of choice 
Directions
In the bowl of your slow cooker, combine the chicken thighs and half the barbecue sauce; cover and cook on HIGH for 4 hours or until chicken shreds easily when tested with a fork.
While chicken cooks, prepare the slaw. In a large bowl, combine the cabbage and carrots. In a small bowl, whisk together the olive oil, vinegar, honey, and mustard. Season to taste with salt and pepper. Drizzle over slaw and toss evenly to coat. Store in the refrigerator until ready to serve.
When chicken is cooked, remove from slow cooker and transfer to a large bowl. Preheat oven to BROIL setting and line a large baking sheet with parchment paper. Shred chicken with two forks. Place shredded chicken on baking sheet and drizzle with remaining barbecue sauce; tossing to coat. Drizzle with the tablespoon olive oil.

Broil 5 to 10 minutes, tossing a couple times, until chicken is hot with some crispy bits on the edges. During the last 2 to 3 minutes, you can put your sandwich rolls in the oven on the lower rack to heat through.
Place some of the chicken on each of the rolls. Top with some of the slaw and serve immediately.


TIME SAVING TIP:
The broiling step with the chicken can be dropped if you're short on time. It gives the chicken great texture, but it's not necessary for super busy evenings!