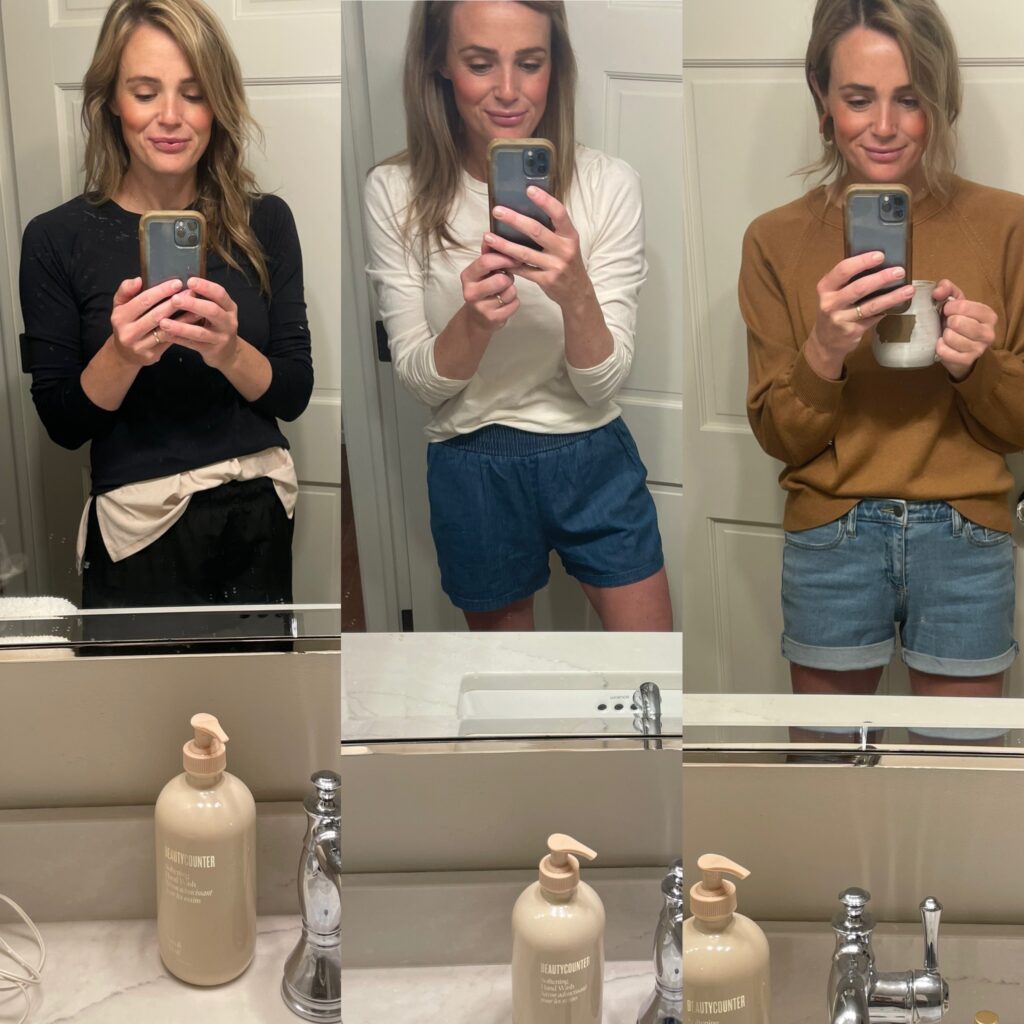 Dressing for the postpartum body is a puzzle – not one that I'm sure I always have figured out – but something that I'm working on figuring out this summer because finding clothing that makes you feel good about your postpartum body, is easy to nurse in, and good for mom life is no small feat!

Here are a few of the favorite pieces I've been wearing over the last month and as we transition into summertime!
TARGET
All in Motion Seamless Core Long Sleeve
All in Motion Women's Crew Neck Sweatshirt
All in Motion Women's Mid Rise Knit Shorts
Love these because they have a bit longer inseam and they are made of a material that can both be dressed up or down.
All in Motion Stretch Mid Rise Shorts
These are another fave of mine! They are looser in the leg and have a thicker waistband that's particularly flattering for a postpartum stomach!
Universal Thread Mid Rise Boyfriend Jean Shorts
Not sure I would love these if I wasn't postpartum but I really love them for postpartum specifically. They are more flattering because they aren't as high waisted and they have a flattering/forgiving cut.

OLD NAVY
First Layer Tank Tops
These tanks are great for layering under all your regular tops to make them nursing-friendly. I've loved having them on hand to expand my wardrobe a bit more!

Mid-Rise Dolphin Hem Run Shorts for Women
These are my fave workout shorts forever and ever. I size up for postpartum and wear them all the time!
MADEWELL
Pull-On Shorts
These are a staple for me every summer for the last few years. I have a size up for postpartum and love them so much!

VUORI
Long Sleeve Halo Crew
A new favorite brand of mine, this long sleeve is so comfortable and goes with so many things! I plan to go back and buy it in other colors, too!

Laguna Oversized Crew
Another good one! This material is a dream – thick enough to be flattering yet lightweight enough to work for most seasons.
Daydream Crew
Love this lightweight crew neck that I've been layering on time and time again for the cooler mornings or evenings.

ABLE
Puff Sleeve Tee
T-shirts with tanks layered under are my go-to for nursing friendly outfits. This top is a great tee shirt with a little extra fun thanks to the puff sleeve. Size up!