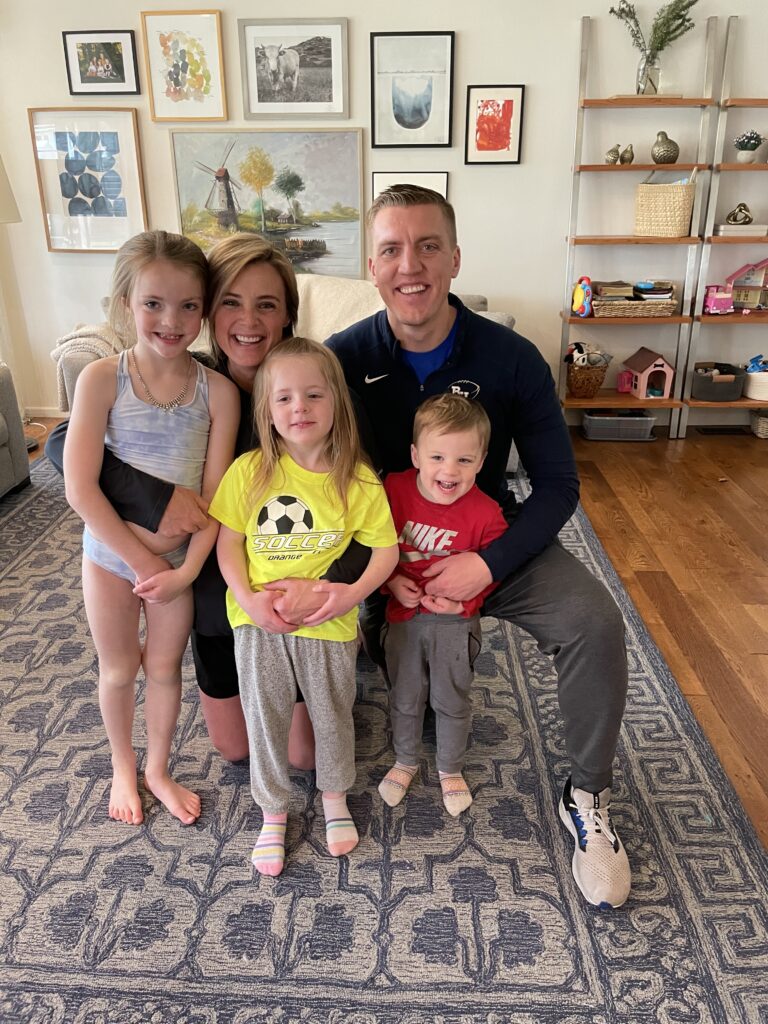 It's been nearly four weeks since Hollace Maxwell entered the world and I'm finally getting around to sharing his birth story. I shared some of the high points on social media shortly after he was born, but I wanted to have it all down in more detail here – both for my own purposes (I print these and put them in my kiddos baby books) and for you all – because I know many of you love a good birth story as much as I do!

The photo above was taken shortly before we went to the hospital to be induced, our last photo as a family of five! We had a scheduled induction for May 2 (Monday) and Friday I went in to the doctor to have my membranes swept. At the appointment I was 5 cm and 80% effaced and I was hoping the membrane sweep would get things started on their own. After my appointment, I went with the girls to their dance picture night and we spent four hours doing photos while I paid close attention to my body for any changes. I didn't notice anything significant – some minor cramping and contractions but nothing that caused me to pause or really take notice.
On Saturday morning we woke up to thunderstorms and a super dark and rainy day. I felt great when I woke that morning – full of more energy than I had felt previously (mornings this pregnancy had been SO hard as my energy level would really lag in the early hours of the day) and when Ainsley's soccer was canceled because of thunderstorms, I took the opportunity to go with the kids to the grocery store for a weekly restock. While I was cleaning/restocking the fridge and prepping dinner in the slow cooker, my doctor called me. He was on call and wanted to see how I was feeling post membrane sweep. Since I was so far dilated and effaced, I think both he and I were also thinking the same thing – if I went into labor on my own I might not have time for the course of antibiotics needed for my Group B Strep positive status. (They like to give you two doses four hours apart before baby is born.)
I told him I was feeling great – energetic and totally "not in labor" at the moment. He mentioned if I wanted to go in and get things started that morning I could rather than wait until Monday. Joe and I talked it over, I even asked the kids what they thought, and we all agreed it was a great day to have a baby.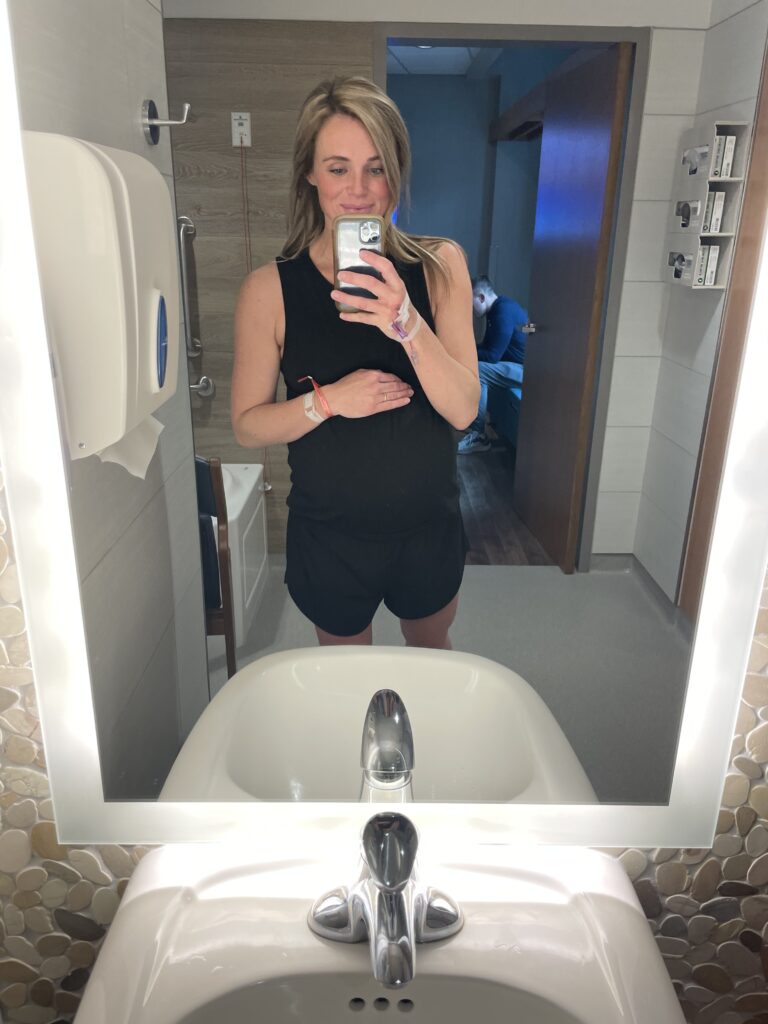 It's probably worth noting here – so I can remember as well – that in the weeks leading up to Hollace's birth I was increasingly worried and anxious about labor. Not for the labor itself but worried and fearful about Hollace's health. I was oftentimes tearful about something going wrong, and more specifically about an unforseen health issue being discovered after birth. A lot of my previous birth trauma was rearing its head and causing me to feel really on edge about his arrival.
I quickly cleaned myself up and prepped a few things at home. My mom and some dear friends of ours were all at the house – which gave my kids some distraction when we left and helped ease my heart a bit, too – and we were off to the hospital! I was tearful the entire process – thinking about all the "lasts" we were experiencing. It's still hard for me to write these memories down thinking this is the last time I'll give birth, welcome a newborn, experience the miracle of bringing a new life into this world with my husband by my side.
Once we got checked in my doctor informed me I was at 7 cm and about 90% effaced but I was not in active labor or noticing any significant contractions. It's still crazy to me! We had a slow first four hours, just hanging out while they administered the antibiotics before we could really get things started. At around 4:30 we could officially "begin" moving things along. We opted to do the same thing we had done with precious deliveries – break my water in hopes that contractions would pick up quickly. My water was broken around 4:40 pm. Only a small trickle of fluid came out as baby's head was low and preventing much more from coming out. After some monitoring, my doula then started me on some movement exercises to get things going.
Around 5:20 we walked to the chapel in the hospital to do some forward leaning inversions. One of the funniest memories of labor was doing the first inversion and then coming back up on my knees only to have a giant gush of fluid leak out all over the chapel bench and floor. Evidently the inversions worked to move baby's head! We did a couple more inversions between contractions and then walked back to the room to do some side lying releases.
At this point, I was only noticing some very minorly painful contractions. My doula, Kari, told me that after we did the side lying releases (through contractions) things would really pick up. I'll be honest, I was skeptical at this point that it would work the way she said but I trusted her experience and advice. It took about 40 minutes to do the 3 side lying releases on each side. The contractions slowed down quite a bit while we did the side lying releases and spaced out quite a bit, too, which Kari said could/would happen. But once we completed the releases and I sat back up, things got more intense quickly.
At 6:30 when I sat up, I was hit with contractions that felt like they came one after another. They were unlike other labors I had experienced – some of the contractions lasted for up to 2 minutes and I felt there was hardly enough time to catch my breath between them before I was hit with another. My doula suggested "slow dancing" with Joe with my hands on his shoulders while she applied counter pressure to my hips.

Things continued with intensity and Kari gave me the goal of doing 10 abdominal lift and tucks through 10 contractions before moving to the tub. My goal was to make the tub the last step before getting out to push – something I had done with both Collins and Truett's labors. I only made it through 5 abdominal lift and tucks before I insisted on getting into the tub, as the contractions were extremely painful at this point.

I got into the tub at 6:40 and by 6:50 the room was prepped for delivery. With previous deliveries I felt comforted by the tub, but this time around I just felt uncomfortable. The tub felt super hot, I felt sweaty and uncomfortable, and the contractions were coming with intensity one after another. I didn't talk much at all – and I even remember Joe and Kari both telling me it was OK to talk/make noise/etc. I don't think I was trying to be quiet, I just remember feeling incredibly focused, present and "in my body" through the entire experience – probably the most aware and present I've felt for any of my births.
At 7 pm I got out of the tub as things were feeling really intense. They checked me again and I was at a 9 with a bit of a lip on my cervix that needed to move. I moved to my knees on the floor, leaning over the bed holding Joe's hands across the bed. Around 7:15 I told my team "I'm not sure I can do this" but at the same time I knew was so close there was no other option but forward. I labored through a few more contractions before asking to move back to the bed.

Note: I know there is a lot out there about not laboring on your back, but the only place I've ever wanted to be while pushing has been on my back. To each their own! Do what feels most comfortable to you I would say. 🙂

I got checked again and was given the OK to push as I was complete at a 10. I labored down through a few contractions before really feeling ready to push. I wanted to make sure I was ready, and my body was, before pushing this time around. With one long + intense push/contraction Hollace Maxwell entered the world at 7:29 PM weighing 9 lb. 5 oz. and 21 inches long with a huge head of dark hair. Joe's first words to me were, "He's healthy, he looks awesome, and he has a TON of hair!"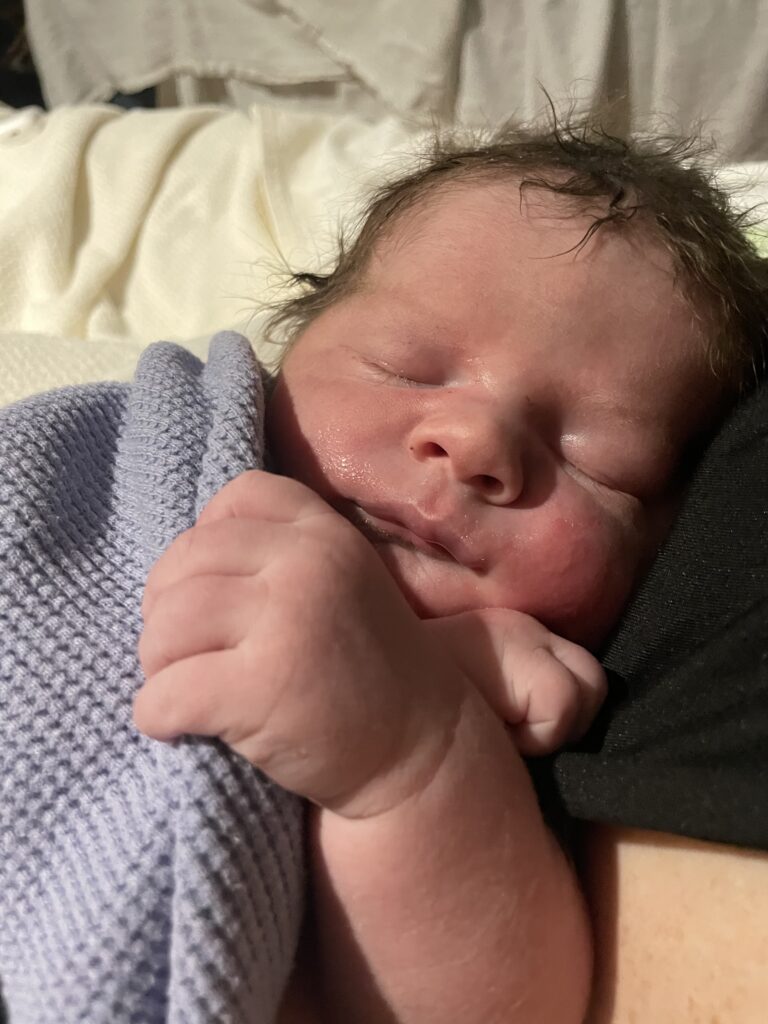 I've never felt more relieved in my life. He was born so quickly and with one contraction that he had a little "gunk" that needed to come out after, but they got a good cry out of him and he was quick to latch and feed shortly after birth. He was the sweetest little baby from the moment we met him, and a month into life on earth he continues to bless us with his gentle demeanor and sweet disposition. We are SO thankful for his life and the way he compliments our family. Truly the most amazing gift we could have been given!