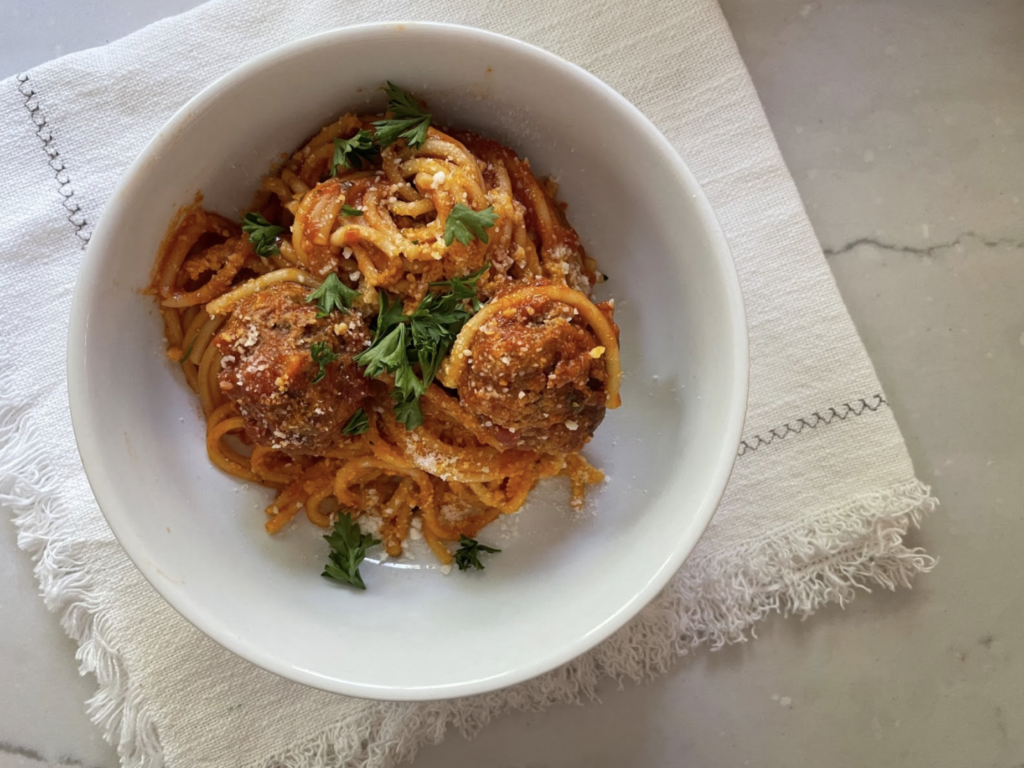 I've been embarrassed to admit that it's taken me SO MUCH LONGER than I had hope to put together my Easy Weeknight Meals e-book. It's not that the task at hand was all that challenging – I've developed hundreds upon hundreds of recipes over the year for the blog and in my former line of work as a recipe developer and food editor.
But when I set out to put together this e-book last summer, it seemed that every time I had a week blocked off for "recipe work" something more urgent came on the scene – a work issue or urgent task for my Beautycounter team, a childcare dilemma, or sick kids. It has, honestly, seemed like everything was stacked against me in making this happen.
So here I am, with six weeks of pregnancy to go (at max) trying to push this project to completion before baby's arrival. Send all the good thoughts, cheers and encouragement my way. 😉

I shared this e-book recipe sneak peek to newsletter subscribers a while back, but I wanted to give the recipe a permanent home on the blog as well. I've made it dozens of times since I first developed the recipe, and it's always a hit! Dare I say I actually PREFER spaghetti and meatballs made this way now. Something about the way the noodles absorb the sauce and take on such awesome flavor has me coming back to this recipe again and again.
Slow Cooker Spaghetti and Meatballs
Ingredients
2 slices whole wheat bread
1/2 cup milk
1 large egg
1/4 cup grated Parmesan cheese, plus more for serving 
1 teaspoon dried Italian seasoning
1/2 teaspoon salt
1 lb. lean (at least 80%) ground beef
2 jars (28 oz.) marinara sauce
2 cups chicken broth or water
1 lb. spaghetti
Parsley for garnishing, if desired 
In a large mixing bowl, combine the whole wheat bread and milk. Let soak a couple minutes to soften the bread, then use a spatula or your hands to make a slurry. Stir in the egg, grated Parmesan cheese, Italian seasoning, and salt. Add ground beef and mix with your hands to evenly combine. Form into 16 meatballs and place in the bottom of a large slow cooker. 

Cover meatballs with the jars of marinara sauce. Cover slow cooker and cook on HIGH 3 to 4 hours or until meatballs are cooked through. Break spaghetti noodles in half. Add to slow cooker along with the broth or water, making sure noodles are submerged completely. Cover and cook 1 to 1 1/2 hours more or until noodles are tender. Spoon into bowls to serve. Top with grated Parmesan cheese and Parsley, if desired.