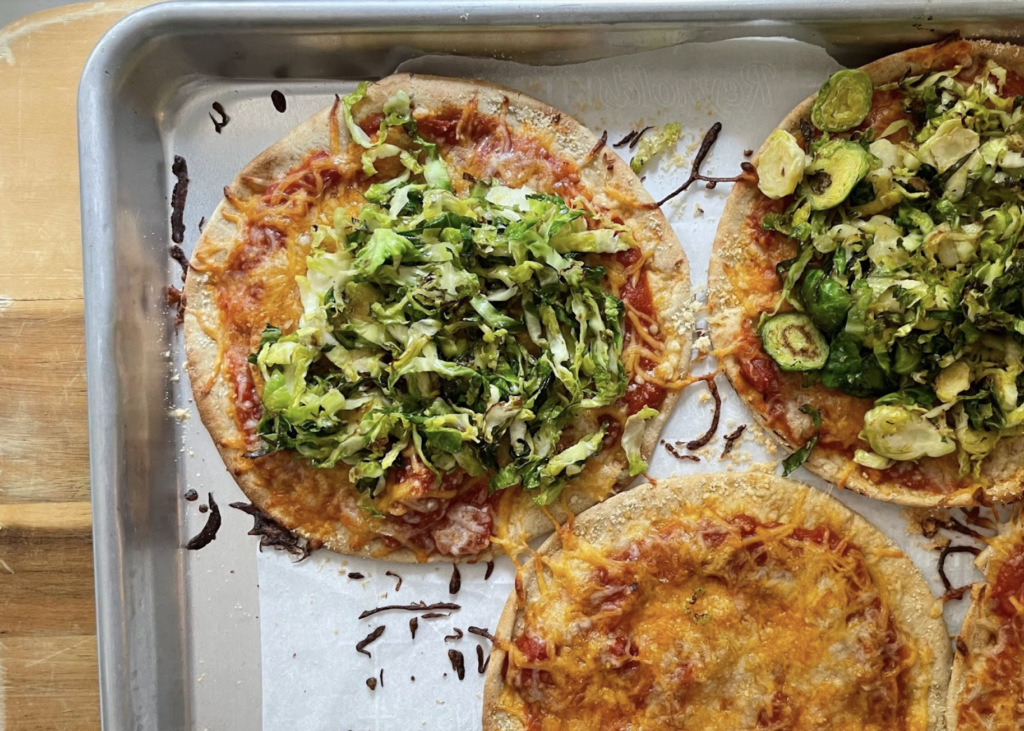 One of the things I think I'm best at in the kitchen is finding ways to satisfy my craving for something less healthy for a delicious, healthier alternative. Does that mean I don't eat pizza on the regular? Absolutely not! I eat pizza on the regular. But for someone who could eat pizza daily, I find it's sometimes helpful to have a swap like this in the back pocket. In fact, I think I may prefer this version most days!
Joseph's pitas are my favorite for this recipe. They have the perfect texture and a great nutritional profile. Other pitas would likely work, as long as they have a softer and thinner texture similar to Joseph's.
Crispy Pita Pizzas
Ingredients
6 Joseph's Pitas
2/3 cup pizza sauce (I prefer Rao's)
1 cup shredded mozzarella or pizza blend cheese
1/4 cup grated Parmesan cheese
Toppings such as sauteed Brussels sprouts (see below), pepperoni, cooked ground beef or sausage, green olives, pepperoncinis, etc.

Directions
Heat oven to 450°F. Line a baking sheet or two with parchment paper. Place pitas on parchment paper lined baking sheet(s).

Spread some of the pizza sauce on each of the pitas. Top with the cheese and grated Parmesan cheese. Finally, add desired toppings, such as those listed above. 
Bake 10 to 12 minutes or until pitas are crispy and deep golden brown. Cool slightly before serving. 

Sauteed Brussels Sprouts (optional but HIGHLY recommended)
My favorite topping for these pizzas is a mound of shredded and sauteed Brussels sprouts. I thinly shred Brussels sprouts with a knife. Then add them to a skillet and drizzle with olive oil. For this recipe I usually do two cups of Brussels sprouts and 2 tablespoons olive oil. Sprinkle with salt and pepper and sautee over medium heat, stirring frequently, until Brussels sprouts are tender and slightly browned. Add the Brussels sprouts to the pizza right before serving.