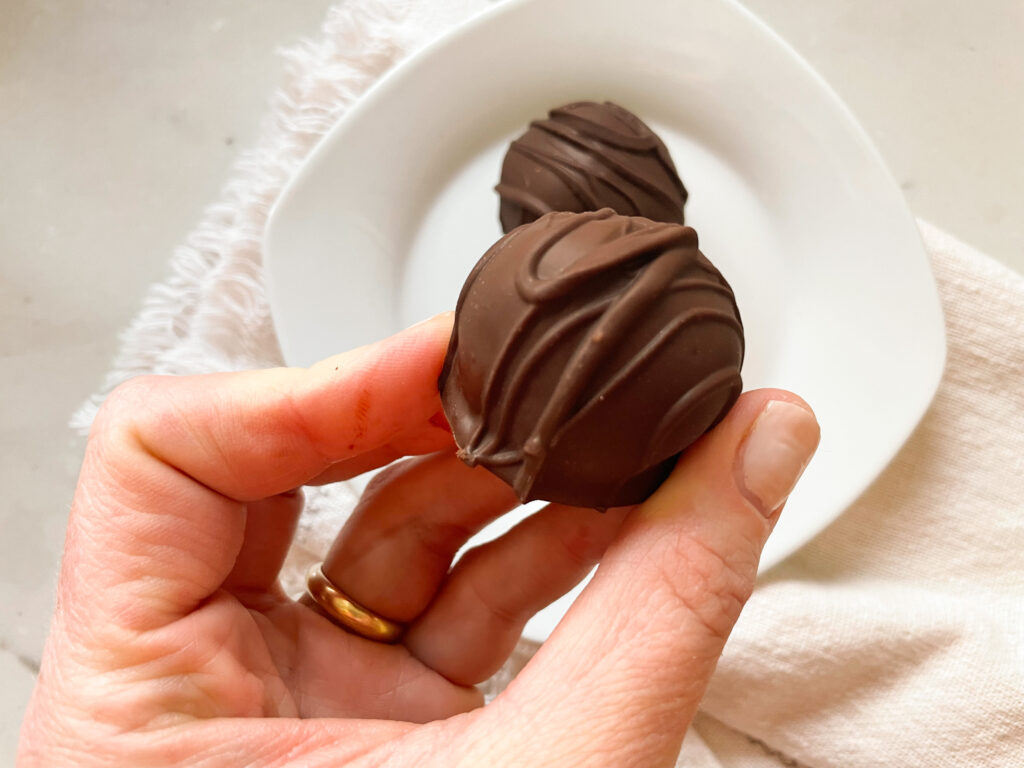 I'm always seeking healthy ways to satisfy my sweet tooth. Not that I don't allow myself to indulge in real-deal peanut butter cups or desserts on the regular (I do!) but if something can taste good while also being good for me, then that is always my preference.
As someone who doesn't eat a lot of sugary foods, I've found that I have lost my taste for super sugary things. It's funny how that works, isn't it? Plus, peanut butter and dark chocolate are practically health foods anyway. So you can feel good on all fronts enjoying these tasty bites!
Fair warning, my son LOVES the peanut butter mixture inside these bites. So I always double up the recipe to account for food lost to a toddler while making them. Don't say I didn't warn you! 🙂
Healthy Peanut Butter Cup Bites
Ingredients
1 cup creamy peanut butter
3/4 cup vanilla protein powder of choice (I like Vanilla Orgain best)
1/2 cup oat flour (enough oats blended in a blender or food processor to make a flour consistency)
1/4 cup honey
6 oz. dark chocolate, melted
Directions
In the bowl of a food processor, combine the peanut butter, protein powder, oat flour and honey. Process until well combined.

Scoop into small (scant tablespoon sized) balls and roll between your hands to shape. Place on a parchment-lined baking sheet.
Place melted chocolate into a small bowl. Drop peanut butter balls into melted chocolate and turn to coat evenly. Use a fork to gently remove balls and tap off excess chocolate. Repeat with remaining peanut butter balls and chocolate. Use any remaining chocolate to drizzle over balls, if desired.
To speed up chocolate hardening, you can place baking sheet in the fridge or freezer. Peanut butter balls can be stored in the refrigerator or at room temperature.