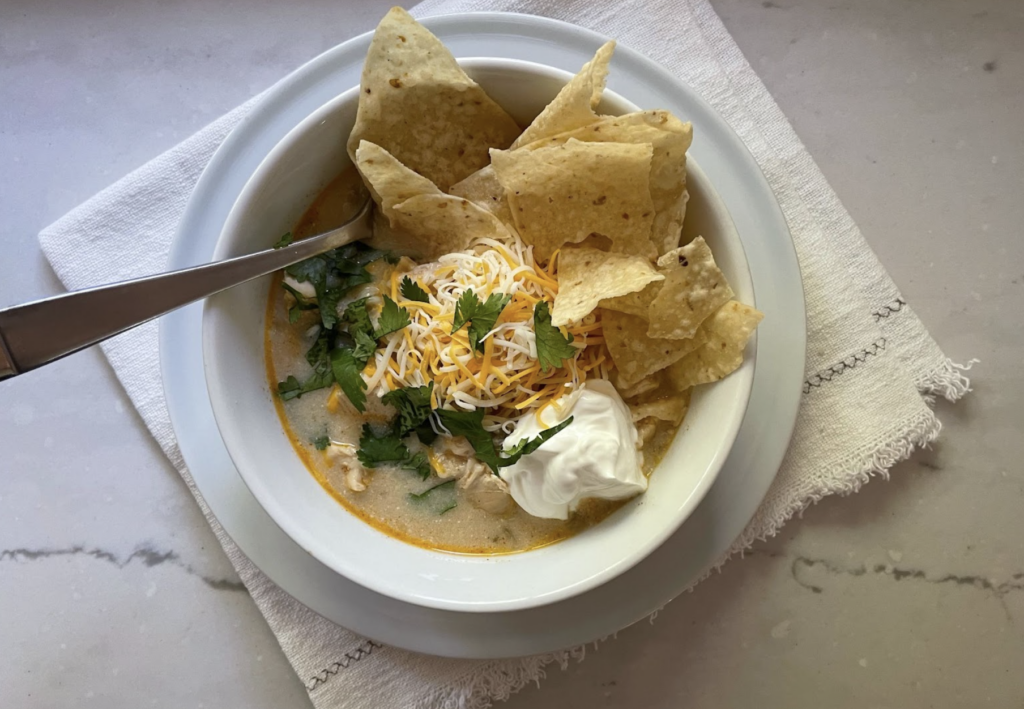 Truth be told, I'm a little worried with the way winter is going that if I don't publish this slow cooker soup recipe now – in February – it may get too warm soon to post it and have it be seasonally appropriate. In all seriousness, we have had such a mild Iowa winter with temps coming up to the mid 50's later this week, that I hardly know what to do with myself. Joe and I joke ever now and then that Iowa will soon become a destination to move to if we keep up with winters like this.

I've been working away and putting the finishing touches on the recipe e-book and had a few extra recipes that are awesome but didn't quite fit into the bigger e-book picture. So today I'm sharing this Slow Cooker White Chicken Chili. It's an easy, set-and-forget type meal that hits the spot on cold days and those busy days when you find yourself rushing through the door, kids bags in hand, with hungry little people begging to be fed.

I hope this gives you one more recipe to make your life a little easier as you head through those busy weekday nights!
Slow Cooker White Chicken Chili
Ingredients
1 tablespoon butter
1 medium yellow onion, chopped
2 cloves garlic, minced
1 1/2 to 2 lbs. boneless, skinless chicken breasts (trimmed)
2 cans (15 oz. each) great northern beans, drained
1 can (4.5 oz.) diced green chiles (desired heat level) 
1 carton (32 oz.) salted chicken stock
1 tablespoon chili powder
2 teaspoons cumin
1 tablespoon cornstarch
1 tablespoon water
1/2 cup sour cream
Juice from 1/2 lime
Toppings such as crispy tortilla strips, chopped cilantro, shredded Mexican cheese blend, and/or additional sour cream 
Directions
In a medium nonstick skillet over medium high heat, melt the butter. Add in the onion and cook, stirring frequently, 5 to 7 minutes or until onions are tender and translucent. Add in the garlic and cook 1 to 2 minutes more or until garlic is fragrant and golden brown.

Place chicken breasts in the bottom of a slow cooker. Top with the onion mixture, beans, green chiles, chicken stock, chili powder, and cumin. Stir to combine Cover and cook on LOW heat 6 to 8 hours or on HIGH 3 to 4 hours or until chicken is tender and shreds easily when tested with a fork.

Remove chicken from slow cooker and chop into bite-sized pieces. Return to slow cooker. In a small bowl, whisk together the corn starch and water. Whisk the corn starch mixture and sour cream into the soup until well combined. Cover and cook on HIGH 1 hour more or until soup is thickened slightly. Before serving, add in the lime juice.
Spoon into bowls to serve. Top with desired toppings, such as crispy tortilla strips, chopped cilantro, shredded cheese and/or sour cream.