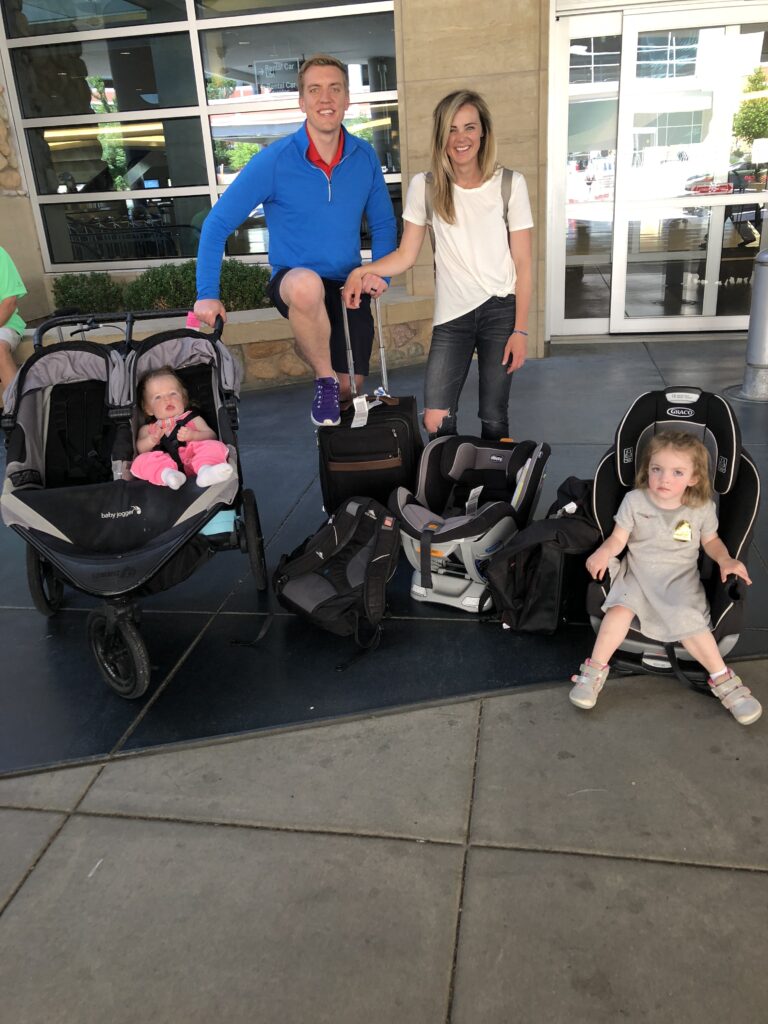 Are you traveling by air this holiday season? Well, if you're traveling with a baby or toddler by airplane this holiday season, then I've compiled some of my best tips for a smooth and stress-free trip! Because we have family in Florida and Idaho, we have made a lot of trips with our kids at early ages and traveled quite often for various reasons. They all LOVE air travel and over the years some adjustments and mistakes made the hard way have taught us what works best for our family.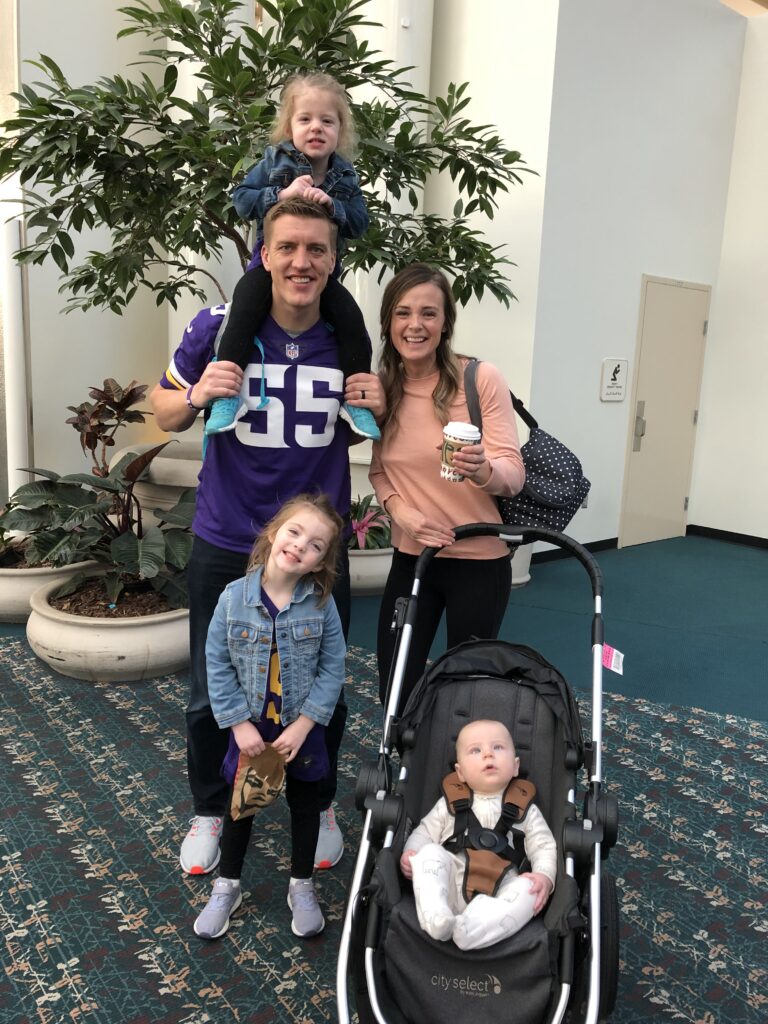 So, are you traveling with little people this holiday season? Then read on for some of my best pieces of advice.
Always Travel With a Good Stroller
I know it may seem clunky, or maybe even unnecessary, but I If you have little (or even semi-little) people, you don't want to be stuck without a stroller. We have had too many layovers to count where we have been stranded for long periods of time and a stroller (our double!) has been a lifesaver! It has given our kids a place to sleep on long layovers and given little legs a break. Plus, if you are rushed to make a connection, you can go MUCH faster with kids in a jogging stroller than asking them to walk or carrying them.
Be Strategic About Car Seats
This was a discovery that I didn't make until my third baby but if you can get them their own seat, do it! And then bring their car seat on the plane with you. It makes ALL THE DIFFERENCE. Yes, it's an investment buying another ticket, but flying with your child in a car seat in the seat next to you is so much better than having them in your lap – especially if you are in that challenging age between 1 and 2 when they don't want to sit still. When Truett is in a car seat on the plane he understands he can't get up and move around and took fabulous naps while we were in the air.

This is hands down my favorite car seat EVER and it works well for air travel because it's slim. And then we carry it through the airport with this car seat bag. The backpack straps are a lifesaver! That way my husband can wear the car seat and still have his hands free.
For bigger kids (3+ depending on your child's temperament and how well they sit/obey) I prefer to rent car seats from the car rental place at our final destination or through a rental service at our final destination. Every experience we have had renting car seats has been great and it saves us plenty of hassle while traveling!
Embrace Technology
If there is a time to embrace a little extra screen time, this would be it! We have iPads and an Amazon Fire for the kids. They don't get to use them much at all at home, which makes it extra special when they get to use them while we are on the airplane.

We typically wait until the airplane has taken off + snacks are handed out before we let the girls have their devices, and then make sure they are loaded with plenty of games that don't require Wifi + a few movies we download in advance (again, so you don't need Wifi.) We have these volume-limited kids wired headphones for travel.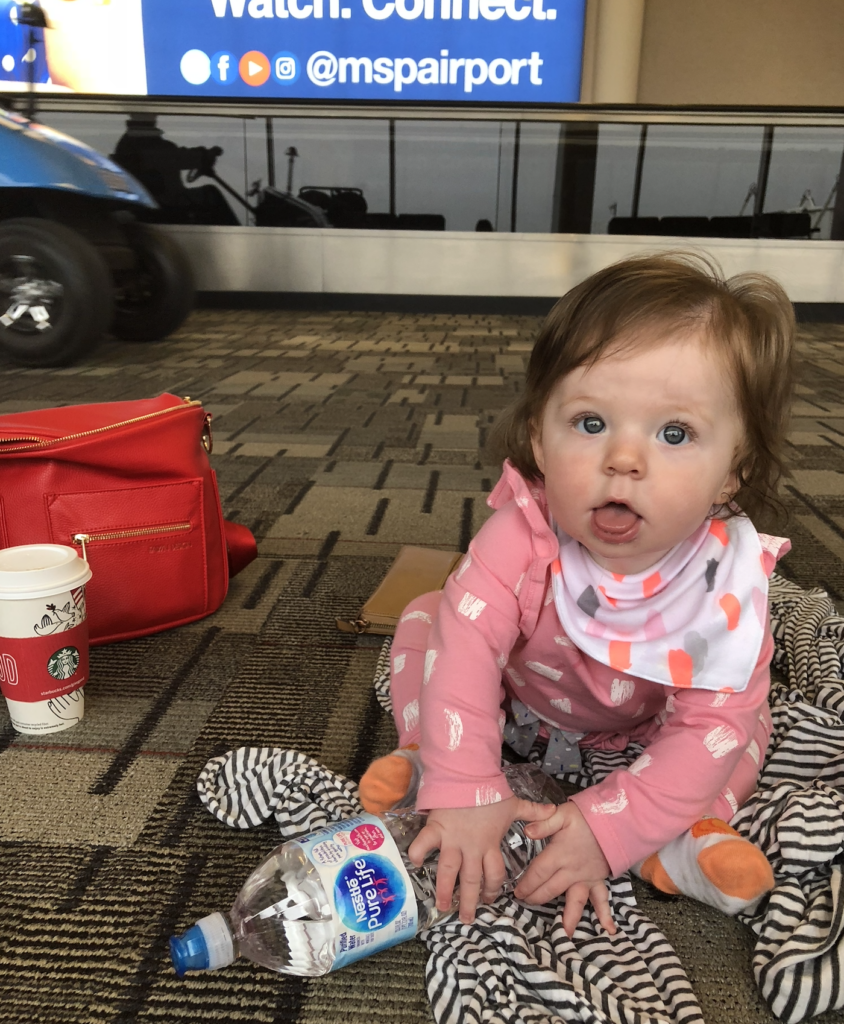 Ditch the Backpacks and Cute Suitcases
This is a personal opinion and based on your own children, of course, but we have not had success with letting the kids take their own backpacks and suitcases. If your child is older (school aged) then I think the advice is different, but a four year old toting her own rolling suitcase or loaded backpack is fun for the first hour, then just a LOT more for parents to carry later. I would advise having one single "family bag" that has all the snacks, headphones, tablets, and toys in a single back that you as the parent hold on to.

Wear the Workout Gear
I've learned this one over the years, but wear the workout gear, the comfy shoes, the clothes that hide spit up and dirty handprints, and don't wrinkle. Flying with kids is not about fashion and strictly about function.

I like wearing my Rothy's Lace Up Sneakers, Lulu or Athleta leggings, and a comfortable sweater or top.
For the Parent Bag…
Make sure to take diapers, wipes, sanitizing wipes and hand sanitizer, gallon plastic zip-top bags (for dirty clothes, blowouts, dirty diapers, trash), coloring pages/markers or crayons (I like the magic markers for travel), Melissa and Doug reusable sticker books, snacks (lots of suckers! They are my fave for little kids because they take a long time to eat and keep kids busy), and water bottles that can be refilled for travel.
Check Bags + One Carry On
We typically check as many bags as possible to keep our hands free but carry one bag through the airport. In that carry on, we take with us anything we would be really lost without at our final destination, such as medicines, a change of clothes and pajamas for each family member, a handful of extra diapers, and anything else that might be "necessary" – such as a baby's sleep sack, a special stuffed animal, etc.
Anything else I missed including here? Help some other mommas out and share below!