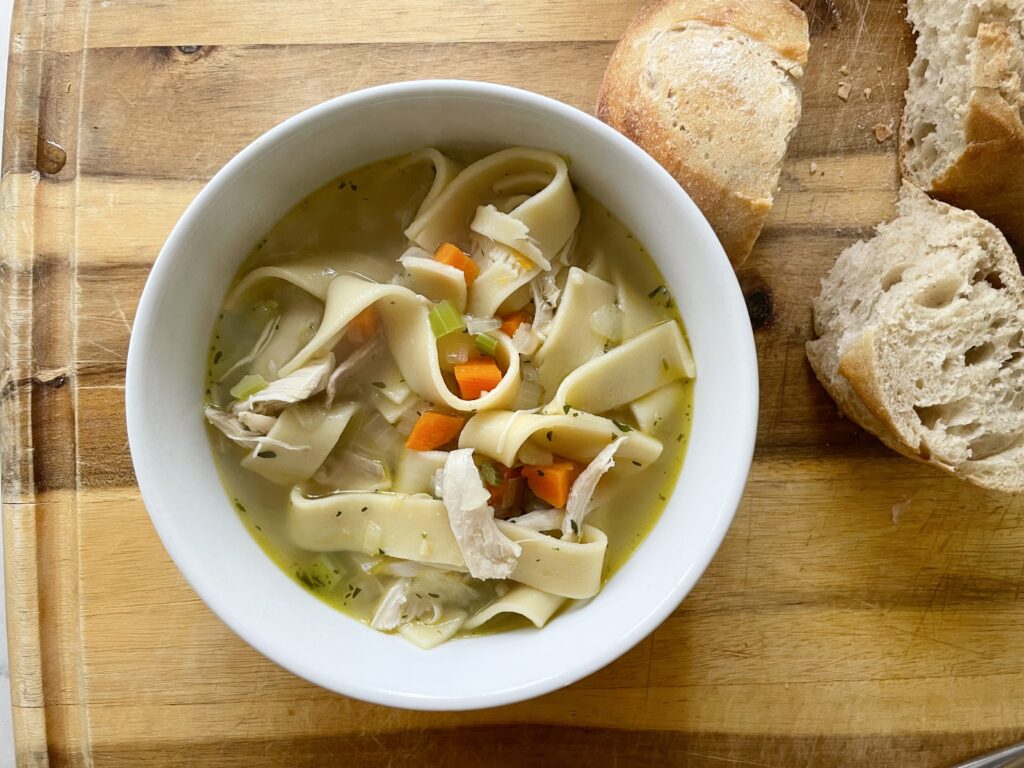 Maybe it's a little strange to be posting this the week of Thanksgiving, but hear me out….
After cooking a big meal (or contributing to a big Thanksgiving meal) what meal could be better than something warm and filling, yet super easy and a little lighter on your stomach than Chicken Noodle Soup?
Bonus: If you have leftover Turkey, you could easily adapt this recipe to be a Turkey Noodle Soup and use your leftover Thanksgiving turkey instead of chicken.
I don't know why it took me so long to get my head around making homemade chicken noodle soup, but this recipe is not only quick and easy, it's totally delicious and loved by every member in our family.

Tip: It's this Homemade Chicken Noodle Soup is even better when served with a side of crusty sourdough bread.
Let's get to the recipe!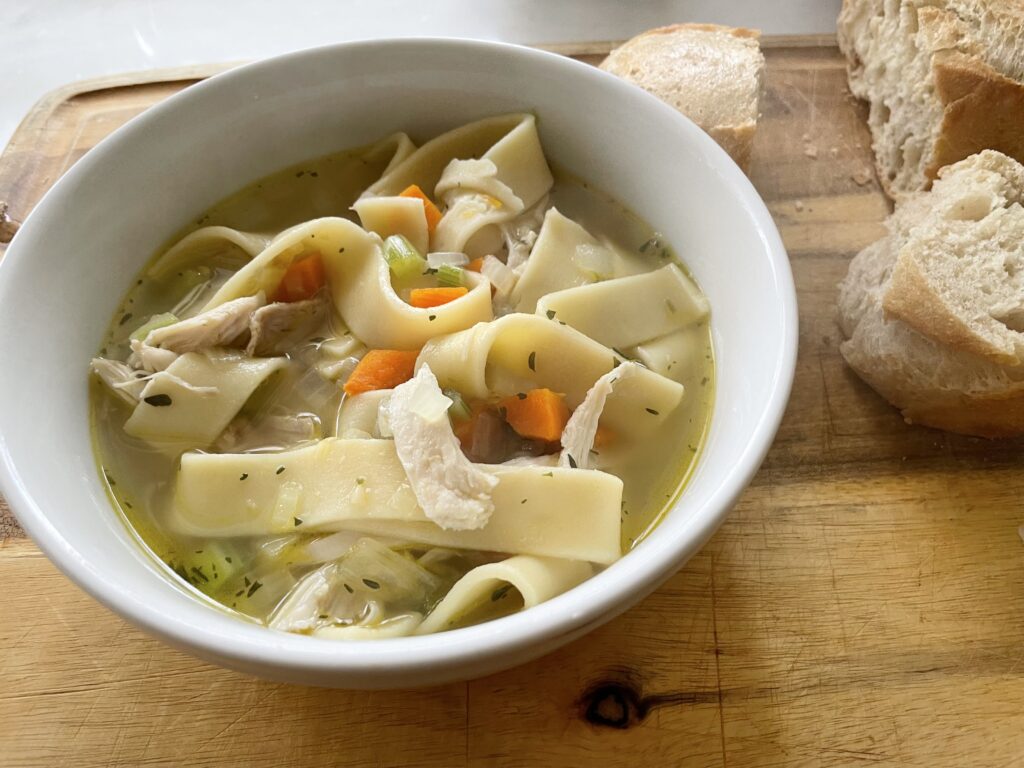 Homemade Chicken Noodle Soup

2 tablespoons olive oil
1 medium yellow onion, chopped
2 large carrots, chopped into small pieces
2 stalks celery, chopped into small pieces
2 cloves garlic, minced
1/2 teaspoon salt
1/4 teaspoon black pepper
1/2 teaspoon dried Thyme
48-60 oz. chicken stock (salted)
8 oz. extra wide egg noodles
Meat from 1 rotisserie chicken, shredded into bite-sized pieces (about 2-3 cups chicken)
Additional salt and pepper to taste, if desired
Directions
Heat oil in a large stock pot over medium heat. Add in onions, carrots and celery. Cook, stirring frequently, about 5 to 8 minutes or until veggies are crisp-tender and onions are translucent. Add garlic and cook, stirring frequently, 1 to 2 minutes more. Add in the salt, pepper and thyme along with 48 oz of the chicken stock.

While veggies cook, in a separate pot cook noodles in water according to package directions for al-dente pasta; drain.
Add noodles and chicken to stock pot with broth. Bring to a very gentle simmer and cook 10 minutes more or until veggies reach your desired degree of tenderness, adding extra broth as necessary depending on how thick you like your soup. Serve with crusty bread, if desired.