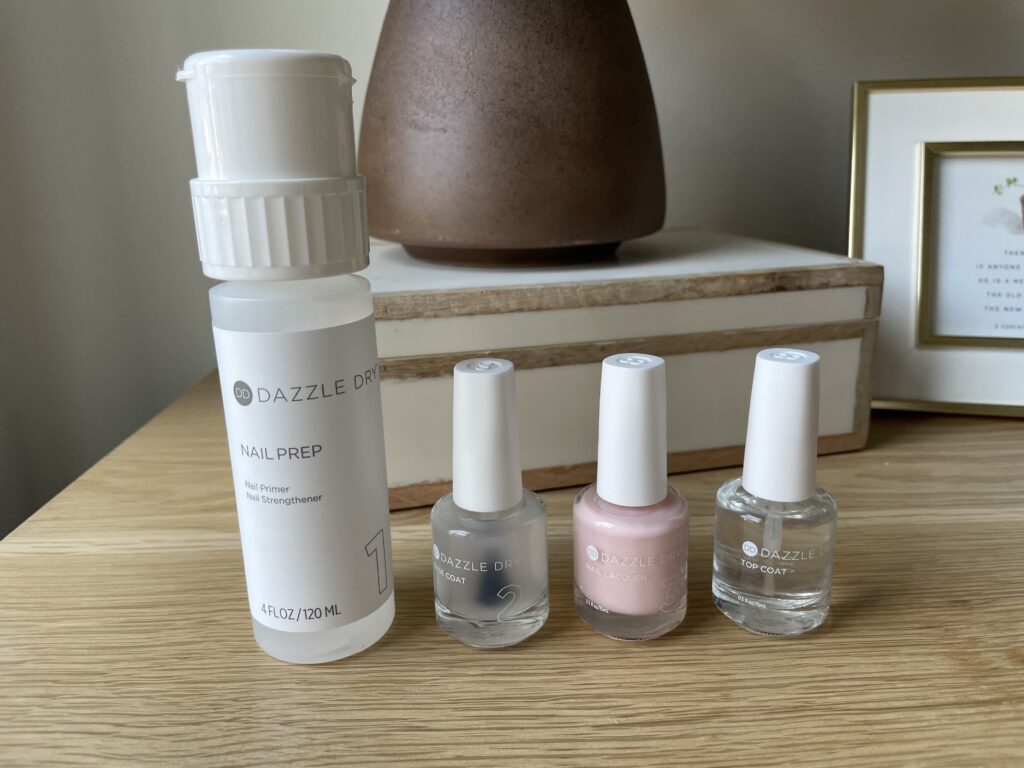 Let's start with a bit of background on my complicated nail polish history….

Most people probably know me as someone who does not care for nail polish on my fingernails – my husband would probably even tell you that! He has seen me paint my nails 10,000 times, only to remove the polish two minutes later. Why? Well, the answer is twofold.

First, I like things to look neat and put together. Which means the second my nails smudge it drives me crazy. If my nails are smudged or messy I would just rather have nothing but clear polish on my nails.

Second, in the same spirit as what I mentioned above, I can't stand when my nails get chipped. With three little kids and a busy life, I'm very rough on my nails and found nearly everything else I've tried has chipped within a day or two. And once they are chipped and messy looking, I'm over it.
That means for most of my adult life I've resolved to just not wear nail polish on my nails other than maybe the four times in the last five years that I've had a manicure at the salon. 😉 But after seeing multiple friends rave about Dazzle Dry, I finally bit the bullet late one night and purchased the entire system and four polish colors in hopes this would be the solution I was looking for.
What is Dazzle Dry?
It's a clean nail polish brand (it's 10-free!) that dries super quickly – as the name implies. Yes, you read that right. The nail polish dries so fast that by the time I've finished my 10th nail, the first nail is dry. It's amazing! It's also billed to be very long wearing, but given my history, I was a bit skeptical about any long wear claim.
My Initial Thoughts
At first application, I was impressed. I LOVED how quickly the nail polish dried and the way it looked once the process was finished. What had scared me away in the past was the mention of a "system" which I thought meant it would either be complicated to use, hard to remove, or super fussy. But applying multiple coats of Dazzle Dry wasn't a pain because it all dried so quickly.
I followed their guide online for how to apply the system, including the nail prep (which also removes polish), base coat (be sure to warm the base coat in a bowl of warm water before use!), nail color and top coat. The full guide for application and perfect nails can be found here.
My Thoughts After Use
After nearly a week of heavy use, my nails were still looking great (see photo below wearing "Smitten" shade) and my manicure had held up better than anything I've ever used. I found that I was excited to do my nails because I enjoyed the process, the fast drying application, and the knowledge that I would only need to do this once every week or so.

Note that some of my friends have perfected the process and get two weeks out of an application (?!) so I think I'll probably find a way to stretch the manicure even longer as I use it more.
How to Shop
You can use THIS CODE for $15 off your order of $65+. I would recommend getting the system + lacquer to begin. I also grabbed a couple of their adorable mini bottles of lacquer to get a few more colors to choose from as I got started. The system IS necessary, IMO, to get a full experience with Dazzle Dry and the long wear I described above.
Have any of you tried Dazzle Dry before? Other questions? Let me know and I'm happy to answer them!
Madison