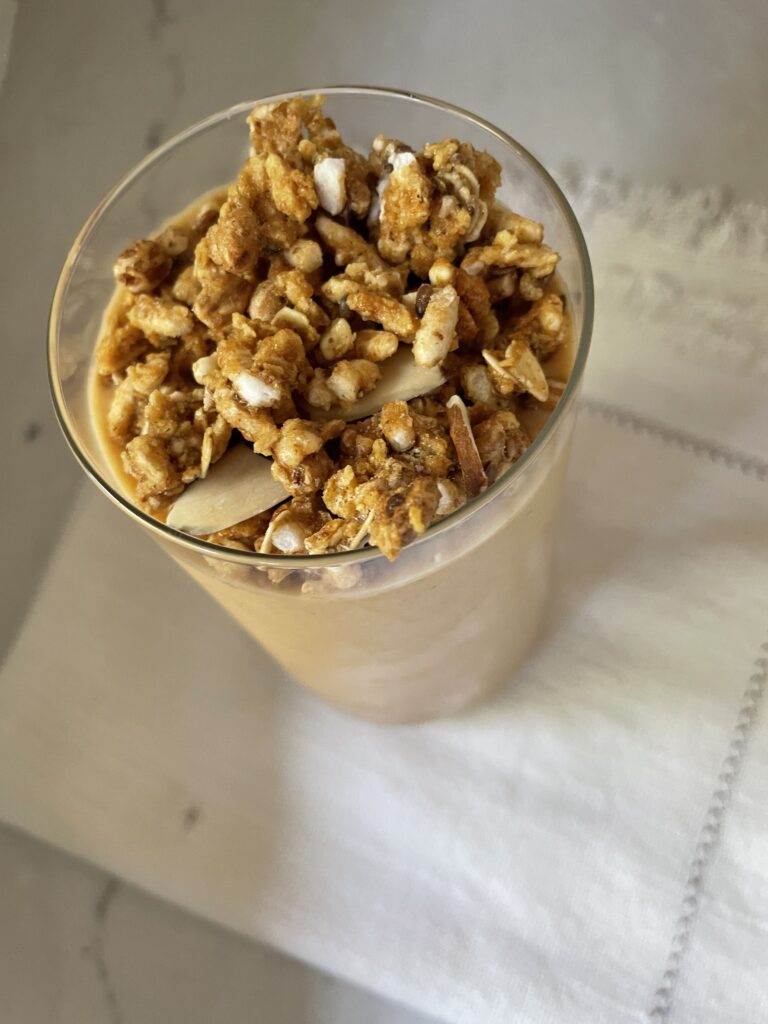 I'm a little ashamed to admit I *haven't* had my first Pumpkin Spice Latte of the year. Yes, I love them (usually with oat milk, no whip and half the syrup, please) and no, I'm not ashamed to admit it. And while I haven't been able to enjoy a PSL at home, I have been sipping on this amazing Pumpkin Pie Smoothie on the regular.
Packed with pumpkin, protein, a bit of peanut butter (optional, but the extra fat really improves the overall flavor IMO, and a scrumptious blend of vanilla and cinnamon, it's incredibly addicting and a great transition from warmer temps to cooler ones.
Pumpkin Pie Smoothie
Ingredients
1 to 1 1/2 cups almond milk
1 medium frozen banana
2 scoops Vanilla Orgain protein or a serving size of other favorite protein
1/4 cup canned pumpkin puree
1 tablespoon peanut butter
Handful of ice
Splash of vanilla extract
Dash of ground cinnamon
Granola or other favorite cereal for topping

Directions
Blend together the almond milk, frozen banana, protein powder, pumpkin puree, peanut butter, ice, vanilla and cinnamon until sooth and creamy. Adding extra ice if necessary to reach a thick consistency. Pour into a glass. Top with favorite granola or cereal, if desired.