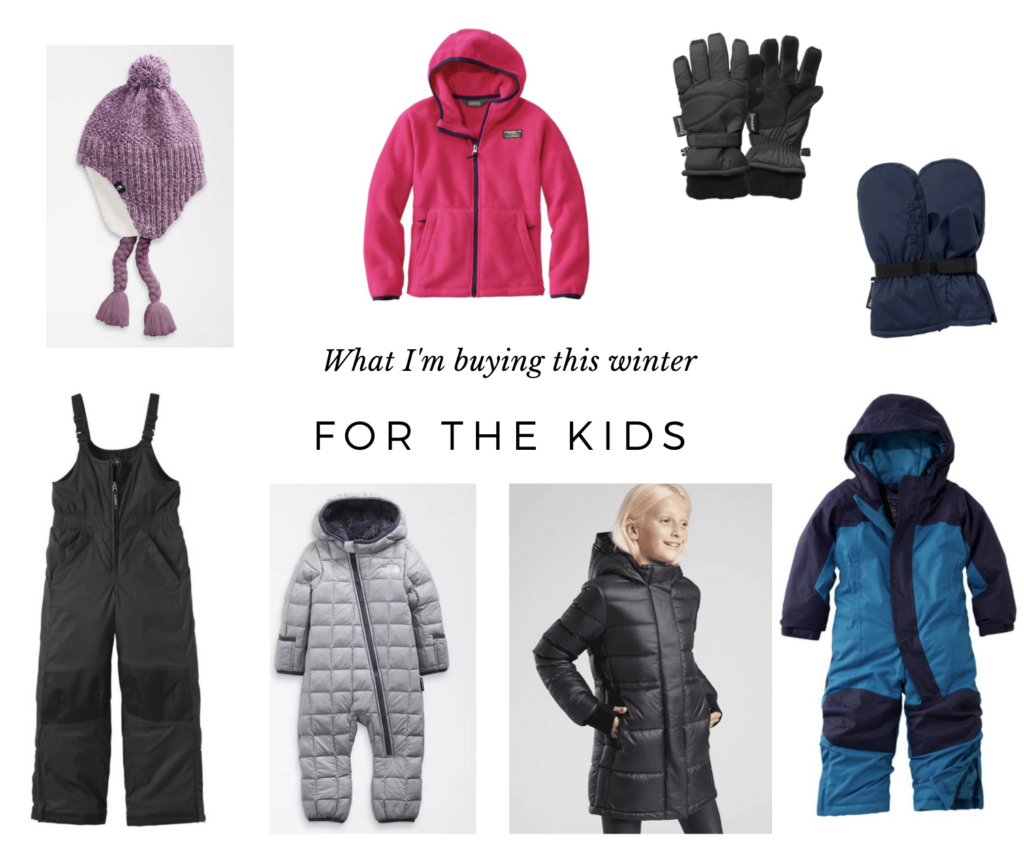 I know it's still "fake fall" right now in many areas of the country, but I'm always a little caught off guard when it goes from 80°F to 40°F in only a matter of weeks. (Hello, Iowa!) This year I'm getting ahead of the game and purchasing all the winter gear we need for the season before we actually need it, and it feels good to head into the next season prepared for what's to come.
I learned a LOT as a first-time mom of an elementary-aged kiddo – kids on the playground are tough on clothes! So here's what I'm buying for my crew this year, as well as a few other tried and true favorites for the cool and cold weather.
COLD BUSTER SNOW SUIT (2T-4T)
I'm getting this for Truett now that he has grown out of our beloved North Face Thermoball. I love the ease of a one piece snow suit that just makes playtime so much easier outside. And it's one less piece of the puzzle that I have to keep track of. I'm tempted to go back and buy one for Collins, too!
MOUNTAIN CLASSIC FLEECE (Big and Little Kid Sizes)
Truett has one of these which was hand-me-down from friends and we LOVE it. It's the perfect transition jacket for fall and spring, and I've been shocked at how much use we have gotten out of this. I'm excited to get one for each of the girls this year.
COLD BUSTER SNOW BIBS (Big and Little Kid Sizes)
Snow bibs are where it's at, IMO. I'm excited to get these for the girls, which have reinforced fabric in both the knees and the bottom for better durability. I purchased them in basic black so they can be handed down.

COLD BUSTER SNOW GLOVES
Warm gloves are a priority for school play, but honestly a priority for all of our winter play at home, too. We spent too many years going with cheaper gloves and regretted the choice. I'm getting these for the girls, I'm still doing mittens for Truett since it's hard to get little fingers in gloves!
COLD BUSTER MITTENS (toddler)
These are the mittens I snagged for Truett!
NORTH FACE THERMOBALL SNOW SUIT (infants and toddlers)
This has been our go-to snow suit for three kids when they were infants and toddlers. I LOVE this snow suit – it's very low profile and thin (aka I've felt comfortable having a baby in a car seat wearing this) and it's great for keeping their whole body warm with one piece of clothing. It has hand and feet covers built in for when they are infants/babies which was a lifesaver!

NORTH FACE EAR FLAP BEANIE
Ainsley prefers this style of hat for the playground with the extra warmth it provides so I grabbed a new hat for her this year!
ATHLETA GIRL SNOW DAY PARKA
Ainsley absolutely destroyed her light blue North Face coat last year (BAD choice, mom!) and it looked so gross and ragged after the year of playground play. This year I'm going with something that is all black – which is totally boring Ainsley informed me – but in hopes that it holds up enough to pass along to Collins.