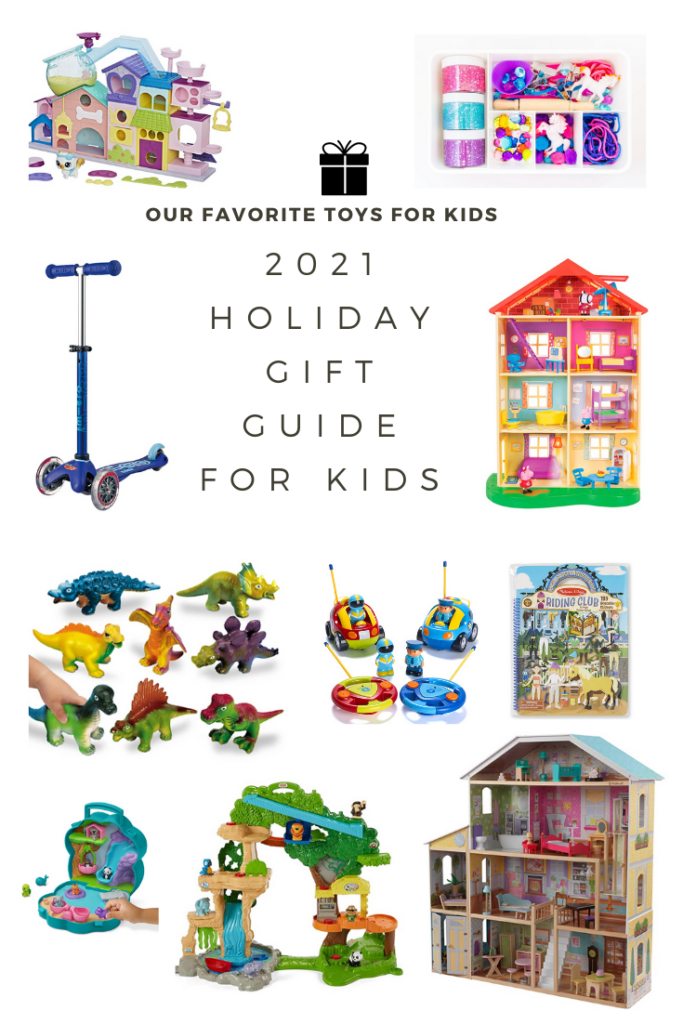 Hi, everyone! I did a little poll on Instagram asking you all about if you wanted gift guides early this year and the resounding answer was YES. I think we are all thinking about holiday shopping a bit earlier than usual this year, with shipping delays, port issues and shortages occurring everywhere.

I am officially DONE shopping for the kids. Today I'll be sharing with you both some of the new items we purchased for the kids this year (denoted with an **) and items we have truly used and LOVED over the years. I don't know about you, but I tend to over think gifts. I want to make sure the gifts I purchase for the kids are practical, encourage open-ended play, and are things they will play with for year(s) to come.

Sometimes that means having to sort through what my kids *say* they want and filter it through the lens of what I know they will actually play with and find enjoyment in.

Also adding: For stockings, we usually do a practical approach to what we gift in stockings. Things the kids usually need: socks, new toothbrushes, new crayons or colored pencils, maybe a fun holiday scented bubble bath, a few of those small "surprise inside" toys, and new Christmas pajamas. (HINT: All Hannah PJ's are currently 40% off!) We let the kids open their stockings on Christmas Eve, after they come home from Church, so they get to put on their pajamas so they are new for Christmas morning.
I hope you find this list helpful! It's filled with items we have truly purchased with our own money, and that our kids have loved and continue to love year after year.


FOR THE TODDLERS

Little People Happy Animals Habitat **
I purchased this for Truett for this year's Christmas. It's over 2-feet tall and got great reviews. We have a lot of other Little People items and I'm nearly positive Truett will have a blast playing with all his Little People animals in this set.

Little People Nativity Set
Our whole family loves this nativity! We have a fancier breakable nativity for display, too, but this is fun for the kids to play with as we talk about the Christmas story and birth of Jesus.

Young Wild and Friedman Sensory Kit **
I'm including this in every category because I got one for each kid! Truett is getting the dino kit!

Magna Tiles Car Expansion Kit **
Truett's obsession with Magna Tiles prompted the purchase of the car expansion kit to help fuel his creativity.

Soft and Squeezy Dinosaurs **
I couldn't decide on which soft and squeezy toys to go with – they have so many different animal sets to choose from. And my kids love for figurines and animal toys knows no end. They're so great for open-ended play!

2 Pack Radio Controlled Cars **
We had a remote control car Truett loved, but every time it hit the wall it scuffed it with red paint. Hoping these are a more little-kid-appropriate choice this year!

Plasma Car
Truett LOVES his Plasma Car. He drives it all throughout the house and up and down the street. It's great for kids of a wide variety of ages.

Micro Scooter (little kids)
Our kids use their scooters ALL the time. They love them and have been worth every penny.

Balance Bike
Collins is currently still using the Balance Bike and we will soon pass it to Truett since she is starting to ride a regular two wheeled bike. But man this thing has been great! **
Paw Patrol Lookout Tower
This has been a staple in our home for years. I was worried it would be just another giant brightly colored piece of plastic no one uses, but all our kids find ways to use this.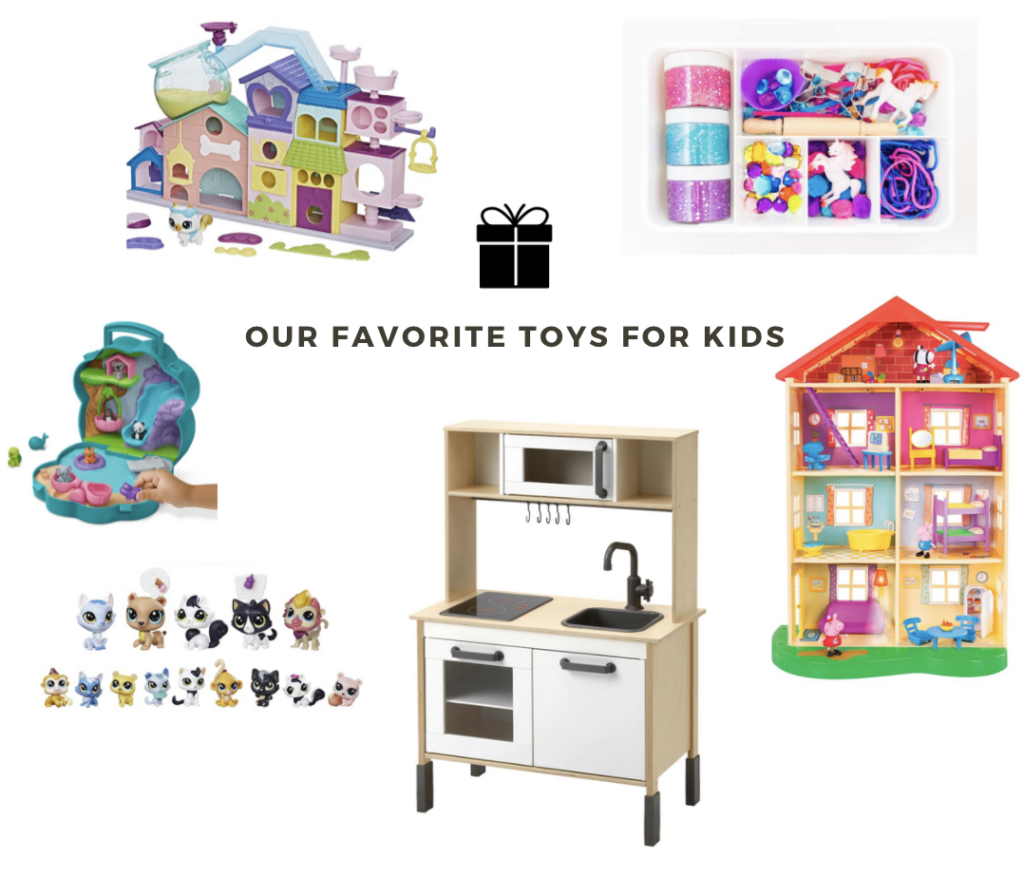 FOR THE PRESCHOOLERS

Littlest Petshop Pet Partment Play Set **
Collins LOVES the littlest pet shop toys that are at the allergist's treatment room, so much so that I wanted to track down some sets for her to play with. I remember having Littlest Pet Shop as a kid, and my animal-loving preschooler is going to get plenty of play out of this.

Littlest Pet Shop Family Pet Kit **
To go with the set above! It's filled with "animal families" which Collins is going to flip over.

Young Wild and Friedman Sensory Kit **
Collins already has the garden and baby kits, so she is getting the unicorn kit!

Carry Around Animal Town **
Friends of ours have this, and every time the girls play with it, they ask for one. It's like a giant Polly Pocket but better quality and with animals.
IKEA DUKTIG Play Kitchen
We have had this play kitchen for years. It's great quality, attractive looking, and has held up to a lot of wear and tear.

Fisher Price Bouncy House (indoors)
Three years ago we bought this for the girls, and I'm STILL upset that the temporary cat we had peed all over the bounce house and we couldn't ever get the smell out and had to throw it away. We never pulled the trigger and bought another one because I couldn't swallow the price twice, but man this was a great gift when we had it!

Peppa Pig House + Figurines
We have had this for years, and again it's been another toy that has given us lots of ways to play and use over the years. We have plenty of Peppa figurines that work well for it!

Scribbie Scrubbie Pets
We love these fun little figurines you can color on and then wash off and start again! They are a great price point and we have gotten tons of play out of them.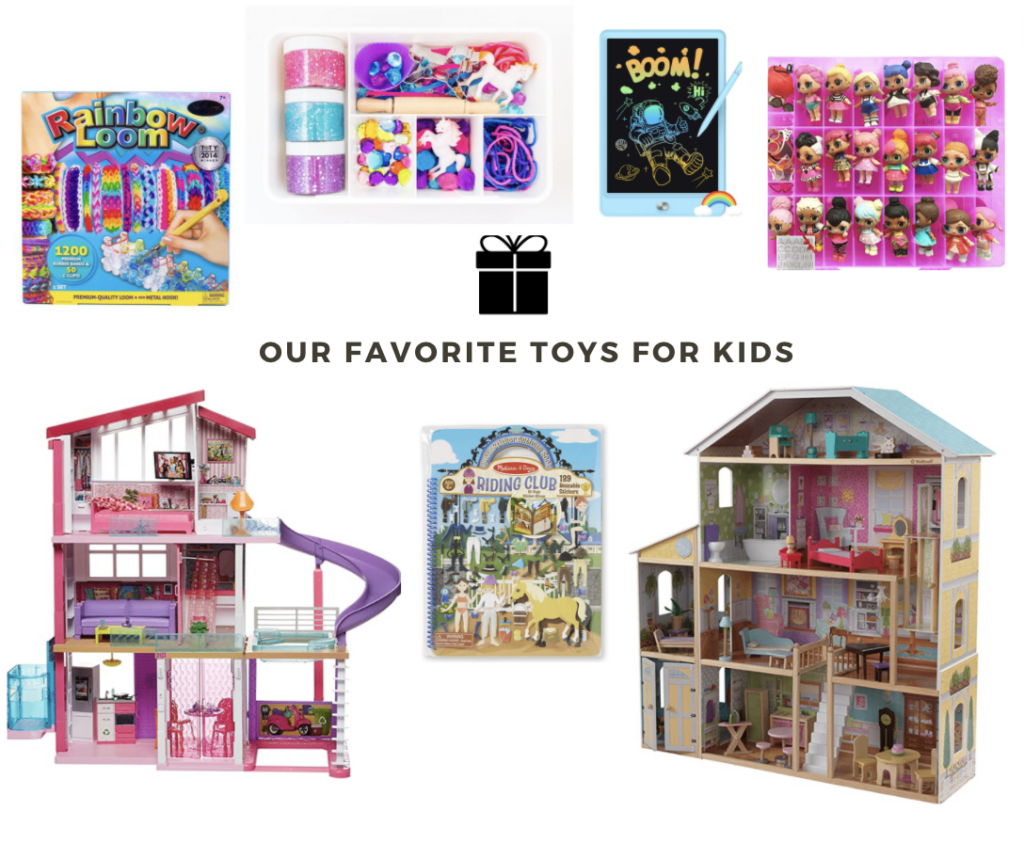 FOR THE K-1st GRADERS

Kid Kraft Majestic Mansion Wooden Dollhouse **
My daughter wanted an LOL Doll House, but I wanted something that was better quality and a little easier on the eyes. This doll house got amazing reviews – and it's very large. My plan is to buy her plenty of LOL Dolls to use in this more affordable and higher quality wooden dollhouse.

Micro Scooter (big kids)
We upgraded Ainsley and Collins to the bigger scooters last year and again, like I mentioned above, the use we get out of them is crazy. They are easier to take on walks than bikes when I have a stroller with me – aka they can go under the stroller when the girls are done with them.
Barbie Dream House
I know, I know, another house. But the amount of time my girls have played with this house is crazy. And not just with Barbies but with other dolls and figurines.

Rainbow Loom Bracelet Making Kit **
Ainsley has been asking for this for a while. While I'm certainly not a crafty mom, I appreciate that my daughter is a craft-loving girl.
Young Wild and Friedman Sensory Kit **
Ainsley is getting the baking kit!
Caboodle
Last year Ainsley got a caboodle filled with all sorts of things like non-toxic nail polish, scrunchies, a little of my extra Beautycounter makeup, etc.

LOL Dolls Organizing Kit **
Since I'm finally caving to buying LOL Dolls, I am also buying a smart organizing case, too.

Melissa and Doug Sticker Books **
We love these in our house! And they provide the girls with many hours of fun. Great for church or road trips!

LED Writing Tablet
These boards have always been a hit with the girls! They are easy to pack for trips and outings. I toss ours into the bag for dance, football games, dinners out, etc.