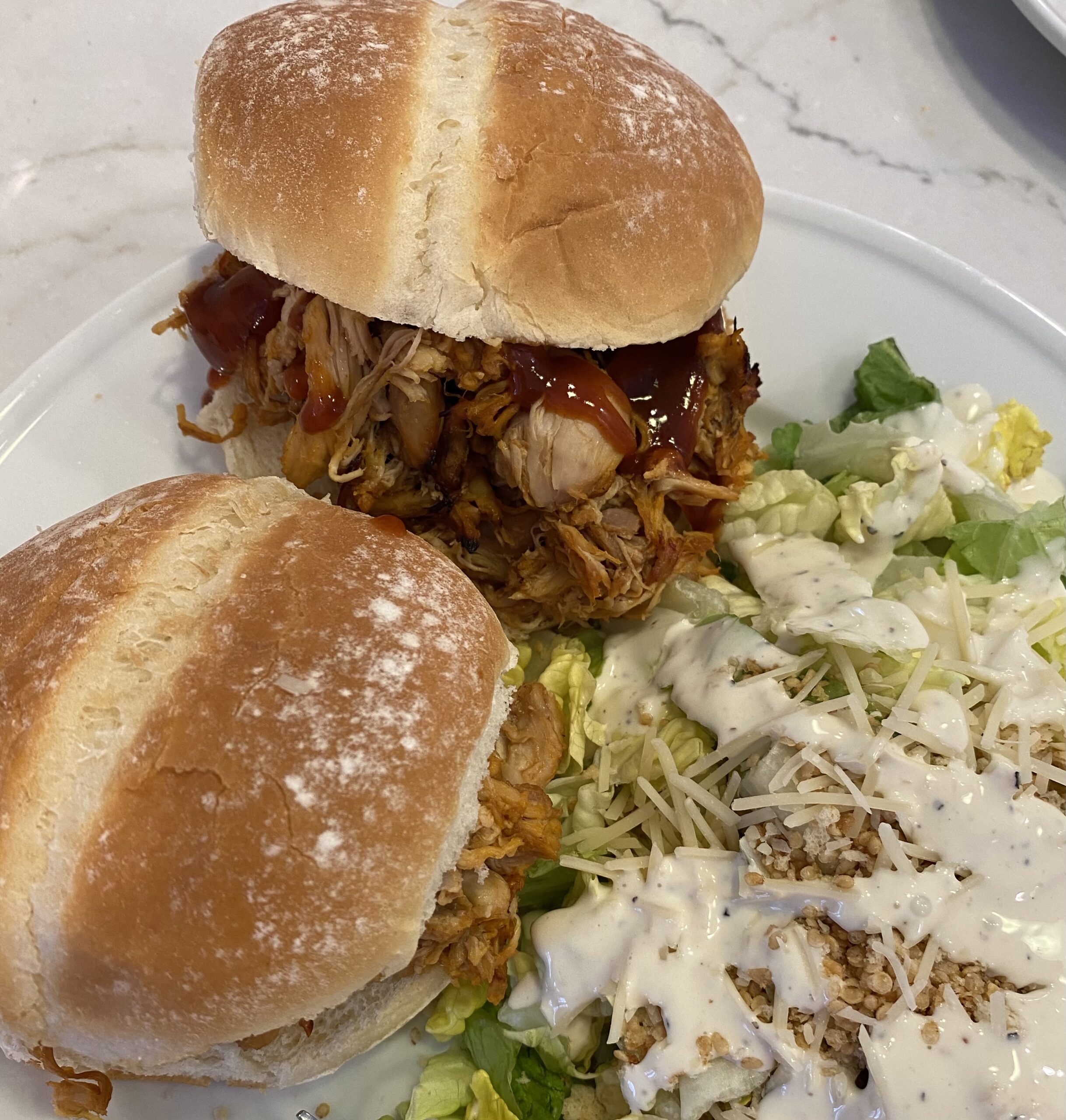 Can I make an honest confession? I don't LOVE slow cooker meals. Gah, it's true. While I love the convenience of a slow cooker, sometimes a meal that is made in the slow cooker can taste a little, well, bland in the texture department, especially when it comes to meat. Sometimes it's just a little TOO soft and mushy for my liking.
When it comes to slow cooking meat such as this barbecue chicken, I learned a trick years ago at work that changed the game for me when it comes to slow cooking. One extra step makes ALL the difference.

Broiling.
After you get the benefits of slow cooking – think fall-apart tender meat – you take that meat and toss it under the broiler for just a few minutes. The broil step is, yes, another step. But it gives your meat those perfect crispy bits that really take things over the top.
Give it a try, and I promise you won't ever want to go back!
INGREDIENTS
2 1/2 – 3 lbs. boneless, skinless chicken thighs
1 bottle (18 oz.) barbecue sauce (I like Stubbs)
2 tablespoons olive oil
Favorite buns for sandwiches, if desired
Directions
Place chicken thighs and half the barbecue sauce in the bowl of a large slow cooker. Cover and cook on HIGH for 5 hours or until chicken shreds very easily when tested with a fork.
Remove chicken thighs from slow cooker and place in a bowl. Discard barbecue sauce in slow cooker. Shred chicken with two forks.
Preheat oven on BROIL setting. Line a large baking sheet with foil. Place shredded chicken on baking sheet. Drizzle with remaining barbecue sauce and toss to coat evenly. Drizzle with olive oil and toss once more. Place on top rack of oven and broil 5 to 10 minutes, tossing once or twice during broiling to get those nice, crispy bits on the chicken.
During the last two to three minutes of cooking, you can place the burger buns on the lower rack of the oven to heat through.
Place broiled chicken on burger buns and serve with desired sides!