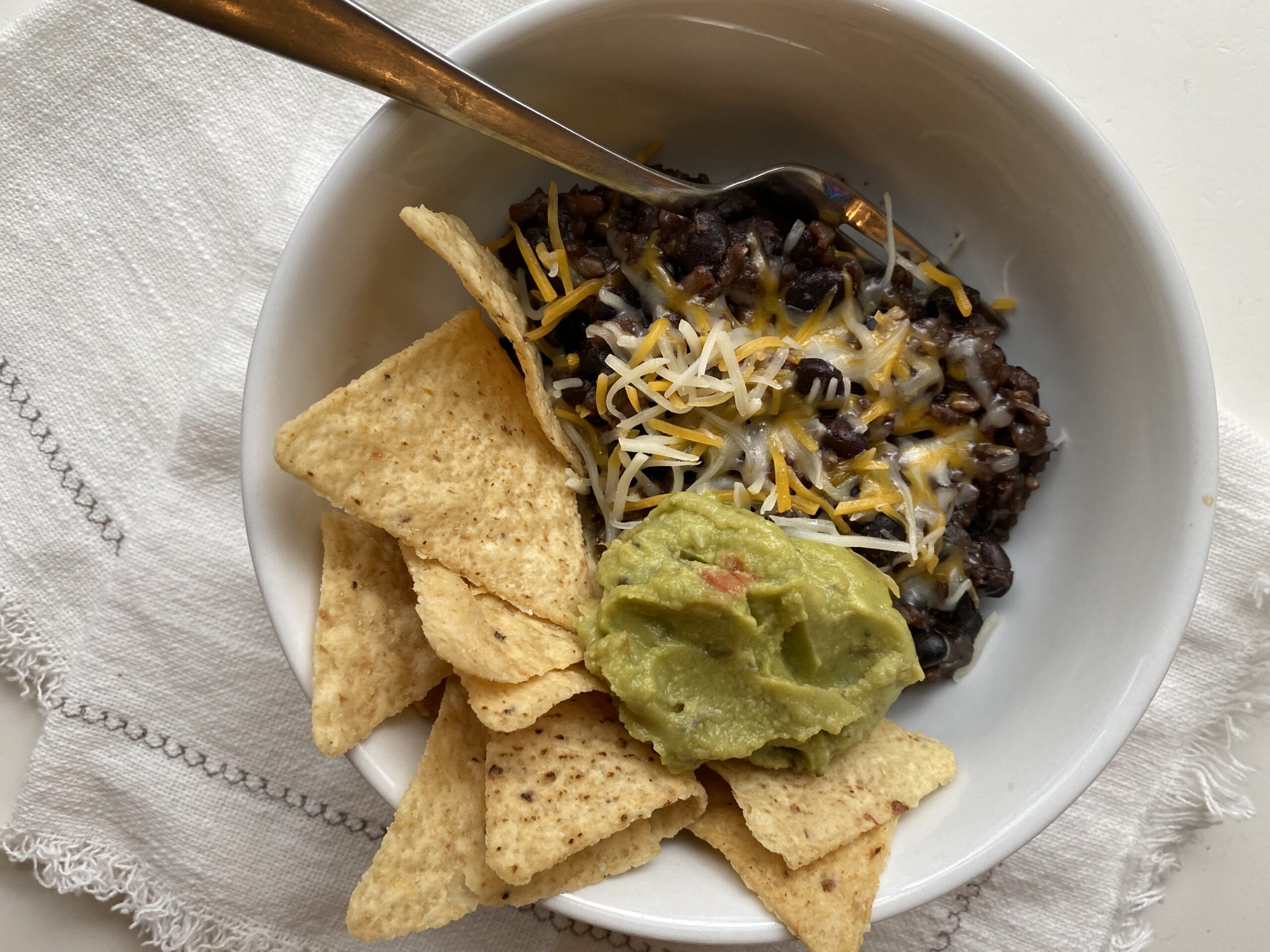 Over the last couple years I've added both an Instant Pot and Air Fryer to my kitchen appliance round-up. I've slowly been searching for uses for both tools that make sense for our family. I was a FAST convert to the air fryer. And a bit slower to share the Instant Pot love. But over time I'm finding my groove in terms of what I enjoy making in the Instant Pot and what makes sense to make in the instant pot vs. the slow cooker.
Since I work from home, I'm always on the hunt for easy ways to batch cook food that makes for easy weekday lunches. Personally, I could eat the same lunch every day for a week and not mind, as I'm sort of a robot when it comes to weekday eating.
About a month ago, I experimented with cooking dried black beans in the Instant Pot and you guys! SO good, easy and much tastier than beans in a can – and cheaper, too! Add in some rice to the mix and it makes for a filling base for vegetarian burrito bowls.

I've been making these Instant Pot Black Beans and Rice, then using them throughout the week for lunches. Sometimes I'll pair them with sweet potato cubes made in the air fryer and some fresh greens, on on top of a salad with crumbled feta and avocado. Other times I'll pair them with brown rice and a drizzle of buffalo sauce (try it!) Really, the options are endless!
Instant Pot Black Beans and Rice
Ingredients
1 tablespoon olive oil
1 medium yellow onion, chopped
1 teaspoon cumin
1 teaspoon dried oregano
1 teaspoon chili powder
1 cup dried black beans, rinsed
3/4 cup brown rice
3 cups chicken stock (regular, salted stock)
Assorted burrito bowl toppings such as chips, shredded cheese and guacamole, if desired

Directions
Set your instant pot to "sautee" and add the oil to the pot. Add the onions and pepper and cook, stirring frequently, until the onions and peppers are slightly softened, about 3 to 5 minutes. Add in the spices and salt and cook 30 seconds more.
Add the black beans, rice, and stock to the pot and stir to combine. Cover the pot with the Instant Pot lid. Set the Instant Pot to the "beans" setting with pressure valve closed. Cook 35 minutes. Allow pressure to release naturally for 20 minutes. Remove lid.
To make burrito bowls, serve with chips. Top with shredded cheese and guacamole.