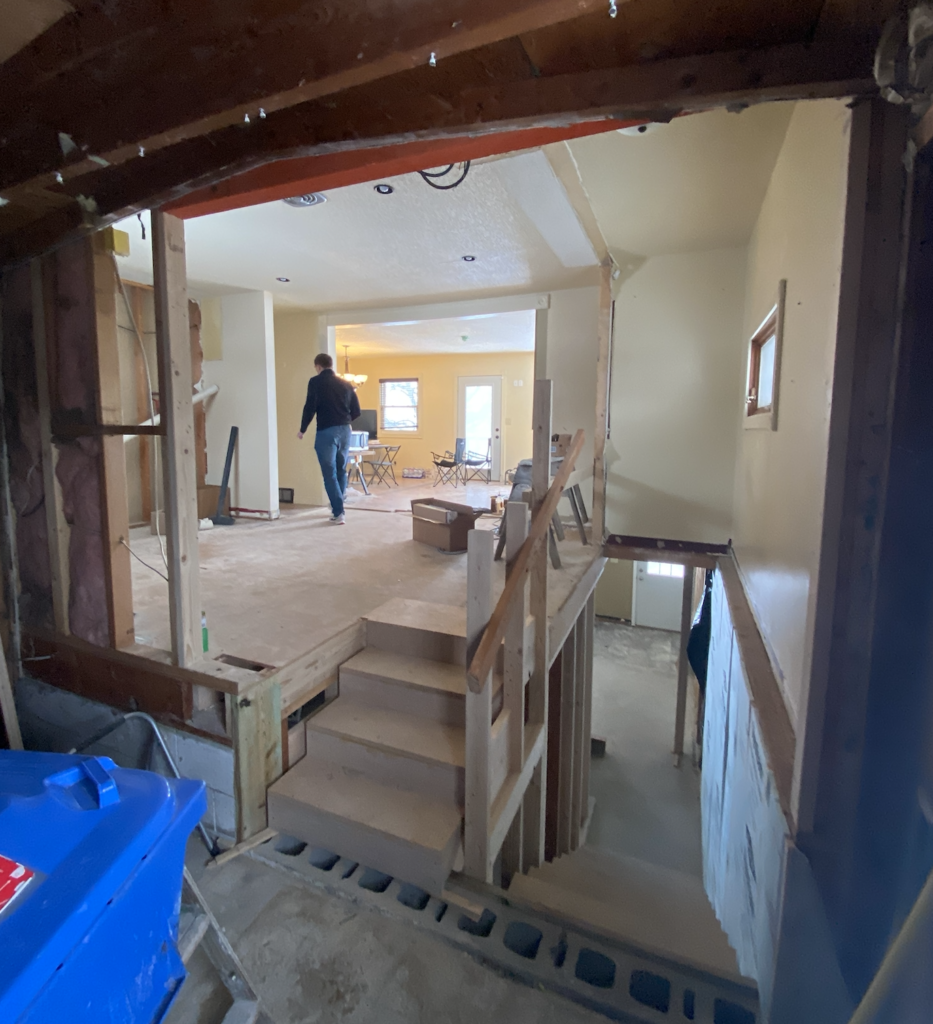 We bought our primary home six years ago knowing full well it would be a project. It's been nearly six years worth of projects! We may not be completely finished with our home renovations, but we have most of the major renovations complete.
So what's a couple to do when they run out of projects?
Evidently, in our case, the answer is to buy another project house. (Insert nervous laugh…)
The WHY
Neither Joe nor I grew up with family who had a home at the lake. But living where we do, many people have family lake homes – either owned by their grandparents or parents. It was something we both had a longing for, to create memories with our children and a space we could use to bless others. As we approached having the mortgage paid off at our home, we started seeking out a second home at the lake.
We spent last summer looking at various different lakes, taking day trips to get a feel for each area we looked at. We talked with friends who had lake houses and prayed about next steps. For me, the biggest question was "is buying a lake house going to ADD to our life or be an added stressor that takes away from our focus as a family?"
Ultimately, we felt it would be an additive choice and would create space for us to be MORE intentional with our family and friends. As Joe and I cast a vision for our family through a family mission statement, we kept coming back to the word community. It seems now more than ever, people are feeling isolated and lonely. Not necessarily new to these COVID times but made worse because of them, for sure.
Our family mission statement centers around creating more authentic community and relationship, and even in the short amount of time we have focused our family around this, I have started to see the fruits of having a focus for our family.
So that's a long, round-about way of saying we are excited for what this lake house is going to afford us in terms of opportunities to connect and dive deeper into relationship. To gift the use of this home to those in need of a place to rest and be restored. And to focus on intentional family time for years to come.
The House Details
When looking at houses to buy, we were primarily focused on location followed closely by finding an older house in need of some love but with good bones and potential.
There weren't many houses on the market that met our criteria, but when this sweet little house came on the market it was love at first sight. Don't get me wrong, this 1953 house was in need of some serious TLC, but the size was perfect (we wanted something smaller) and the location was amazing.
I can't forget to add that a huge selling point was the friendly neighbors that popped out to introduce themselves while we were looking at the house. 😉
The Renovation
Renovation started a week ago! We hired our favorite Kristin Mellema of Align Creative Design to do our layout for the renovation because she was worth EVERY PENNY the first time around when we renovated our current home. And we said a million prayers of thanks when our beloved contractor Joel of Joel Jongerius Construction agreed to take on our project an hour and fifteen minutes from home. Working with those we already know and trust made me feel at ease about taking on a project like this when we can't be there every day.
I'll be honest, when I walked through the house last weekend I didn't realize the scope of all that we were doing. Ha! Nearly the entire house is torn apart and being re-configured and remodeled. The scope of the project is as follows:
Convert the existing attached single car garage into a bunk room for more sleeping space. The garage was in rough shape so we were excited about adding extra sleeping space while hopefully improving the curb appeal of the house. We will still have a two car detached garage to use as needed.
Sanding + Refinishing the existing hardwoods upstairs and laying new hardwood to match in the kitchen (where there was previously some old laminate on top of tile.
Complete bathroom overhauls both upstairs and downstairs, ripping the bathrooms down to the studs and starting from scratch. There was some water damage in the bathroom upstairs and both were in rough shape.
New floor in the entire basement as well as reconfiguring the living area downstairs and making a more finished laundry room area. Adding carpet to the bonus room in the basement (which we will eventually add an egress window to which would provide another bedroom.
Scraping popcorn ceilings in the living area upstairs and downstairs. Joe scraped the popcorn in the bedrooms but we want a more polished look for the living areas.
Replacing the sliding glass door with a large window since the slider was leaking water and needed to be replaced anyway.
New paint and trim in the entire house.
Completely new kitchen including custom cabinets and center island.
New furnace (a fun and not planned addition – ha!)
Later this year we will be removing the roof of the bunk room and increasing the pitch. The current pitch is VERY flat and in poor shape so we are going to be replacing it in a second stage of addition.

As you can see, we have our work cut out for us! I'm only semi-nervous and a tad stressed out about it all. But in reality, it's a gift and a creative endeavor to pursue that is giving me a lot of life as well. We have some "phase 2" projects we will pursue down the road as budget allows which will include:
New siding
Removing a few windows that face our neighbor's house to the North and covering those areas with the new siding
Increasing the supports of the deck
Patio outside of the walk-out basement
New stairs down to the dock
Landscape in general – there really is none!
Repairing the cute picket fence area attached to the two car garage
Adding the basement egress window to the bedroom downstairs
I'll be blogging about the project, the colors we are using, the decisions we are making, etc. So stay tuned here for all the intel! In the meantime, enjoy a few photos of our first weekend at the lake and the progress up to now (pictured above!)
Madison