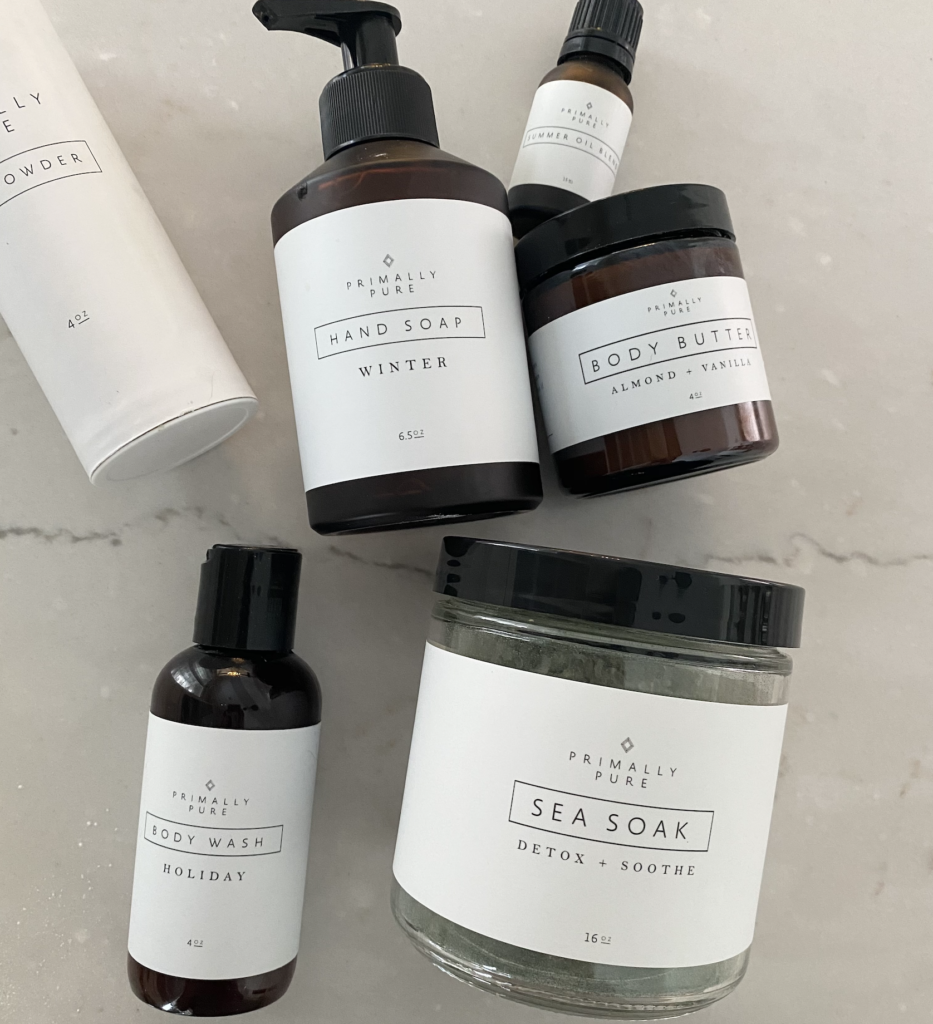 Hi friends! Happy Monday. Last week I got a new restock of some of my favorite Primally Pure goodies and wanted to share them with you all today.

What I use Primally Pure for:
-Body care (bath salts, body butter, bug spray, etc.)
-Home products (hand soap, room spray, diffuser oils, candles, etc.)
-Baby care (baby powder, lotion, etc.)

What I don't use Primally Pure for:
-Skincare. I have not had a stellar experience with the skincare products I've used from Primally Pure and prefer to stick to BC for this area of my personal care but find Primally Pure is a great compliment to BC!
Here are a few of my tried and true favorites as well as my new-to-me favorites. Hint: Their seasonal body care, candles, and hand soaps are my favorites!
Winter Hand Soap
So fresh, crisp and perfect for the colder months, I just recently got the winter hand soap for my kitchen and love it! Plus, it's so pretty sitting on my countertop.
Holiday Body Wash
I bought this before Christmas and loved the scent but thought it was overpriced, but now that it's on sale, I can officially say that you should go snag it! It smells divine!
Almond + Vanilla Body Butter
Oooooh this is so good. It's luxurious and smells like a dream, plus it absorbs well into the skin. I've been lathering it all over my babies (who aren't such babies anymore) after bath time to battle dry winter skin.

Sea Soak Bath Salts
I've been using this for my baths and it's helped with sore muscles after workouts and makes my bath smell great, too.
Baby Powder
I love this for me and for the kids! It's great for post bath time and my daughter now asks for it specifically. It's like the baby powder you know and love without all the questionable ingredients found in traditional baby powder.
If you use + love Primally Pure, I would love to hear your favorites below!

Madison