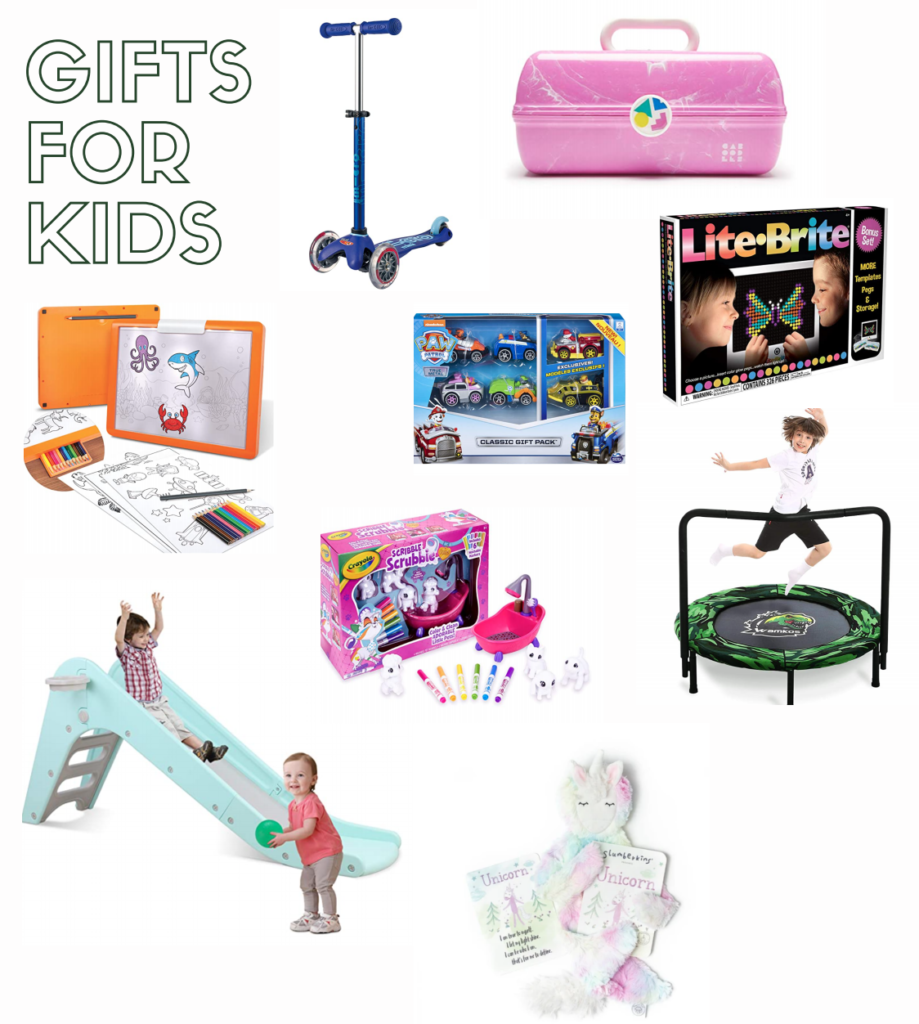 This year I'm nearly done with Christmas shopping for the kids! I made a very intentional list – along with prices and who was getting what – and edited the list a bit, too, and then I got to shopping. Between Target's deal right now (spend $100 on kids toys and save $25) and Amazon Prime Day (today and tomorrow) I found a lot of great deals on items I was already planning on buying. But! since I was shopping with an intentional list + budget I also got the things I wanted and didn't get the things I didn't want.
My focus this year was for items that I knew the kids would use for the long haul. I took a good inventory of the items that had gotten a lot of play in the past, as well as what the girls are currently into, and went from there. I wanted items that would encourage creative play, didn't have a thousand small parts, and wouldn't end up in the trash three months later (hello, anything LOL Surprise.)
I hope this list is helpful for you! I included some items we already have and love because you might not have them – and it's always nice to know what others have used and loved.
For the Girls
Magna Doodle ($13.99)
Somehow we don't have one of these! Getting this for Collins this year.

Crayola Scribble Scrubbie Pets ($19.99)
We have a few of these little pets and they are a hit! You can draw on them with special markers and then wash them off and start again! The girls love to give the pets a bath and then make new creations.

Lite Brite ($12.99)
Our friends have one of these and the girls love it. I remember having a Lite Brite as a kid and hope that this will be a toy they play with a lot!

Caboodle ($18.00)
The girls are both getting Caboodles! Ainsley got one two Christmases ago and has loved it but hers is broken at the base and Collins really wants one as well. I'm planning on filling them with fun trinkets and Beautycounter Jellies!

Discovery Kids LED Tracing Tablet ($23.99)
Ainsley has been really into drawing for at least a year now. I thought she would love this tracing tablet to improve her drawing skills and loved that this tablet has a holder for colored pencils/crayons.

Paw Patrol Dinosaur Rescue Cars ($24.99)
Collins is obsessed with Paw Patrol. We already have the larger Paw Patrol Tower which was one of the most used gifts from last Christmas and continues to be a favorite.

Sorry Board Game ($9.97)
Connect 4 Game ($11.00)
We wanted to add to our collection of family games with some classics!

Wakamos Indoor Trampoline ($61.00)
We have this and LOVE it! It's great quality and the girls have used it quite a bit, but even more so now Truett LOVES it.
Slumberkins Unicorns ($44)
I've heard such great things about these snuggly stuffed animals that have a sweet message about emotional learning. Each snuggly animal has a different message/book about emotional learning. I got the girls each a unicorn!
Wooden Easel for Kids ($58.89)
This has been in our home for years, and in the last year Ainsley has started to use it a lot more! We have both a roll of paper, dry erase markets and chalk (though I usually keep the chalk stored away because #littlebrothers) and it's been a new favorite. Perhaps I bought it too early and it's a toy better suited for slightly older kids.
Little Woodeez Tree House ($76.09)
This might fall into the "too many small parts" category but our girls have played with this SO much over the last six months. It was a quarantine purchase and has gotten a lot of use!
Melissa and Doug Ice Cream Scoop Set ($41.95)
Another favorite that has stood the test of time! I can't even tell you what a huge hit this has been!

For Truett
Lazy Buddy Indoor/Outdoor Slide ($91.99)
This was my #1 purchase for Christmas this year! I knew I wanted something to keep him busy inside during cold winter days. We also have an indoor trampoline that he loves!

Crayola Double Doodle Board ($9.99)
For keeping him entertained on trips as he learns to draw/use fine motor skills!

V Tech Smart Shots Activity Center ($39.99)
The girls never really liked this, but we pulled it out for Truett and he loves it! So that goes to show how different it can be from kid to kid!

Micro Scooter ($89.99)
He is a bit young for this right now, but by next summer he will be using it! The girls have Micro scooters and love them!
Plasma Car ($84.95)
Again, another item Truett is too young for right now, but this has been a favorite of the girls for the last couple years and I know he's close to being able to use + enjoy it!