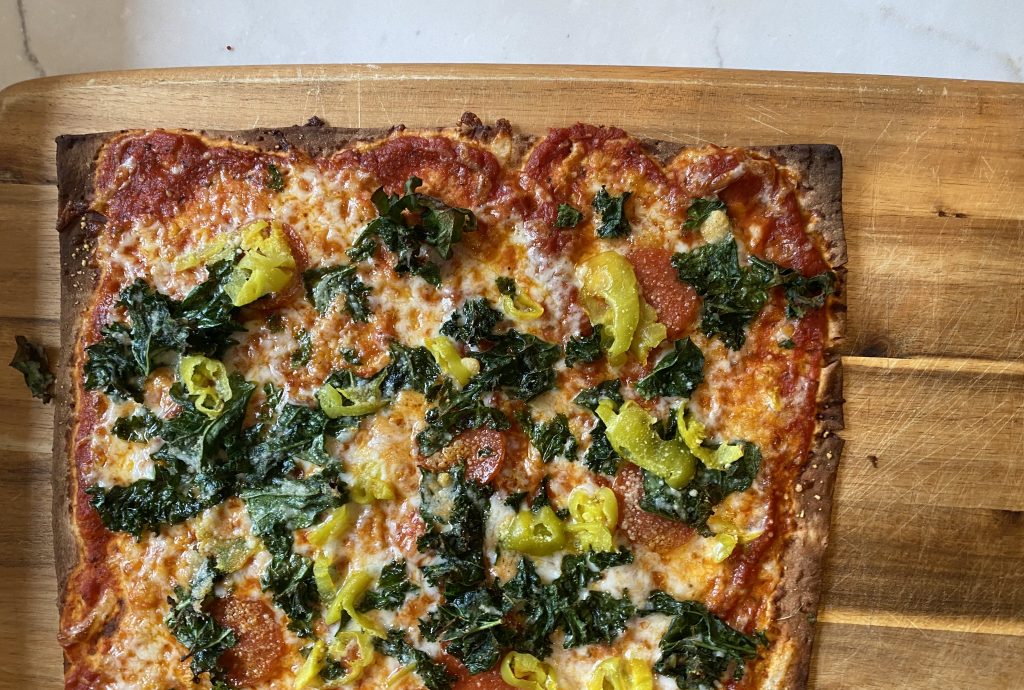 While I'm not new to the work-from-home game, I know many of you all are probably still working from home more than you ever have in the past. I have a really cute co-worker who is still working at home in our playhouse, which has spurred another home project – a workhouse!
I'll be sharing plenty about our workhouse building project soon – a place for both myself and Joe to work at home but away from home each day in the backyard – but in the meantime, I wanted to share a favorite work-from-home lunch I've been enjoying.
I'm a big fan of pizza, but for the regular weekday pizza lunch, I prefer my pizza on the healthier side. I've been using Joseph's Lavash Bread as a base for my flatbread pizzas and they work great!
The key to a crispy flatbread is to make sure your oven is good and hot, around 450F. The best part? It doesn't take more than 5 to 7 minutes to get this flatbread cooked and ready to eat. I've made my favorite topping suggestions below, but feel free to create and customize however you see fit.
Ingredients
1 Josephs Lavash Bread
1/3 cup pizza sauce
1/2 cup shredded mozzarella cheese
5 to 6 pepperonis
1 cup chopped kale
Light drizzle of olive oil
1/4 cup pepperoncini peppers
Grated Parmesan cheese

Directions
Heat oven to 450F. Place Lavash bread on an ungreased baking sheet. Spread the pizza sauce on top of the bread, followed by the cheese and pepperoni.

Drizzle the kale very lightly with olive oil. Work the oil into the kale with your hands to soften. Spread on top of the flatbread, followed by the pepperoncini peppers and some grated parmesan cheese.

Bake 5 to 7 minutes or until flatbread is very crispy around the edges and the cheese is melted and bubbly. Cool 2 to 3 minutes. Enjoy!